Nur-E Farhana Rahman and her mother Nur-E Gulshan Rahman are co-founders of Knotty Gal, a socially conscious, handmade jewelry company that educates and empowers young girls. A portion of all proceeds benefit the Bhandari Girls' School in Bogra, Bangladesh. Before working at Knotty Gal full-time, Nur-E worked as a consultant with Deloitte in Washington, DC and as a contractor overseas with the US Agency for International Development. Nur-E graduated with a Bachelor of Science in Foreign Service from the School of Foreign Service at Georgetown University.
Nur-E Farhana and I first met when I was helping my friend Katie Schloss, the founder of Three Jane, sell her jewelry at Henri Bendel. Nur-E stopped by and we talked about DC and, of course, Knotty Gal! Fast forward a few years and I reconnected with Nur-E at one of my friend Emily Merrell's Six Degrees Society events. We got together at the sophisticated co-working space, NeueHouse and spent hours sharing stories and advice.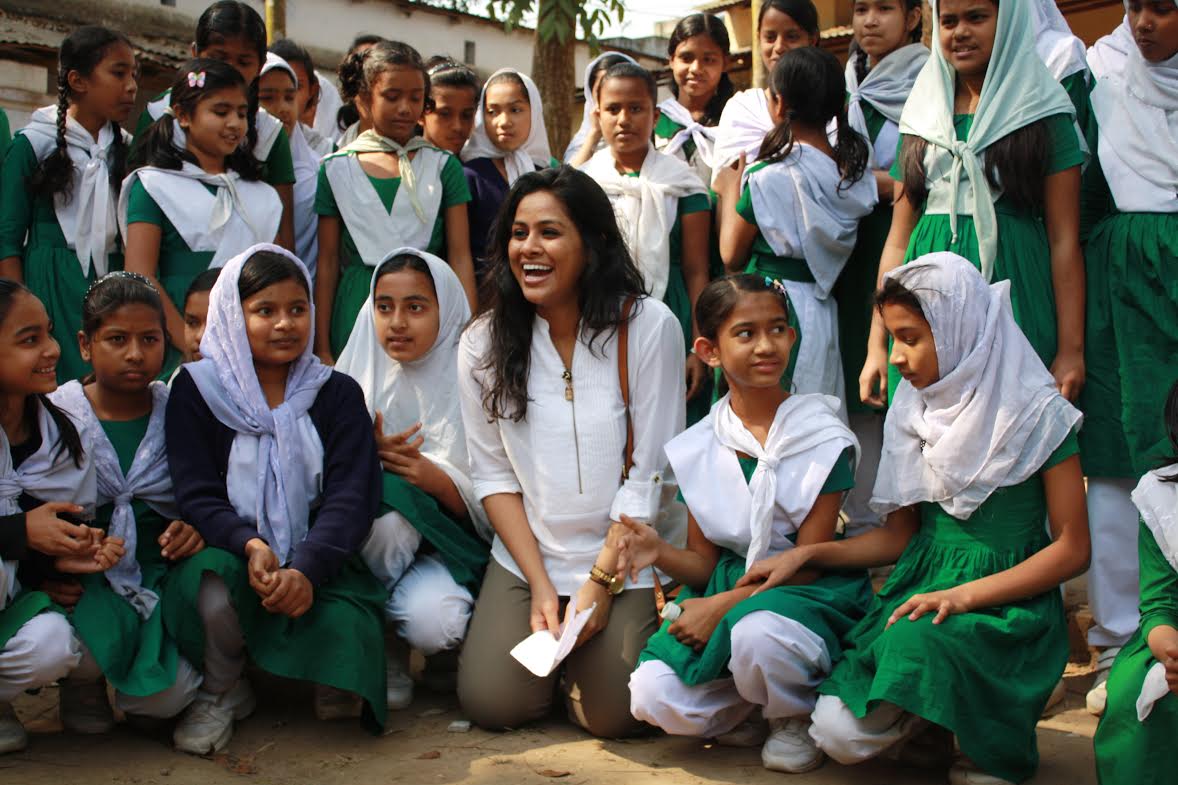 Nur-E Farhana Rahman, Co-Founder of Knotty Gal
What inspired you to start Knotty Gal?
Knotty Gal is deeply personal for me; it's in my blood! I say this because my parents are from Bangladesh, and in the 1960's, my great-grandfather founded the Bhandari Girls' School in a place called Bogra, one of the oldest towns in northern Bangladesh.
In 2011, when I was working as a contractor for the US Agency for International Development, I was sent to Bangladesh for an assignment and got the chance to take a trip to the school. After seeing the run-down state of everything and the overwhelming lack of resources, I remember feeling like I had to do something to help.
My mother, a graduate of the school herself, had always been amazingly talented at making really beautiful intricate knots. After I got back from my trip, she and I had the idea to turn her knots into jewelry and use a portion of the proceeds to raise money for the school. And that's how Knotty Gal was born! The inspiration was really a confluence of this need to continue my great-grandfather's legacy and to share my mom's talents with the world.
How would you describe Knotty Gal in a few sentences? 
At Knotty Gal, we make knotted, handmade jewelry that helps educate girls in Bangladesh! Between 10 and 15 percent of each sale goes directly to the Bhandari Girls' School, founded by my great-grandfather in the 1960's in Bangladesh. We like to do good by being Knotty!
Knotty Gal is a family business. Your mom is your co-founder and you raise funds for the school your great-grandfather founded, the Bhandari Girls' School in Bogra, Bangladesh. What advice do you have for other people who hope to go into business with family members? 
Working with family is definitely not for everyone! I would say the biggest thing is really to be honest about your relationship with the family member you're thinking of getting into business with. My sister always jokes about how if she ever worked with either one of us, she would go crazy, and I totally get it. (But she has been so unbelievably supportive of Knotty Gal in so many ways since day one!) We all have such different personalities, so it really has to be the right fit. You have to be comfortable being totally honest with one another, clearly define expectations early on, and know that things will not always be smooth sailing, but that you'll have each other's backs through the highs and lows.
Ten to fifteen perfect of each purchase goes to the Bhandari Girls' School in Bogra, Bangladesh. Can you tell us more about Knotty Gal's work with the school? 
I'm really proud that we were able to partner with BRAC, the world's largest non-governmental organization, to provide computer education training to the majority of the girls at the school. Prior to starting Knotty Gal, I had personally raised the funds from friends and family to create a computer lab for the girls, as that was the number one request from the teachers. Unfortunately, that lab was not being used efficiently, and the girls went without proper computer education training, so this partnership was something we were very excited about!
I've always been so curious about the process of starting a commerce business. What advice do you have for someone who wants to start an e-commerce business? 
There's so much advice I would want to share, but I think one thing I would probably stress is to invest in high quality photos right off the bat. I know it's tempting to use something off your iPhone, but there are so many e-commerce businesses out there right now that you really want yours to stand apart from the very beginning, and nothing does that better than professional photos. They're worth the investment. Get a street style photographer for anything that has to look more editorial, and hire a good product photographer for your product thumbnail shots. You definitely want to be scrappy when you're starting out, but great photos are worth the investment!
Knotty Gal has had such amazing press. Do you have any PR tips for other business owners? 
Network like crazy! If you're starting on a shoestring budget, it's totally possible to get great press just by being creative, strategic, and friendly! We've never paid for any of our press, but we were able to get some exciting mentions just from me making connections through different events I attended, or through second and third degree connections on LinkedIn. Once, we even got press from tweeting at a reporter!
We are also fortunate in that we've had some amazing e-commerce partners who are much larger than us, and have sent a good amount of great press our way. Also, Miki Agrawal's book Do Cool Shit has a great bit about creative ways to get free press! I highly recommend it.
What has been the biggest challenge and, on the flip side, the biggest reward of starting Knotty Gal?
I was consulting at Deloitte when the idea for Knotty Gal came about, so it was really challenging to go from the lifestyle of a consultant to that of a newbie entrepreneur. I had to — and continue to be — much more conscientious about where my money goes. I've made a lot of sacrifices for Knotty Gal, but I wouldn't have it any other way.
The most rewarding part of having the business is knowing that a portion of each sale is immediately allocated for some amazing girls in Bangladesh, so they can have access to the educational resources they deserve.
What is the most important characteristic for entrepreneurs to have? 
Perseverance. I can't stress this enough. Talent is great. Intelligence is great. But those qualities mean nothing without perseverance. In an entrepreneurial journey, setbacks are guaranteed, whether big or small, and you have to move past them and take them as learning moments for your next step.
Anytime I get discouraged by a "no" or a "mistake" I always think about the fact that Howard Schultz, the CEO of Starbucks, was turned down by 217 investors when he was looking for funding for Starbucks. 217 rejections! What kind of a person finds the strength to continue after only ten rejections? But to keep going over 200? That's insane. But it's a beautiful type of insanity, and I think entrepreneurs need to possess that type of grit and perseverance in order to ultimately be successful.
What logistical advice do you have for other people who want to start a business?
I would say to make sure you have a solid team of professionals helping you from the very beginning: an accountant, a lawyer, and good photographers if you're a product-based company. I definitely skimped on the accountant and lawyer part because I basically did a ton of research online about how to incorporate the business myself, and then I managed our books by myself as well. It would have been helpful just to have a professional I could have gone to with all my questions. But hey — you live, you learn.
What is your favorite piece in the collection? 
Right now I am loving our Eye of the Tiger choker! It is so versatile and chic, and I am obsessed with it. Every time I wear it, I get a ton of compliments, so this choker is definitely at the top of my list right now.
Where do you turn for inspiration? 
I get a lot of inspiration from NY and Bangladesh. Both places play a very key role in the story of Knotty Gal, so I draw from the street style and spirit of both places. NY style is inherently cool, edgy, and a little on the dark side, and Bangladesh is almost the exact opposite: colorful and fun. That's why our pieces are all so different. There's something for everyone, whether your style is simple and sexy or bold and vibrant.
What is on your desk right now?
Jewelry, of course! Lots of Knotty Gal samples, and a few new products I can't wait to share with everyone!
What is your morning routine? 
Funny you should ask this, because my friend Maja is a fellow entrepreneur, and she recommended that I read The Miracle Morning by Hal Elrod. I did a short while back, and I loved it! The author basically says you should start your day with what he calls "SAVERS," an acronym for Silence, Affirmations, Visualization, Exercise, Reading, and Scribing. I think this is such a powerful way to start your day and to set yourself up for success, so I've been trying to get into the habit of starting my mornings this way. He advocates for waking up earlier than you regularly would so that you can start your morning with the SAVERS, and I've been trying to wake up super early at 5 am. My friend Maja is my accountability partner, and we'll both text each other when we're up. But I'm not gonna lie; there are some mornings where I fall right back asleep and text her later to confess my naughty (Knotty?) behavior. I'm doing the best I can, though!
What is the best advice you've ever received?
When I was living in DC, I went to go see the founder of TOMS — Blake Mycoskie — give a talk about his journey to founding the company. One key thing that really stayed with me was his advice to "just do it." He basically said that if you are passionate about something and want to do something, then you have to just go for it, because the timing will never be right. There will never be a perfect moment when all your ducks are in a row and the stars have aligned and you have all the answers. You have to dive in. And I mean, he wasn't implying that you should not have a plan whatsoever, because let's face it, quitting your job tomorrow without saving a little and considering what you're going to do with your business idea probably isn't the smartest move. But his point was that you are more ready than you think, and that really has been one of the most powerful pieces of advice I've ever received.
What advice do you have for other young professional women? 
Keep lifting other women up! When one of us does well, we all do well.
P.S. Looking for a Valentine's Day gift for a friend, family member, or yourself? Get a gift that gives back! Knotty Gal is having a Valentine's Day sale. Get 15% off your order with the code LETSGETKNOTTY. Shop Nur-E's top five picks: Eye of the Tiger Choker, Once Upon a Time, Green With Envy, In the Bag, and Excuse My French. 
Images via Brit + Co.