One of my favorite things about blogging is meeting new people and making new friends. Jackie Clair and I met at an event last year and quickly became close. We love going to brunch, wandering around the city, and visiting museums. Jackie is an operating room nurse and the blogger behind one of my favorite blogs, York Avenue. She is so creative and talented! Learn about her job as a nurse, and how she manages a full-time job and her blog.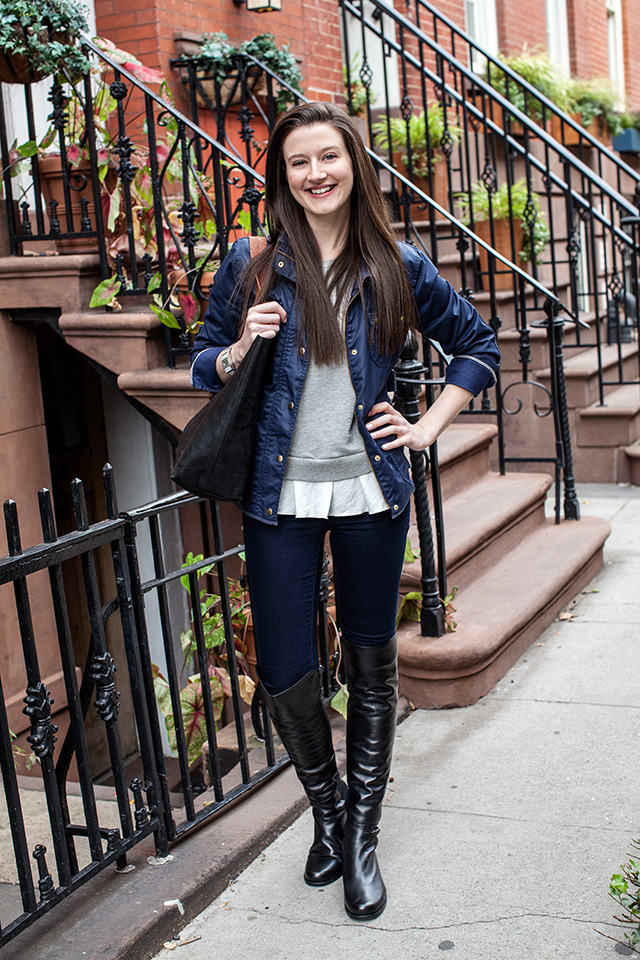 What inspired you to start your blog, York Avenue?
I absolutely loved reading interior design, lifestyle, food, and fashion blogs for years and years before I finally started my own. I found them so inspiring and just so enjoyable, and scrolling through blogs in the morning with my coffee was always one of my favorite parts of the day. When I moved to NYC, my sister suggested that I start my own blog to catalog the places that I visited and loved around the city, and that's how York Avenue came about!
How would you describe your blog in a few sentences?

My blog is a collection of all of the things I love: interior design, fashion, food, art, photography, books, NYC, and more. It's a place to share the things that catch my eye and things that I feel enthusiastic about. I focus on original content and original photography as much as possible, and I love writing about the Upper East Side and places that I discover around the city.
Where do you turn for inspiration?

I'm constantly finding inspiration. Often getting out and about in the city is the most inspiring to me, as I'll find some new eatery, or new store, or pretty townhouse, or whatever else awakens a creative spark or gives me an idea for something that I can't wait to blog about. Sometimes an idea for a post will be sparked by something totally random, like a conversation with my Mom or something I read.
What lessons have you learned from starting your blog?

I've learned a few things from blogging. One is to reach out as much as possible. If you admire another blogger, send her an email and ask her to meet up for coffee. You never know, you may become great friends, or an opportunity may came of it in the future. Same goes for when someone writes to you or asks you for coffee or invites you somewhere. Sometimes it's hard to go because you're feeling shy or you're not sure how it will be, but it usually ends up being worth it when you put yourself out there. I've made some good friends this way!
Another thing I've learned is to not be so all or nothing. I blogged for about a year very steadily and then stopped for a plethora of reasons. I was younger then and way too focused on numbers and pageviews. I also felt like if I didn't blog everyday, well then I might as well just not blog at all. I stopped for a year and then picked it up again when I found that I felt really unfulfilled and bored creatively. Starting it up again has been one of the best things I ever did. My sister was the one who suggested that I take it up again, even if I only blogged once a week or even once a month! She said, "Who cares. Just do it!" I am so glad that she suggested that, because I don't know if I would have come to it on my own.
So what I learned is, you need to blog for the love of what you're writing about and stay focused on that. As much as possible, try not to worry about things like pageviews, feedback, comparing yourself to others, growth or lack thereof, etc. If you feel burned out, take a break! But don't have the attitude of all or nothing like I did.
Another lesson: Try something new! I never thought I was interested in photography, at all. In the beginning of my blog, I took pictures for it because I knew I needed to. When I was contemplating buying a DSLR, I thought, "Well this will be good for the blog, but I'm really not going to use it for anything else. I'm really not at all interested in taking pictures of Central Park or NYC landmarks or anything." Flash forward a few years, and I think any reader of my blog could tell you, it turns out I am interested in taking pictures of Central Park! Photography has become a big passion of mine, it's a way for me to relax, unwind, and really just enjoy myself. I never would have known that if I hadn't picked it up for the benefit of the blog, so basically, trying new things is always a good thing!
What is your favorite thing in your apartment?

That's tough because I love everything! I would say my favorite is probably my original painting by Jen Ramos of Made by Girl that hangs above my dresser. It's big, it's bold, it's pink, it's original, and it's one-of-a-kind. It's a big focal point, and I just adore it.
How would you describe your style?

Classic and feminine with a touch of edge — a mix of uptown meets downtown. My interior design style is similar. I would describe that as feminine, classic, and a mix of modern and traditional, always with a bit of an edge or a touch of quirk.
Besides blogging at York Avenue, you also work as an Operating Room Registered Nurse. What led you to pursue this career?
I decided to pursue nursing after graduating from college with a psychology degree. I wanted a job that would not involve sitting at a desk and one where there was always something different happening, meaning I could constantly learn. Nursing fit that criteria and also incorporated psychology in a way. I decided to do operating room nursing because it's fast-paced, it's always different from day-to-day, and it's very interesting.
What is a typical day like for you?

On weekdays, I get up around 8:30 am or 9:00 am and drink my coffee while catching up on blog posts in my reader. I'll put the finishing touches on my blog post for the day and publish it. Then I get ready for work and go in from 11:00 am to 7:30 pm. In the evenings, I come home and eat dinner while reading blog posts I missed from the morning and catching up on any emails, then I'll work on my blog post for the next day, either editing photos or writing. I usually start blog posts a few days in advance or over the weekend (whenever I'm feeling motivated) and just edit them, clean them up, and finish them the night before I post them. That way I'm never facing a fully blank page at night when I'm tired from work. After that I try to get in bed and read before going to sleep, but I'm a night owl so I have a hard time getting myself into bed!
Weekends are a mix of exploring the city and spending time with friends. Sometimes on the weekends I'm photographing a place for the NYC Guide or I'm just photographing a park or around a neighborhood for fun, which often will end up on the blog. Or I'm out and about going to a bookstore, a bakery, or any other place in the city that I love. Also trying to squeeze in laundry, cleaning, and maybe cooking!
What is your favorite quote?

"In three words I can sum up everything I've learned about life: It goes on." Robert Frost
What is your favorite place in the city for: brunch, coffee, free afternoon?

Brunch would be Sarabeth's or East End Kitchen. Coffee is Le Moulin a Cafe on the Upper East Side, my favorite neighborhood spot. For a free afternoon, Central Park or Carl Schurz Park, Ladurée on the Upper East Side, and either wandering around a neighborhood taking pictures or going to a bookstore or coffee shop.
What would you tell someone who has just moved to New York City?

Explore as much as you can to figure out which neighborhood you might like, as they are all very different. Also, explore as much as you can because you never know what wonderful gem you'll stumble upon! There are things around every corner here, and it's impossible to find them unless you look around, ask around, and walk around. That being said, don't feel pressure to do everything and see everything all at once just because it's "The city that never sleeps." Do what you want! If you want to run around and explore one day, great. If you want to stay in one day and read or watch TV, great! Don't put pressure on yourself. Just do what makes you happy.
What advice do you have for other young professional women?

My biggest advice would be to start saving as soon as you start working. Open a 401k immediately, even if you only start off by contributing a small sum from each paycheck. Automate the contribution so that you never even miss that money. Age is the biggest asset when it comes to accumulating savings, and once you get older, it's not "too late," per say, but you'll have lost a lot of time during which the money you put in savings should have been growing. Read a finance book to get a general sense of how it all works. I recommend "On My Own Two Feet." It covers all of the pertinent info but breaks it down to the easily understandable basics. And if your company offers a match, contribute up to the match! Otherwise you're literally passing up free money.
Thank you, Jackie!