You've got a great idea for a big project at work or a business…but the plan isn't perfect, the timing isn't ideal and you don't have funding. Sound familiar? Don't get paralyzed by the need for perfection — there will never be a perfect moment or idea. Start now and iterate later.
The founders of the men's skincare line, Oars + Alps, didn't wait for the "perfect moment" — they believed in themselves and their idea and didn't hesitate. Mia Saini Duchnowski and Laura Lisowski Cox left the stability of their high-profile jobs at Bloomberg Television and Facebook respectively to start Oars + Alps in 2016 as a solution for finding natural men's skincare products for their husbands and, consequently, millions of other men. They have raised $1.3 million round of seed funding, increased annual sales 440% and have, on average, doubled sales each month compared to the previous month. The Oars + Alps customer base has grown 270% since the launch — and they are just getting started.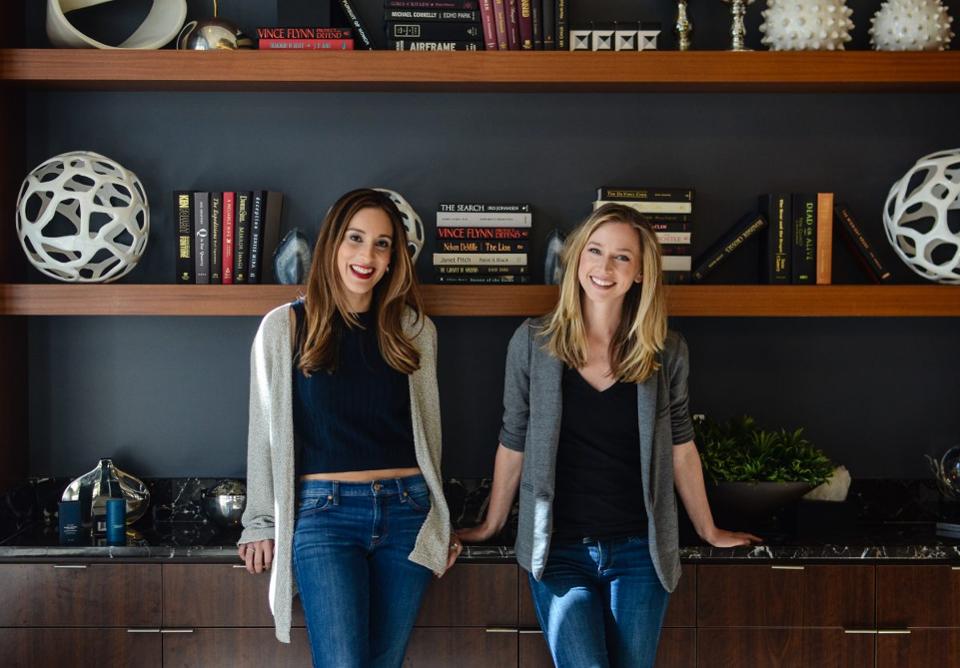 What inspired you to start Oars + Alps? What were your career paths?
Mia Saini Duchnowski: I am a former financial television anchor and correspondent, most recently at Bloomberg TV. Through my job, I had access to some of the best skincare products and I quickly realized my husband, Sasha, who is prone to skin cancer, was using all my products. This caused a few bathroom brawls!
Women's products are more expensive than men's and as a Massachusetts Institute of Technology-scientist, I knew a man's skin is thicker than a woman's skin so my husband was doing himself no favors by using products ill-suited for his skin. Even when I bought men's products for Sasha, he never replenished – turns out, he and many other guys hate shopping in the traditional retail environment.
My good friend, Laura Lisowski Cox, could relate to my problems. Her husband, Stoney, suffers from dry skin. We searched high and low for natural men's skincare options, but everything was too expensive, overly clinical, tailored to women or just plain inconvenient to buy. So I quit my job at Bloomberg and Laura quit her job at Facebook to start Oars + Alps.
Mia, you previously worked at NASA, Goldman Sachs, Forbes and Bloomberg. What were your roles and responsibilities at those organizations and how have the skills helped you be successful in your current role?
Duchnowski: I thought I was going to be an astronaut – that was why I went to MIT. I quickly became more fascinated with computer science and, specifically, computational neuroscience (which is what I ended up studying; that, and civil engineering). My work at The National Aeronautics and Space Administration was to answer the question: "Is there water on Mars?"
I did so by creating an object recognition system that could detect the difference between rocks on Mars and rocks on Earth. NASA really helped me take my academic engineering skills and apply them to a real world setting, but the overall experience wasn't for me. I missed human interaction!
A short while later, I was recruited by Goldman Sachs and really fell in love with the trading floor. I loved the dynamism of the markets, the energy of the trader and the constant new flow. From there, I went to Harvard Business School and then to the newsrooms of Forbes and Bloomberg, where I covered global business news and interviewed newsmakers, CEOs, politicians and economists. My time on television allowed me to react quickly and take information and synthesize and explain it in a digestible way to our viewers.
This skill set has proven to be invaluable to me as an entrepreneur. I am constantly barraged with information and constantly asked for information. I also feel comfortable making decisions quickly and swiftly. It also allows me to constantly ask questions. As a result, being an outsider to the skincare and e-commerce world has not been an impediment but quite the opposite: It has allowed me to ask the questions that seasoned people would not ask.
My time at Goldman Sachs helped me learn how important it is to nurture relationships and to rely on a network of people and resources to achieve a desired outcome. My time at both MIT and NASA helped me refine my problem-solving skills and always probe and answer. I'm also a huge fan of testing hypotheses.
Laura, you previously worked at Digitas, Ogilvy, AOL and Facebook. What were your roles and responsibilities at those organizations and how have the skills helped you be successful in your current role?
Laura Lisowski Cox: I've always been obsessed with data: I love analyzing it, crunching numbers and finding trends. When I graduated with a master of arts in international finance, most of my peers went into banking, but I landed a job in a new field called digital analytics at Digitas. After spending years deep in the data, I wanted to do more execution, so I joined AOL's turnaround team, where I was focused on using data to make smarter business decisions for the company.
From there, I wanted more brand exposure, so I jumped to Ogilvy, where I advised clients like Louis Vuitton and IBM on how to use customer data to drive new customers and repeat purchases.
My love for working with big clients then drew me to Facebook where I helped Apple and GoPro optimize their budgets across media channels. The biggest skill I learned through all of these experiences is how to always nurture relationships. At Oars + Alps, I'm able to connect the data with the psychological aspect of understanding who is buying, why they are buying and how they are buying.
What has been the biggest challenge and, on the flip side, the biggest reward of starting Oars + Alps?
Duchnowski:
-Challenge: So many decisions every day, trusting your gut.
-Biggest reward: Seeing this brand come to life! Hearing guys tell us how, after years of taking care of their physique with the gym and their diet via healthy eating, they now care about taking care of their skin by using our products.
What advice do you have for other women who hope to start their own businesses?
Cox: Take it one day at a time.
Duchnowski: I hope you truly 100% believe in yourself. It's so hard to do, but you have to do it. The world is hard. The world is unfair. The world sucks. But you have to believe in yourself. Don't worry if you don't have the skill set – you'll learn it. Don't worry if you don't have the best idea – you'll iterate on it. Don't worry if you don't have the financial means – you'll start slowly. Don't sit on your great idea. Build it.
What is a workday as Laura and Mia like? Please walk me through a day!
Cox: Our days are always a constant juggling game. It seems like every hour we are switching gears, whether spending time handling issues with our shipping department, discussing packaging for new product launches in 2018 or meeting with our brand team to discuss strategic partnerships for next month.
What are your responsibilities as cofounders and CMO and CEO respectively?
Duchnowski: My primary responsibility is product development, from the initial ideation to the final product conception. This includes overseeing manufacturing, packaging and managing the supply chain. As CEO, I also handle most of our investor relationships.
Cox: My main responsibilities are customer growth and retention, which includes website development and optimization; identifying new channels that drive efficient cost per acquisition and maintaining and growing efficient channels that drive revenue. I ensure that all touch points of a consumer's experience are consistent.
Congratulations on raising $1.3 million! Usually, female entrepreneurs pitch female-focused beauty brands to male investors but you did the opposite. What was your fundraising process like and what is your advice to other entrepreneurs?
Duchnowski: We had many investors (all male) confused as to why two females were starting a men's brand. This was challenging as many female brands (including in the beauty space) have, in fact, been started by men. Females are massive influencers in what men use in the grooming market (we can be seen as the gatekeepers to their skin or to their bathroom in many ways). So we were caught off guard when we were first asked.
We've also frequently been asked about our age, how many kids we have and if our husbands can support us…all of which are questions that most male founders have never been asked.
What are the most important characteristics someone needs to have to be successful in your role?
Duchnowski: To be successful as an entrepreneur, I really believe you need to have a "can do" and "figure it out" attitude, thick skin and the ability to stay optimistic.
What are three characteristics you look for when you're hiring a new team member?
Cox: When hiring new team members, we look for candidates who are "scrappy" and who are both comfortable with, and excited about, the unknown!
What are the most important skills for doing your job and how did you develop them?
Duchnowski: Asking questions, following up and always asking people how you can help them, too. The first two skills were developed by being an investigative journalist and a scientist. The last skill I learned working at Goldman Sachs and dealing with hedge fund clients.
Cox: If you have a good day, enjoy it, but use it to gain energy for your next bad day.  Always be selling, trust your gut and be comfortable making decisions quickly and not worrying about it later on.
What's the biggest lesson you learned at work and how did you learn it?
Cox: It is all about people and relationships. Approach each new person as someone that you could learn from and teach them something new, too!
What is one thing that you wish you had known when you were starting out your career?
Duchnowski: There is no one path. Keep your eyes open for opportunities and leap high!
What is the best advice you've ever received?
Cox: Understand what motivates people before you ask them for anything.
What is your business advice for other young professional women?
Duchnowski: Don't mistake other people's confidence for competency. Some of the most competent people are also the most humble.