Unfortunately, we can't control the fact that there will always be setbacks in our personal and professional lives, but we can control how we react. Jaclyn Johnson didn't let a setback — being laid off early in her career — deter her from reaching her goals. Instead, she used it as an impetus to start her first company, (No Subject). As a young founder, Johnson didn't feel like there was a resource for the guidance she needed so she created it. Create & Cultivate is, "a movement for women looking to Create & Cultivate the career of their dreams." Johnson and her team create conferences packed with business owners, bloggers, inspirational speakers and carefully curated shops.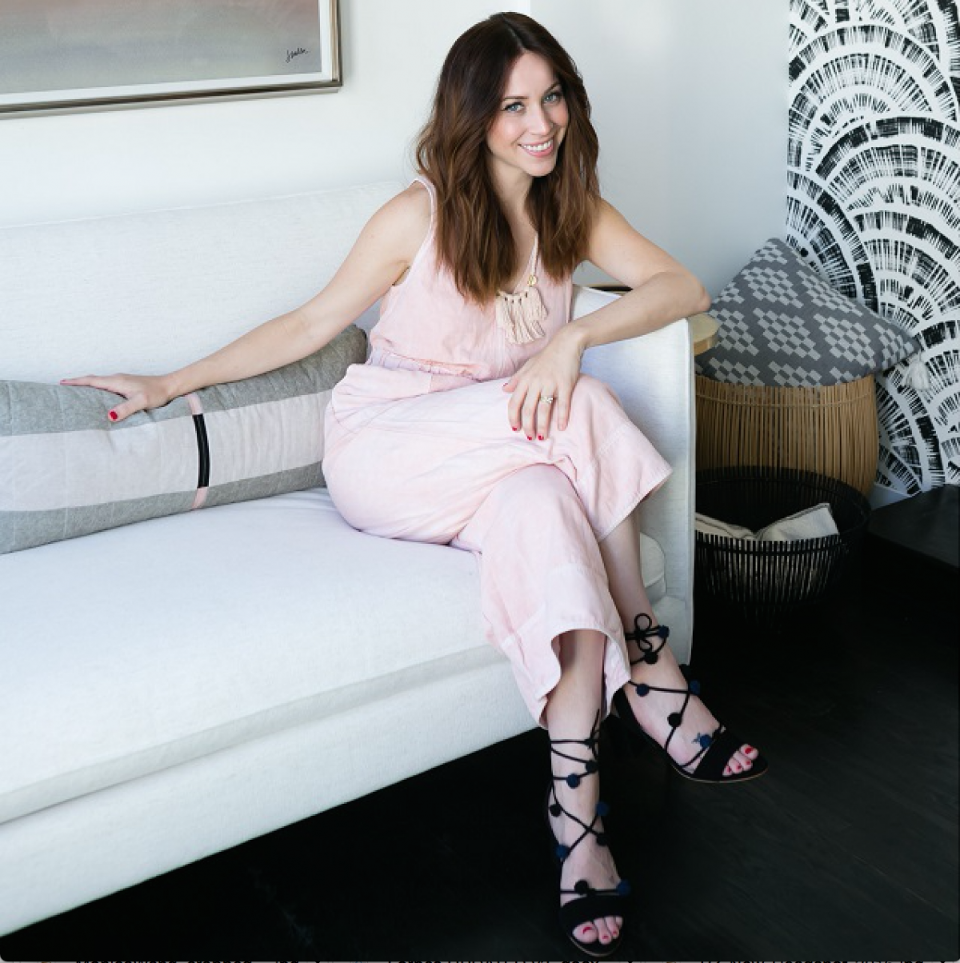 What inspired you to start Create & Cultivate? What was your career path?
I started my first company at 24, a marketing company called (No Subject). The company was built on grit, momentum and excitement. But, over time I had business roadblocks. I had so many questions, concerns and situations I wasn't equipped to deal with. Further, when I looked online for help (and offline for that matter), I couldn't find the information I needed in a way that spoke to me and what I was going through. I assumed I wasn't alone. What I didn't assume was that hundreds of thousands of women felt this way. From that, Create & Cultivate was born.
What has been the biggest challenge and, on the flip side, the biggest reward of starting Create & Cultivate?
The biggest challenge is knowing how and when to scale. We are still a really small team and there is a love and camaraderie in the mix that you don't want to mess with. But successful companies grow. And we are right in the midst of a growth spurt. It can be a little painful to navigate and learn how to let go of all the little details.
The biggest reward is easy — it's seeing 800 women gathered in New York City, cheering each other on, making connections and leaving inspired. It's getting emails from attendees who say that it changed their businesses and their lives. It's in the community that we're building.
What advice do you have for other women who hope to start their own businesses?
Make sure that you are crazy in love with what you're starting because when things go wrong or you're working another late night, the responsibility and momentum land on you. I always say you have to be your own hype woman; if you aren't believing your own hype you won't get anywhere. Passion, charisma and a good idea can go a long way.
What is a workday as Jaclyn Johnson like? Please walk me through a day!
Every day is different, but a majority of my time is spent on the phone, responding to emails and planning our next six months. As a CEO, you are never thinking about today or tomorrow; you are thinking about six months down the line. I wake up early and get to the office before anyone on the team just to get work done before the craziness. I'll bang through my inbox and have typically taken multiple calls before 10 am. I'll do a check-in with my team as soon as everyone gets in, and then the rest of the day is a little rinse and repeat.
What are your responsibilities as CEO and founder of Create & Cultivate?
I am a very hands-on CEO, and by hands-on I mean I literally have my hands in everything. On the financial side, I manage the profits and losses and put together our budgets to ensure we are meeting our goals and profitability. On the marketing side, I build out the high-level marketing strategies and work closely with our social and editorial team on the calendars and content we are putting out. I oversee all creative direction alongside our graphic designer as well as field sales inquiries and sponsorships. I am learning to let go (a little), but I am so in love with our brand and audience that I can't help but want to be involved.
What are the most important characteristics someone needs to have to be successful in your role?
Persistence and charm. Charm and persistence. I always tell people your reputation is your resume. If people enjoy working with you, they will continue to work with you again and again.
I sound like a broken record, but I will tell my team over and over again, "follow up." We are inundated with emails and information but even for me, a follow up email will break through the noise. Approaching your business from a place of persistence and charm and then over-delivering on the goods once you lock in the deal is a surefire way to get momentum and build relationships.
You have to be able to pay attention to detail and look at the big picture at the same time. And you have to be fearless. You're playing a game of risk every day as an entrepreneur, and you have to be okay with uncertainty.
You started your first business, (No Subject), after being let go from Citysearch. What are your tips for remaining positive when you go through tough times?
Hindsight is truly 20/20. I wish I could say that at the time I was positive about the situation, but it was really in retrospect that I realized being laid off really lit the fire to start my own thing. I think it's important to realize everything truly happens for a reason, especially the shitty things.
What are three characteristics you look for when you're hiring a new team member?
A willingness to problem solve, the understanding that long hours and startup life isn't as romantic as it sounds and loyalty. When the crew is small, it's all hands on deck. Plus a general passion for what we are doing; we have hired a lot of our people via our social media.
Gloria Steinem was the keynote speaker at the most recent Create & Cultivate. You told people that you chose Steinem in part because of the current political landscape and in part as a statement that Create & Cultivate isn't fake feminism. What do you mean by that?
I think we are at a really important inflection point in feminist history. Seeing as this was the first major conference we were putting together post-election, it was important for us to say look, being a woman right now is political and a lot of what women have been fighting for is getting torn to shreds. As a team we decided, who better to turn to than an icon who has fought for women's rights her entire life? A woman who has spent her life on the road advocating for change. And who bucked the norm to create a career for herself — that's half of what the conference is about. As Gloria told our audience, being an activist for social change is like being an entrepreneur. It's all uncharted territory. Our goal is always to be a value provider to women whether that is getting tips from a venture capitalist on raising money, hearing from a feminist icon or just escaping for a minute and getting her hair done. We can do all of that and still be a feminist.
What are the most important skills for doing your job and how did you develop them?
Being an entrepreneur is being a Jill of All Trades. I would say on the daily the most important skill to hone is your ability to communicate clearly and organize information effectively. You have to be an incredible time manager for yourself and for your team, especially at the beginning. It's also important to recognize when you aren't good at something and hire appropriately.
What's the biggest lesson you learned at work and how did you learn it?
The hard way. The best lessons learned are usually the hard way. Early on in my entrepreneurial career, I was more of the creative, the ideas person, the visionary and sort of left the "business" and "finances" to a partner. Unfortunately, it didn't work out and let's just say there were major discrepancies in the business. The situation basically kick started my crash course in business and finance. The situation gave me a new found respect for the operations side of business and taught me so much in a short amount of time. I think it's really important to understand both sides of business, even if it's not your forte.
What is one thing that you wish you had known when you were starting out your career?
There are ebbs and flows when it comes to business. The first time I had a bad month, I wanted to throw in the towel. I thought I was done for. It took a lot of conversations with other entrepreneurs to understand there are always ups and downs even for the most successful companies.
What is the best advice you've ever received?
Get it in writing.
What is your business advice for other young professional women?
Don't feel like you have to start a company to be successful. There is a lot of talk about how we are in the Golden Age of female entrepreneurship, which is amazing. But I think it leaves some women feeling like, if they aren't starting businesses they aren't as successful or motivated as other women. That's simply not true. Growing your role within a company you love is equally as challenging. At the end of the day, don't spend so much time looking at your neighbor's grass that you forget to water your own.
I originally wrote this for my Forbes column.