Amanda Gluck is the blogger behind Fashionable Hostess, an entertaining and lifestyle blog that will make you want to be her best friend (or at least invited to all of her events) ASAP. She has been featured on Style Me Pretty, Elle Decor, Martha Stewart, InStyle, and more and has worked with some of her favorite brands like Pottery Barn and Restoration Hardware. Amanda began her Fashionable Hostess in 2011 when she received endless new sets of glassware as an engagement gift. She started entertaining and shared her beautiful tablescapes and parties online. Fast forward and Amanda shares home decor, fashion, lifestyle, and entertaining advice as well as glimpses of her life with her growing family.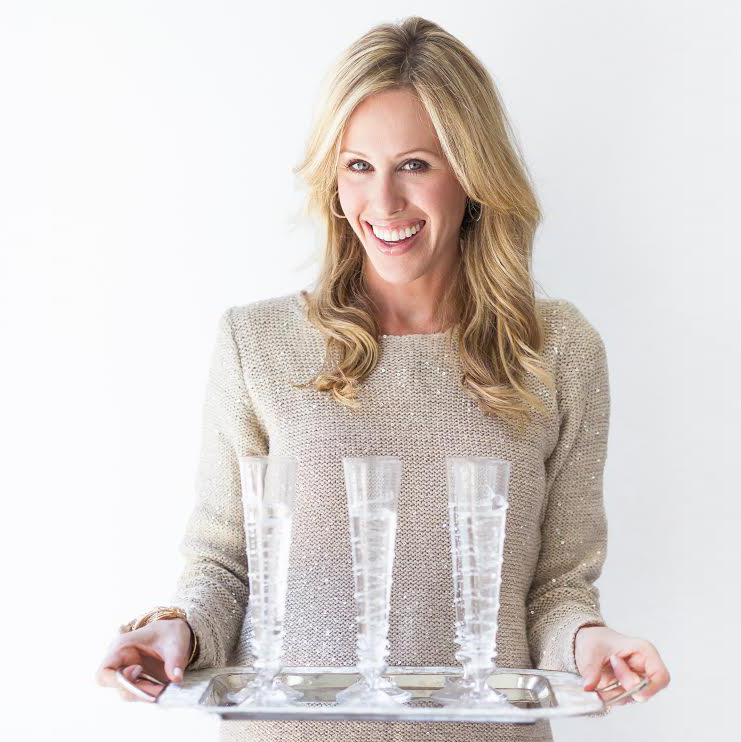 What inspired you to start Fashionable Hostess?
My wedding and registry process! During the process of registering I fell in love with my new dishware and glassware, and began throwing parties as soon as I received things. (We always had big dinner parties in our home growing up, so it felt like the logical thing to do.) I started documenting my tablescapes with my iPhone — which a few months later turned into my blog.
A year later after becoming a mother and moving apartments (to later, homes), I shifted my blog from solely home and entertaining topics to lifestyle, which includes parties, baby fashion, and recipes. My goal is for my site to be a destination for anyone who entertains, loves their home, and appreciates beautiful things!
What is a day as Amanda like? Please walk me through a day!
Every day is very different. Some days are glam and some are less so.
On photoshoot and event days, I am running around like a crazy person preparing last minute displays, picking up flowers, and ironing tablecloths! I do almost all of my photoshoots in my home so I usually set up three to four vignettes to shoot – something in my dining room, something in my family room, or something at the bar. Clean up is my least favorite part (unless it's sipping the cocktails we made!). Other days, I am mom mom mom. Packing lunches, parks, playdates, cooking dinner, bedtime stories with my two and three-year-olds. What I love about my job is that it's, for the most part, very flexible, so there's always time to be a mom and there's also time to get dressed up and have a glass of wine with other interesting people.
What are your responsibilities as founder of Fashionable Hostess?
Um…everything. I have a problem delegating… seriously though. I style all of my shoots completely on my own. I write all of the posts. I take all of the Instagrams. I edit all of the Instagrams. I post all of the social media (mostly from my phone in a carpool line). I host all of my events. I do my own Pinterest, I do my own Facebook…gosh, I am tired just writing all of this out!! Haha. I guess I just feel like my readers and followers are my friends, so they want to hear my voice, so I am afraid to "give in" to the world of contributors and assistant writers! I will admit I have an assistant and content coordinator who manages the finance part — sending invoices, handling payments, and brand outreach. When she comes to town (she's based in Nashville), she helps with events…and most of all, keeps me sane. LOVE YOU ERIN! Also, I do have a photographer who shoots for my website — Yesi of Simply Lively — and she also edits the photos. She is incredibly talented and understood my vision from day one. I realize you need to identify your strengths and weaknesses. My strengths are the creative, not so much the business.
What has been your proudest moment from your career so far?
Being featured in Martha Stewart…anytime you are on Martha Stewart is a day you think "I'VE MADE IT!" All of the times my home has been featured on Style Me Pretty Home Tours. And of course, working with amazing brands — Pottery Barn, Z Gallerie, Villeroy & Boch, Lenox, and Restoration Hardware, to name a few.
What have you learned about yourself since founding Fashionable Hostess?
I have learned my strengths and weaknesses. I have learned I am so lucky to have this as my job!!!
What has been the biggest challenge and, on the flip side, the biggest reward of starting Fashionable Hostess?
I have learned it's really hard being an entrepreneur and it's hard to turn it off – especially the social media. Those 16 year olds can post ten Snapchats in the time I do one filter! You can't compare yourself, so I am just doing my best. On the flip side, the biggest reward is that I have stuck it out and FH is turning into something bigger, and more amazing than anything I had ever dreamed of. Sometimes when a brand I LOVE, reaches out and says "We love Fashionable Hostess and want to work together" I sit back and say "How did they find little me in the scheme of millions!?!?!" It's incredible!!
What is your favorite thing about blogging?
Being creative! It's not often you are handed products and someone says, "Okay now do whatever you want with them!" This is where Pinterest comes in handy, and I can let my imagination run wild!
What has been one of the biggest challenges in growing a lifestyle blog and what advice would you give to other bloggers or people who want to start blogging?
Staying organized is the biggest challenge. With so many deadlines and social media hashtag requirements and tags, it can be a lot to remember, so lists and calendars are essential! My advice is to constantly stay on top of your to do's but, most importantly, stay consistent in quality. Don't post just to post…rather, create blog posts that are incredible and that you are proud of, and post them when they are ready. Triple check your work for display and typos. If you really love it, then they will too!
You collaborate with so many amazing companies! What advice do you have for bloggers that hope to collaborate with brands?
It starts with gorgeous content. Whether you are sent one vase or a full 12-piece table setting, make any collaboration fabulous. When you walk away thinking, "Wow, that came out beautiful, I know they are going to love it," then it usually holds true, and often times they will want to work together again and again!
Also, create a media kit. Within the kit, share how many followers you have, how many unique monthly viewers you have, any cool press, and show some examples of your past posts. Brands are more likely to work with you when they can understand what they will get in return. If you are just starting out, skip the media kit and send links to relevant posts!
You've had amazing press and collaborations. What advice do you have for other people hoping to get featured?
Don't wait for brands or publications to come to you! Seek them out! Tweet at your favorite magazines, comment on their Instagrams, tag them in your photos or use their hashtags. I am always "wow-ed" at the power of social media in connecting people!
What is on your desk right now?
Oh gosh, thank God you can't see because it's a mess!!!! A notepad with 100 scribbled to do's. A bag of Dylan's candy bar candy. My husband and daughter just went to NYC and brought back my favorite selects. while I eat really healthy, I am a sucker for sweets. Tons of Poppin office supplies… the pens, the pen holders, the folders. Everything in white, of course!!
What is your morning routine?
Wake up to the baby monitor…someone screaming "MOMMMMYY" somewhere between 6:30-7:15…take my kids in the kitchen where I make breakfast, pack lunches. Get them dressed for school. Head into my room — I would say 75% of the time I put on workout clothes, whether I plan to workout or not! I would never leave my house without CC cream, NARS liquid bronzer, and waterproof mascara. Sneakers on and out the door to school drop off. After that — my work day begins!
What is the best advice you've ever received?
Don't work with brands you don't buy. Even if they offer to pay you…a lot!
What are you reading right now?
Honestly…other blogs, Aimee Song's Capture Your Style, The Cat in the Hat with my kids and then I pass out.
What is your career advice for other young professional women?
Don't leave your job to start a blog! I actually worked on my blog for a year while working a full-time job before decided to try it full-time!