Evgeniya Khromina is the founder of Panâh, a fashion production house founded by Morteza Saifi and Evgeniya Khromina. The production house provides consulting, sourcing, and manufacturing services for global and emerging African fashion brands.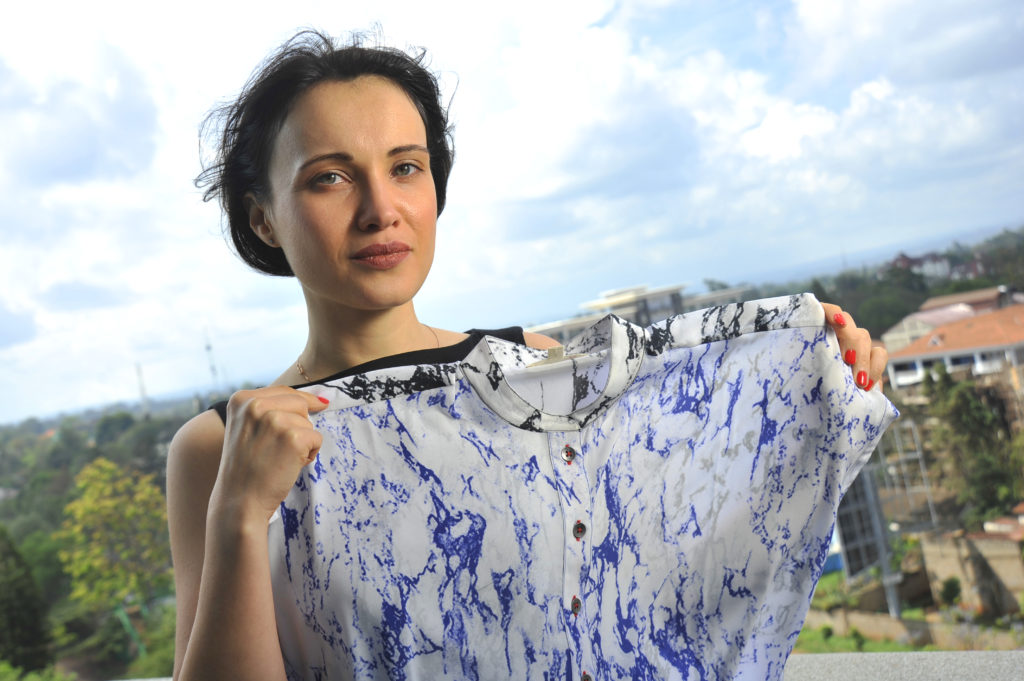 What inspired you to start Panah?

My husband, Morteza, and I have always inspired each other. Morteza has spent 20 years in the fashion industry around the world and was considering his next career move in a meaningful way. At first, the idea to create a sustainable business in one of the developing countries and to train locals who had no experience in producing fashion products sounded far-fetched. After we did our research we found supporting data that clients of fashion brands were starting to demand greater transparency in the supply chain. Then it started to look more real.
What's Panah's mission and how you archive it?

Panah's mission is to be a reliable, high-quality manufacturing partner for international fashion brands that engage in sustainable fashion. We achieve our mission by training our employees to produce high-quality fashion products. We operate with lean manufacturing methods that enable us to work with lower price point and more variations in styles.
What were the first logistical steps you took to start a business?

We traveled to Kenya and Tanzania on a long holiday back in 2012. Meanwhile, we did a feasibility study and met with different stakeholders in the sector. We finally decided on Kenya and moved to Nairobi in April 2013.
What is day as Evgeniya like? Please walk me through a day!

My day must start with a workout or yoga, otherwise, I won't feel energetic and ready for the day. I work out three times a week in the gym with a personal trainer and do yoga twice a week with a teacher who comes to my house. After that, I have a power breakfast!
I get to the office at 9-9:30. And the craziness of running of fashion production house in Africa starts. Quality is always my priority. I know everyone, including my husband, gets nervous when I look at the production. He says I have "the eagle eye." Then the usual routine, read my emails, correspond with clients, check production status, do marketing and PR, update social media, pay bills, follow up on HR, etc.
If I am not in the factory, I am attending seminars and meetings at organizations like Kenya Association of Manufacturers, East Africa Trade, and Investment Hub. These seminars offer great opportunities to learn about the industry in Kenya, to network and to voice our challenges as an SME.
I get home around 7 pm for dinner and perhaps continue with work and answering emails. I enjoy reading. If I'm really tired I will go for a magazine about wildlife, conservation or "Old Africa" stories. On a good day, I go for a book. I'm very keen on anthropology these days. I try to go to bed around 10 pm.
What are your responsibilities as co-founder of Panah?

Business development and marketing, social programs, and office operations.
What has been your proudest moment from your career so far?

To see Liya Kebede – founder of Lemlem wearing Mara Shirt made by Panâh on the cover of South African Elle this September.
What have you learned about yourself since founding Panâh?

I've learned that I have more resilience that I could have imagined. It's been pretty tough starting a business in a  completely unfamiliar environment in such a demanding industry as fashion when every new collection and new season is a new challenge. The only mantra that helped me is "Keep Calm and Carry On."
What has been the biggest challenge and, on the flip side, the biggest reward of starting Panah?

The biggest challenge was, and still is, quality. Kenya has a robust apparel manufacturing sector that is way more developed than any other country in developing Sub-Saharan regions. It takes around three to six months of training to get to the quality required from our clients.
The reward is accommodating the company's rapid growth as we are facing high demand for our development and manufacturing services.
What is the most important characteristic for entrepreneurs to have?

I would say patience, as things take time to happen.
What is one thing that you wish you had known when you were starting your career?

That things are not the way you think they are!
What is on your desk right now?

Computer, phone, bag, glasses, 2017 Kenya Quilt Guild calendar, planner, production cards, production files, clipboards, fashion magazines, Harvard business Review books, tape measure, a glass of water, swatches of fabrics, bobbins of thread, files, and other stuff. It's a pretty small and crowded table.
What are you three favorite books?

1. Women Code by Alisa Vitti – A life changing book about women's health. I highly recommend it to all women, especially those who are juggling career and family and struggle to find time for themselves.
2. Guns, Germs, and Steel by Jared Dimond – First book with a non-racial approach to explaining differences between different people around the world. It turns your head upside down. I think it is important to understand the differences between different parts of the world, especially when you embark on a mission like we did.
3. East Africa by Lonely Planet – The ultimate guide to your East African Safari. I wish I had more opportunities to travel as this is an amazing part of our planet.
What is your morning routine?

I have a glass of water with supplements. Breakfast and workout or yoga or the other way around. I feed our canaries and then head to work.
What is the best advise you've ever received?

My grandma used to tell me, "Be a smart girl." I miss her a lot since she passed away in 2014. She was the wisest woman I have ever known.
What are you reading right now?

Why is Sex Fun? by Jared Dimond. This is an amazing book with such a provocative title! We never think about why things are they way they are, for example concealed ovulation in women and menopause and many other interesting things about human sexuality.
What is your career advice for other young professional women?

It's a tough job to be a modern woman: Professional and family responsibilities can be overwhelming sometimes! Take care of yourself. Good food, fitness, rest, goodnight sleep are a girl's best friends. Work life balance should not be your aspiration; it's a must. Learn it now and cherish being a woman.