Claire Wasserman quit her high-paying job to help other women get paid what they deserve. Wasserman founded Ladies Get Paid, a New York City-based organization dedicated to "helping women advocate for themselves so they get recognized and rewarded" in the summer of 2016. They actualize their goal through monthly town halls where women talk candidly about workplace challenges, workshops and webinars, sharing job opportunities at companies focused on equality and access to a private Slack group where thousands of women exchange advice and resources. There are currently more than 4,000 Ladies Get Paid members from 48 states and 43 countries. As Wasserman says, Ladies Get Paid is "Changing the world, one raise at a time."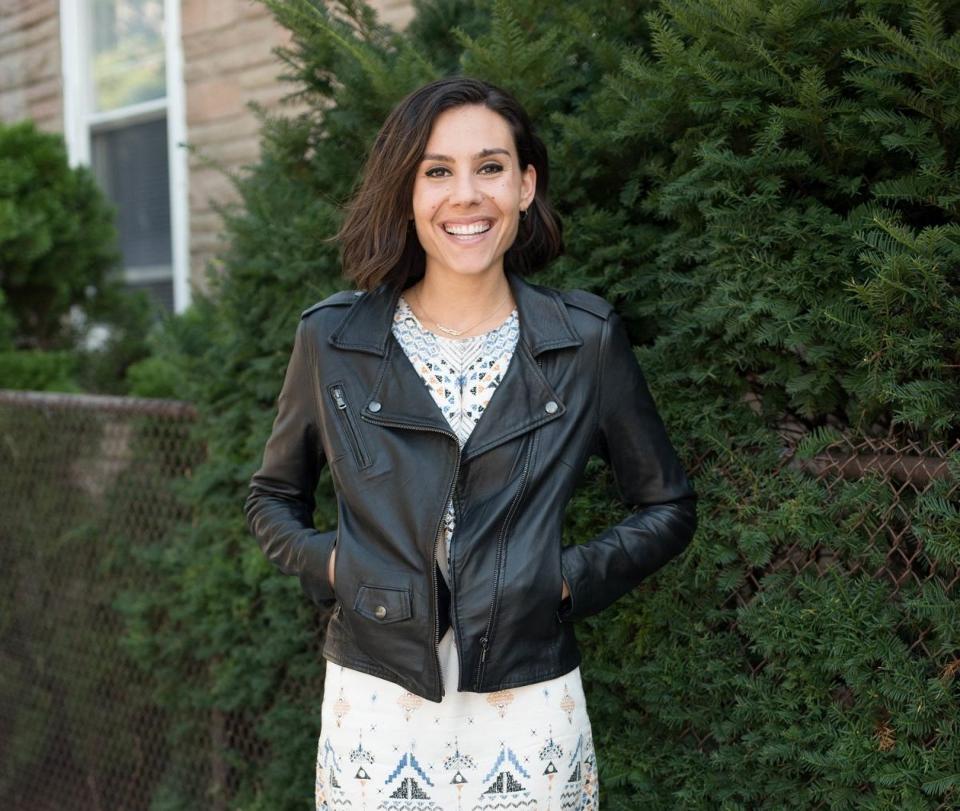 Elana Lyn Gross: What inspired you to start Ladies Get Paid?
Claire Wasserman: I've been supportive of women's communities for a while—for example, I raised $10,000 in high school to build an all-girls school in Afghanistan. However, I didn't self-identify as a feminist—I didn't really know what it meant, to be honest—until I had an eye-opening experience at Cannes Lions. It was basically a week of misogyny—some blatant, other times not so much. Regardless, to be constantly surrounded by mostly older, white men made me realize I couldn't deny the dynamic between us. After that, I started to read more about women in leadership and diversity and found that there is almost no industry in the world where women are the decision makers. It's not even close to gender parity. Fast forward a year, and a successful freelance art director friend confided in me that she only recently discovered that she was charging way less than her male counterparts. We decided to organize a town hall for women to talk about money and the rest is history.
Gross: Ladies Get Paid has grown to more than 3,000 people worldwide since 2016. What are some of the most meaningful things you've experienced from the town halls and workshops you've hosted so far?
Wasserman: One thing I'm proud of is that someone cries at almost every town hall. I'm proud of it because it means that I've created a safe space where people feel open enough to share their emotions! Although we're talking about our careers, it's really more of a conversation about identity, fear and self-worth. At the end, sometimes we even share therapist recommendations. There have been countless women who've told me that because of the education we do, they've left toxic jobs, advocated for major raises, or on the smaller side, simply spoken up at a meeting when they had previously been too nervous. I also always get the same email after every event: "Wow, I thought I was the only one!" The things we all share in terms of frustration and anxiety are, in fact, universal among us.
Gross: What are some of the key insights you've learned about the sexism women face today in their personal and professional lives?
Wasserman: Sexism is often subconscious, it manifests itself in microaggressions that can be extremely tough to identify. Usually, women simply feel 'weird' or 'gross' and aren't sure why. (Obviously, other times it can be shockingly blatant, but that's another story.) Most women in my community report that they don't like the dynamic but have trouble pinpointing it and speaking up for fear that they'll appear 'crazy.' As women, we tend to be very self-reflective—almost to the point where we paralyze ourselves—so a lot of Ladies Get Paid's education is about stripping away layers to figure out when it's them, when it's you and what to do next. The first step is sharing your story; the second step is getting strategic.
Gross: What has been the biggest challenge and, on the flip side, the biggest reward of starting Ladies Get Paid?
Wasserman: One of my biggest strengths is also one of my biggest weakness. I move fast and without fear; that has allowed me to dive right in and grow Ladies Get Paid with speed and momentum. That being said, it also means I struggle with prioritizing, being thoughtful and not getting overwhelmed with the growing number of people I owe money! After all, ladies need to get paid!
The biggest reward—man, there's been so many—is that I know I've affected people's lives positively. I always say that if you can help one person, that's all that matters. And now I have the honor of receiving emails every day from women whose eyes have been opened to a new way of thinking, women who've found 'their tribe,' women who finally believe in themselves. I always cry when I get those emails. (Gosh, there definitely is a theme of crying here!)
Gross: What advice do you have for other women who hope to start their own businesses?
Wasserman: Do a ton of self-reflection before you start. Not just business reflection, but what you as a person deeply believe in, what moves you and what kind of effect you want to have on this world. Also, be very clear with yourself about what you are—and are not—willing to sacrifice. You can't have it all, so what things will you have to give up to start your own business? Money, friends, time, health…if not having any of these makes you super anxious, then maybe being an entrepreneur isn't your thing. I'm a workaholic, so I actually really enjoy working nonstop, which honestly, I think is what's needed at least the first year of any business. But there are consequences to that. You just need to be aware of them from the get-go.
Finally, be as strategic as possible. Make that roadmap; ensure you have a financial runway. It's not to say that you can't deviate from the plan—and you will—you just don't want to jump blindly into this. And then…jump!
Gross: What is a workday as Claire like? Please walk me through a day!
Wasserman: I usually wake up at 6:30 am or 7 am, do some light meditation and then get to work. (But not before I make a massive pot of coffee!) I am constantly reorganizing the priorities on my to-do list, which is a lifesaver. My lists are always endless so in the morning, I make a game plan of the things I must get done, the "nice to haves" and the stuff I can push to another day. I am my most productive in the morning and really cherish my time when no one is assaulting my inbox. I usually jam out until 11:30 am or so when my brain kind of fizzles and it's break time. I'll walk the dog, make some food, maybe take a shower and then it's back to work for another few hours. Depending on if I'm in Maine or New York (I split my time), I'll head over to a co-working space and work from there from 2 pm to 6:30 pm. While my mornings are total focus time, my afternoon is really high-energy so I have all my meetings and calls. I'll have dinner with my husband around 7 pm and we watch "Vice News" and talk about how scary America is right now. Then, we both get back to work—he's an entrepreneur too—and finish up the work day at 10 pm when I hop into bed and read The New Yorker—or scroll through POPSUGAR—who am I kidding? I finally pass out around 11 or 11:30 pm.
Gross: What does money mean to you?
Wasserman: This is obviously something I think about a lot here at Ladies Get Paid. To me, money means power. It means influence over others and the ability to possibly affect massive change. It also means freedom, not necessarily from anxiety ('mo money 'mo problems), but I cannot wait for the day that I can hop on a plane without a second thought, and fly off to some exotic part of the world. I'm definitely gonna need money for that one.
Gross: Money is definitely a taboo topic, but there are countless others. What are some other topics you want to tackle in town halls?
Wasserman: My dream is to start including topics like mental health, motherhood, sex and relationships to our curriculum—topics that desperately need conversation, community and education. I really see the career development track that we're on as a case study for how we might be able to expand to other subjects and perhaps even include men at some point. (They need this stuff too!)
Gross: What's the biggest lesson you learned at work and how did you learn it?
Wasserman: No matter how good you've done or how much your boss 'loves' you, your job will never love you back. Unless you own your company, it's not yours. Not saying you shouldn't work your butt off, you just can't live for your job. How'd I learn that? I received a promotion and then 24 hours later, got brutally fired. Now that's a story for when we're drinking cocktails.
Gross: What is your business advice for other young professional women?
Wasserman: Observe how much time you spend judging yourself and others. Note that it's a total and complete energy suck and if you can work on it, you'll have so much more emotional bandwidth to do positive things. Also, work on giving less f*cks.
I originally published this on my Forbes column. Image courtesy of Claire Wasserman/Ladies Get Paid.