Maja Svensson, left her corporate job in December 2011 to create the clothing company, ELSA AND ME. Inspired by her beloved grandmother Elsa, ELSA AND ME "brings an older generation's iconic style to today's diversified career woman." As Maja says, "Elsa came of age in a time when having a career wasn't always an option for women and had to settle with being a homemaker (which she didn't really want). Our company was created to echo Elsa's renowned fashion sense and support women pursuing their professional dreams."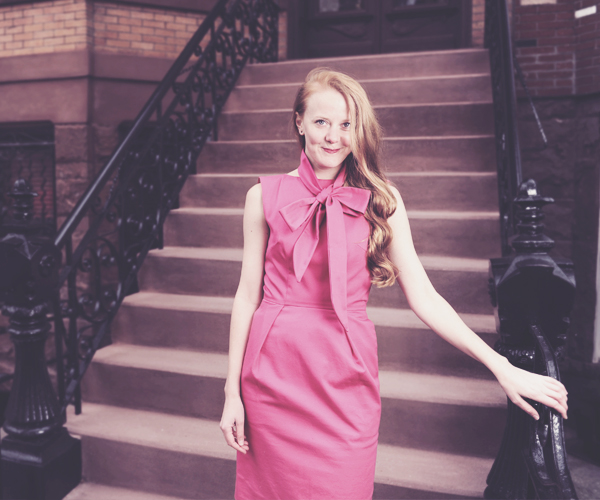 What inspired you to start Elsa and Me?
I've always wanted to run my own business, to build something of my own and to get to understand the workings of getting something off the grounds. This has been, and still is, my main motivational factor.
What were the first logistical steps you took to start a business?
I met with a lot of people who had started businesses and asked them questions, among those, Christine Marchuska, who got me in contact with a patternmaker in the garment district. I Sat down and poorly sketched out a few clothing pieces that I wanted to create. I Went to Mood Fabrics and asked the first person I saw: George. I didn't know him at the time but he came to be a very important person for my business the first years.
I brainstormed a clothing brand name with a friend, and we (it might actually have been him) came up with Hot Champagne. But Champagne couldn't be used for trademark reasons (as we all can imagine) so I talked to my mom, and she was like, "But, how about ELSA AND ME?" Grandma Elsa has always had such a great style, so that became the brand name and shortly thereafter I registered my business in New York State through incorporate.com.
What is a day as Maja like? Please walk me through a day!
I wake up at 5 AM, unless I have had a fitting event the day before that ran late, or unless I've watched too many episodes of a British murder mystery show on Netflix together with too much chocolate too late, and therefore cannot get up. I feed the cats, make coffee and a bagel, answer the most pressing emails, take our dog for a walk, and make more breakfast.
If you've read Nur-E's Career Profile on here, you'll see that she's my accountability partner for waking up early in the morning and doing what is called a "miracle morning" routine. And part of my miracle morning routine is that after I've walked the dog and made my second breakfast I read a minimum of 10 pages of a book. I'm currently reading The Age of Innocence. This is my favorite part of my routine, which has made me read more books and it has also made me less stressed and infused more Zen into my life.
After this, I do any administrative tasks, sales logging, and sales outreach for a couple of hours. On a good day, I go for a run. If I have a fitting event in the evening I usually turn any emails or computers off after lunch and start prepping for the fitting early afternoon. Early evening I head out to the fitting event location, usually someone's home or office and get to meet with ladies and have them fitted for our dresses. When I come home my husband has a late dinner ready and we sit and chat for a while, then go to bed and potentially watch Netflix.
It might seem boring to some, but this is my ideal week day. Sometimes it starts later and sometimes it doesn't happen this way at all.
What has been your proudest moment from your career so far?
My proudest moment is when I have a happy customer.
What have you learned about yourself since founding Elsa and Me?
That I am one tough cookie.
What has been the biggest challenge and, on the flip side, the biggest reward of starting Elsa and Me?
The biggest challenge has been barely making ends meet and having to delay and re-organize bills in order to make things work, with demands coming from more than one direction at once. When things get financially trying, it easily gets emotionally trying. The biggest reward has been to serve professional-looking dresses to happy customers and that I have been able to continue to build on my dream of building something of my own.
What is the most important characteristic for entrepreneurs to have?
To be persistent and open to feedback. Persistent in order to push through when things get emotionally trying and open to feedback in order to turn things in a different direction if needed.
What is one thing that you wish you had known when you were starting out your career?
That it's ok to make mistakes, as long as you take responsibility for your part and learn from them. It is the best way to move forward.
What is on your desk right now?
Two half-filled cups of cold coffee. Order sheets and cookies from a fitting event I had last night, a pen, a notebook, a glass of water, and a dish towel. Yes, I'm sitting at our kitchen table.
What is the best advice you've ever received?
"You're an entrepreneur Maja, why not try to see if you can't find a way to work with ELSA AND ME fulltime?" My former boss to me when I wanted his advice on looking for a new job.
What is your career advice for other young professional women?
The answer is always within you just surround yourself with great people who will ask you great and challenging questions.
P.S. ELSA AND ME has a live Kickstarter open now!
Image via ELSA AND ME.