Kari Saitowitz is the founder of one of my favorite boutique fitness studios, The Fhitting Room. Kari was previously a marketing executive at Pepsi-Cola Company, where she focused on building brand equity for powerhouse brands and launching new brands and product innovations. She left the world of boardrooms when she had her first child eight years ago. Kari was introduced to High Intensity Training and loved the physical and emotional changes she felt as a result. She made it her goal to develop a boutique fitness studio specializing in effective and fun High Intensity Training workouts. Kari has a MBA from Harvard Business School, where she graduated with honors, and graduated summa cum laude with a BS in Economics from the Wharton School of University of Pennsylvania.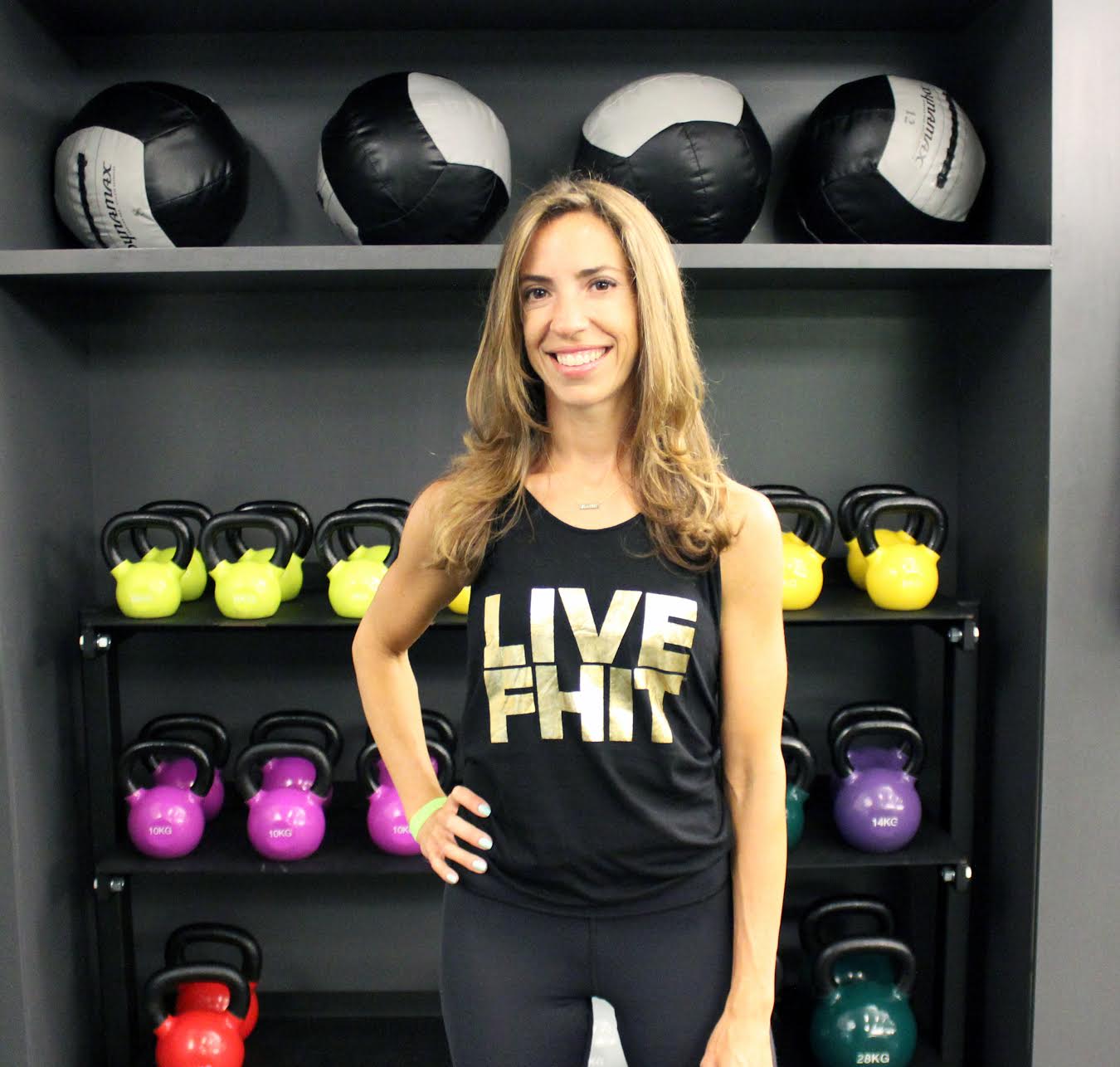 What inspired you to start The Fhitting Room?

I always fancied myself a brand builder with both a passion and admiration for "great brands," those that are relevant, dynamic, tap into emotions, have a strong brand identity, reinvent their categories (or invent their own category) and continuously surprise and delight their consumers.
I left my job in marketing at Pepsi upon the birth of my older son, but I never left my love of brand creation and management. I began working out with a personal trainer to get back into shape after giving birth; he was super smart and treated training like a craft. Our workouts were different than anything I had done before; they were thoughtfully sequenced and pulled movements and workouts from a variety of methods. The results were amazing.
At the same time, boutique fitness studios started emerging in a big way, mostly offering indoor cycling, barre or yoga classes, and people were loving them. Based on conversations I was having with friends, it seemed there was something missing in the boutique landscape. Many were looking for the results and personalization of one-on-one training sessions and the community, energy, and fun offered at the best boutique studios. I saw an opportunity to bring the workouts I was doing privately into a group environment and wrap an amazing and all encompassing brand experience around it. The result was The Fhitting Room.
How would you explain the workout in a few sentences?

The Fhitting Room specializes in high intensity interval training. However, our workouts are very accessible for all because we bring together the best of a personal training session and the best of a group exercise class. Because our largest class is capped at only 24 clients, and we offer co-instructors in classes with more than 12 clients, we deliver personal attention, hands-on form correction, verbal cues, properly demonstrated form and the ability to scale and/or modify movements to accommodate different fitness levels and those with injuries in a way that's safe but still super challenging. Everyone will get a an amazing workout and be pushed, but everyone will also leave feeling successful and empowered. Each day's workout integrates five essential building blocks: 1) total body focus 2) strength training 3) high intensity intervals 4) highly varied exercises and 5) functional movements. We incorporate many bodyweight exercises as well as a variety of equipment such as rowing machines, plyo boxes, kettlebells, dumbbells, ski ergs, medicine balls, suspension trainers, and more. Classes are lively, instructors are fun and personable, music is pumping and motivating.
What advice do you have for someone who wants to start her own business?

You have to start somewhere, so make a list of the questions you need to answer to determine the viability of your business and start putting down answers to each question one at a time.
You went to Harvard Business School. Do you think that the skills you learned at HBS have helped you grow The Fhitting Room into the successful company it is today?

I absolutely put skills learned at HBS to use on a daily basis; however, I don't think having an advanced degree is by any means a golden ticket to success nor a necessity. My days at HBS helped me learn to value differing opinions, collaborate with others, think critically about problems, and take time to enjoy the journey.
What is a typical day like for you? Please walk me through a day!

Monday through Friday my alarm goes off at 6:20 am, again at 6:30 am and again at 6:40 am. I finally get out of bed, start getting myself ready for the day, while making breakfast for my two boys and getting them ready for the day. After much prodding, my boys and I are out the door around 7:45 am. I drop each of my kids off at school, and by 8:30 am I'm off to one of The Fhitting Room locations.
I talk to my team, I talk to clients, I answer some emails, I sometimes take a mid-morning class. I usually have some sort of meeting or conference call in the late morning, it could be with my PR team, with a potential new hire, with someone else in the industry, or with someone on my team. There's always a million things that need to get done and before I know it, it's usually time to pick up one of my kids (I try to pick up each child three times a week) and take them to one of their after-school sports activities. I sit with my second grader as he does his homework; one to two times a week I head back to one of The Fhitting Room locations during the earlier evening classes or have an industry event to attend. If I'm home, I hang with my kids until I put them to bed, and then I get back to work. 8:30 pm until 1 am is my focus time. My team knows I will email them at crazy times, but they also know I don't expect answers until the next day. Saturdays and Sundays are simpler.
What are some of the best things, and on the flip side the most challenging things, about starting your own business?
Best Things:
-Build my own team, surrounding myself with people who make me happy
-Obsess about all the little things
-I choose to do things I love
-I get the best feedback from clients and employees about goals they've achieved (emotionally and/or physically) and how The Fhitting Room has changed their lives
-If I don't like how something is working, I have the power to change it
Most Challenging Things:
-Obsess about all the little things
-I try to stay on top of everything, which simply isn't possible; I need to get better and carving out true downtime for myself
You previously worked in senior marketing roles at Pepsico and American Express. What were your roles and responsibilities in those organizations?
I was a senior marketing manager at Pepsi, and I worked in the Strategic Planning and Business Development Group (SPG) at American Express. My role at Pepsi was brand management and consumer marketing; my group at Amex was an in-house strategic consulting group that supported the different business units.
How did you decide to take the leap from the corporate world to starting your own business?
I made a pit stop as a stay at home mother for a few years in between the corporate world and entrepreneurship. I never really set out to start my own business but rather the idea for The Fhitting Room just kept nagging at me and I couldn't shake it. My husband finally turned to me and said, "You went to HBS, go figure it out."
What is one thing that you wish you had known when you were starting out your career?

I started writing a number of different answers for this question, but I kept deleting them. The truth is that I wouldn't be who I am now as a person or business woman without each of the experiences I had along the way.
What advice would you give to someone who is in the first five years of their career?

Read the book Who Moved My Cheese? by Spencer Johnson. Take (calculated) risks. Nothing is forever. Say yes to opportunities that come your way now; it gets scarier and more complicated to do so as you begin a family and have more competing priorities. But also, take time out to have fun, go on vacation, put an out of office message on your email.
What is on your desk right now?
I don't have a desk. I have a traveling office in my backpack and a communal table in the back of each of my studios. I walk around with one folder of things that require follow up from me, but I am pretty much digital, so as long as I have my laptop and phone, I'm good.
What advice do you have for other professional women?

Accept that there's no such thing as balance. Some days you're going to be awesome at one thing and other days you'll be awesome at something else. Follow your heart. Different decisions are right for different people. Do what makes you happy and those around you will also be happy.
What is your favorite quote?

When there's a fork in the road, take it. — Yogi Berra
Images via Gilt City and Kari Saitowitz.