The Engagements: J. Courtney Sullivan has been one of my favorite authors ever since I read Commencement during the spring break of my senior year of college. I had the pleasure of hearing J. Courtney Sullivan speak at one of Aidan Donnelley Rowley's Happier Hours. Courtney spoke about her tips for writers. One thing she said that really stuck with me was that writers are always working on their stories and collecting memories and experience that might be put to use years later. Courtney explained that the storyline with Evelyn and Gerald was actually inspired by a story shared by a couple she'd met at a wedding years and years before she wrote the book. Courtney also shared how much research and time went into understanding Mary Frances Gerety, the ad writer who is responsible for the ad slogan "A Diamond Is Forever." She interviewed Mary Frances Gerety's living friends and family and even went to her former home. She and the new homeowner looked everywhere for more answers about Mary Frances Gerety's life and finally, on Courtney's last day, she found a box of her notes and belongings in the attic. I was so excited to read the book after hearing from the author and I highly recommend it!
Reconstructing Amelia: I literally couldn't put Reconstructing Amelia down. The book was a combination between Gossip Girl, Gone Girl, Pretty Little Liars, Private and Twelve. Reconstructing Amelia was a thought-provoking and emotional mystery exploring the heavy topics of losing a child, school bullying, elite institutions, parenting, adolescence, secrecy, adultery, and entitlement. Read it!
Rules of Civility: This is another book that I couldn't put down! I loved reading The Great Gatsby in middle school and this book is the most similar thing I've read to Gatsby. I never read books more than once but I could see myself reading this book once a year.
The Chaperone: I love reading historical fiction and loved learning that this book was based on a real trip taken by a chaperone and the movie star Louise Brooks. I loved that the book spans six decades—the reader gets to witness a drastic change in societal norms. There are a lot of unexpected twists and turns—read it!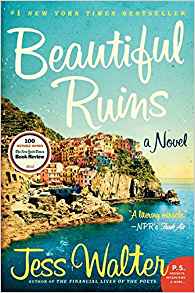 Beautiful Ruins: This book was fantastic! I really enjoyed how all of the seemingly unrelated stories were woven together—in the end, it all made sense.