Jeni Lambertson is the founder and CEO of the constellations, a female-first recruitment service. Jeni is passionate about bringing diversity to companies while simultaneously doing her part to close the wage gap. the constellations has a diverse client roster, from small startups to holding companies, and only makes one request, that clients understand the positive impact a diverse workforce can have on business, culture, and profit. Jeni began her career at a branding agency in New York City where she discovered her love for both creative advertising and scrappy startups. After six years in New York, Jeni made the jump to the West Coast where she worked as a creative resourcing executive in the advertising industry before founding the constellations in January 2017.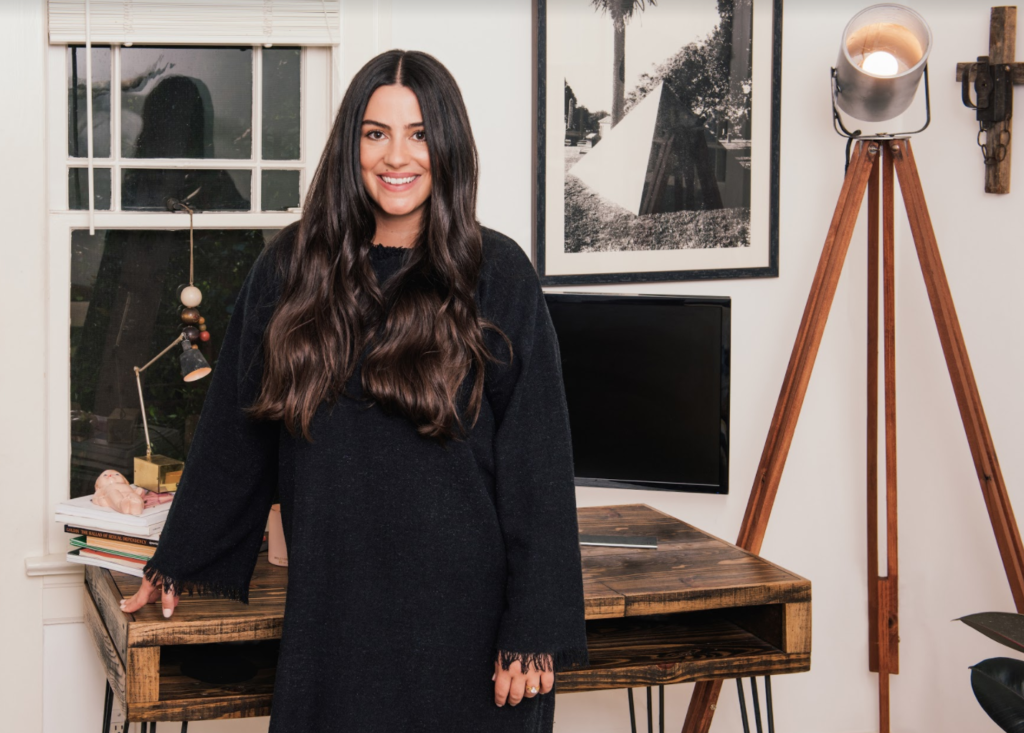 What inspired you to start the constellations?
I was inspired to start the constellations because I felt it was the only way I could elicit change. Before launching the constellations, I was working for a global advertising agency and came to understand the only candidates I was empowered to hire were white men. I was leaving work each day feeling frustrated and wholly defeated. I knew I was meeting brilliant women, with fresh ideas and broader skill sets than the men I was interviewing, but would hear feedback like "She doesn't have any ideas," or "The work isn't there." I knew if I launched my own agency it would allow me to be as discerning as I need to be with the clients I choose to work with and, more importantly, be a career advocate for the women who inspire me with their intelligence and unbelievable talent.  
What is the constellations' mission and how do you achieve it?
the constellations' mission is to place female talent in future-forward companies where it is understood that a diverse workforce can only have a positive impact on business, culture, and profit. I am confident with every female candidate I place at a salary commensurate to that of her male counterpart in a company that will support her growth and development, the gender imbalance moves toward equilibrium. Through building the constellations I have come to understand the only way I will effectively work towards equality is by approaching it holistically. It's imperative that I help those I work with understand that paying a woman the same as a male counterpart is the ethical thing to do, that is only treating a symptom. There are other symptoms that lend to inequity (not providing the same growth opportunities for women, allowing or not recognizing oppressive behaviors in the workplace, etc.) My focus for 2018 is going to expand as I encourage the companies I work with to examine their practices and develop strategies to ensure the scales are balanced.  
What is a day as Jeni like? Please walk me through a day!
I often travel as the constellations operates bi-coastally, but as a creature of habit, I try to keep my general routine intact. Regardless of whether I am in New York or Los Angeles, I wake up around 7 a.m. I wish I didn't do this, but the first thing I do is check my email and social channels. I have the best intentions of being one of those people who sleep with their phone in another room and wake up to like wind chimes and have a tea ceremony or something, but the reality is I am high-strung and I am better if I know there are no fires to put out. When I am in Los Angeles (my home base), I usually walk my dog and grab a coffee at the neighborhood cafe.  From there I go to my workout at LEKfit. If I am in New York City, I either stream LEKfit on demand or go to the class by Taryn Toomey. I have found exercising is an integral component to my success. It's the time where I can really move my body, but more importantly, can purge whatever is occupying unnecessary space in my mind. Once home, I get right to work. The workday is varied depending on what  I am working on, but it could be anything from calls and meetings with candidates to working on a presentation for a speaking engagement. I am very diligent and don't take breaks, so by 4:30 p.m. or 5 p.m. I am usually done or too stir crazy to be productive. Once my workday has wrapped, I shower and get ready for whatever is happening in the evening. In Los Angeles, that usually means cooking dinner with my husband and hanging out with our puppy and in New York, it means cocktails and dinner with friends. Whatever the case may be I am typically home by 11 p.m. Once home I check email to make sure there is nothing for the next day that requires my immediate attention and then it is lights out.
What are your responsibilities as CEO of the constellations?
My first responsibility is to the women I work with and for. If I am doing right by the candidate, I am doing right by the client and therefore right by the constellations. Currently, the constellations is a small operation, so I am scrappy. I work on everything from business development to scheduling interviews for my candidates. There is no job too small when it is your business. After that my responsibility lies in determining what the big picture is and how I will achieve it. However, I find those ideas don't typically come during the workday. It is more of a stuck in traffic, and a light goes off or waking up in the middle of the night and instantly knowing what the next right move is.  
What has been the biggest challenge and, on the flip side, the biggest reward of starting the constellations?
I have found that the most significant challenge is not allowing myself to become discouraged when I have to convince a potential client why what I am doing is so important. I recently cried after a meeting for the first time since launching the constellations because I felt so disheartened that I, as a woman had to advocate for women to another woman. On the flipside, the most rewarding part of my job is assisting with the progression of one's career. It is so gratifying to know I am forging mutually beneficial relationships with my clients and my candidates.  
What is the most important characteristic for entrepreneurs to have?
Scrappiness.
What is one thing that you wish you had known when you were starting out your career?
Launching the constellations simultaneously launched my career. Before founding my own business, I only had jobs. However, what I wish I would have known is that there was no need to carry shame around the job I held. My path has morphed many different times, but every job before this has developed my skillset and taught me something I use today.
What is on your desk right now?
I love creepy antiques and oddities, so my desk is a bit strange. I have my essentials, which are a Shinola journal and pen, MacBook, iPhone, and a large water bottle. The decorative items that keep me company are a naked ceramic doll from the late 1800's, doll legs (its body is missing), a vintage tensor lamp, a small globe, a Heath Ceramics tumbler I use to store pens, books, and my favorite Annick Goutal Eau d'Hadrien candle.
What are your three favorite books?
This is a complicated question because I have favorite books from different periods in my life. However, the three that stand the test of time are The Bell Jar by Sylvia Plath, L'Etranger (The Stranger) by Albert Camus, and Salt by Nayyirah Waheed.
What is the best advice you've ever received?
The future is a big place. I love how adaptable it is.  
What are you reading right now?
I am always reading several books at a time. I just finished a novel by Danzy Senna called New People which was terrific, The End We Start From by Megan Hunter and So Much Blue by Percival Everett, which is brilliant, but taking me longer to read than an average novel, as his diction makes me question my intelligence.

What is your career advice for other young professional women?
The career advice I would offer to young women is to meet yourself where you are. It is okay not to have it figured out. The notion that you should have your life and future sorted by your twenties is a social construct that is absurd. We spend so much time trying to make ourselves fit into a box that was created for us by our parents, or peers, or teachers or whomever, and it is not realistic.
There is something amazing about coming into your own on your terms and allowing yourself the time to discover what makes you tick. I carried a lot of shame around my career trajectory when I was in my early twenties, but what I missed was that it was all preparing me for what I do now. All of the different jobs, coworkers, bosses (good and bad) helped to shape my today.
I would also suggest that while you are learning what fulfills you and makes you excited to head to work each day that you look for your teachers everywhere. I mean this quite literally. Turn the time you spend on Instagram into a learning experience. Yes, that woman with the beautiful hair and great clothes is fun to follow, but what can you learn from her? She is, more importantly, an entrepreneur, so what is the lesson? What can you learn about building a brand or creating an identity that is attractive to consumers? What can you learn from your coworkers or the leadership team at your job? Maybe it's merely discovering what you do not want to do or to be like. Surround yourself with people who keep you curious and inspire you to be better at anything and everything.