When Lauren McGoodwin felt lost in her career she decided to learn about possible career paths by going on informational interviews with more than 30 acquaintances and strangers. The conversations helped her find clarity, and she landed a recruiting coordinator job at Hulu and learned how teams choose who to hire. Feeling lost helped her discover what she wanted to do next — create a company that helps other women navigate their careers. In 2013, McGoodwin launched Career Contessa, a company that gives women access to tools, advice, jobs and even mentors and people to meet for their own series of informational interviews.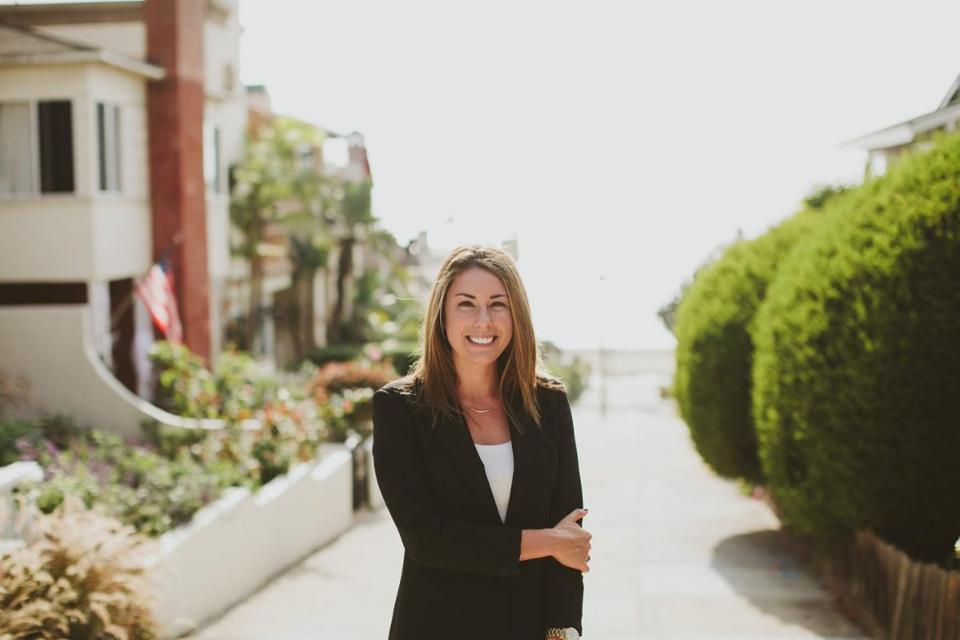 What inspired you to start Career Contessa? What was your career path?
The idea for Career Contessa came about when I experienced my own professional learning curve. In my early 20s, I was working an administrative job at a large university and was less than thrilled about where I was. I spent most of my days answering phones and filing paper. I felt stuck, but I wasn't sure what I wanted to do next, either. Feeling lost, I decided to focus my efforts on learning more about recruiting careers since it was the one part of my job that I did enjoy.
After nine months and 30 informational interviews with acquaintances and strangers in the field, I was able to focus my job search on exactly the company and role I knew I wanted. I remember feeling like I was cloud nine because I finally felt like I had control. Ultimately, I landed a recruiting coordinator role at Hulu. That was an incredible experience, and I learned first-hand the difference it made to love your job, the company and your coworkers.
Working at Hulu in recruiting also opened my eyes to the other side of the hiring table such as what managers thought about candidates and how recruiters reviewed resumes and interviewed. Having been on both sides, starting Career Contessa was a no-brainer, really. I wanted to help other women reach their career goals through real insight and actionable advice. We cover the topics I wish I'd had at my fingertips when I was trying to find direction, and we do it in an open, honest way.
What has been the biggest challenge and, on the flip side, the biggest reward of starting Career Contessa?
The biggest challenge was going from idea to launch. I had this idea that I wanted to launch a site solely dedicated to interviews with successful career women. But I didn't have a site, company name or a writing background. I decided to start doing the work first and build from there. It took me about 15 months to go from idea to website launch.
The biggest reward is easily the impact we're able to make in women's lives each day. Because of our work, women have landed jobs, asked for (and received!) raises and managed workplace relationships better. Career advice is notoriously known for being boring or stuffy. We're making it entertaining and informative to invest in your career. We like to say that we give "career advice that speaks woman." It's the kind of advice you'd expect from friends or mentors you respect who tell it like it is, except we also give you access to career experts.
What is Career Contessa's mission and how do you achieve it?
We're on a mission to make it easier for women to build successful careers—in whatever way they define success and at whichever stage their career is in. We understand and celebrate the fact that every woman's career will look a little different. And we achieve that mission by providing a one-stop career resource that gives women access to tools, companies and jobs, services and the people they need to help them move forward and gain clarity about their careers.
What advice do you have for other women who hope to start their own businesses?
I recently heard this quote from a friend, "If you wouldn't do it for five years, then don't spend five minutes on it." I love this advice because starting your own business definitely requires long-term thinking. Persistence and consistency are key, so I'd recommend starting your business on the side first and then taking the leap to full-time when you know you're ready to commit to this dream for the next more than 10 years.
What is a workday as Lauren like? Please walk me through a day!
It starts early! I'm an extreme morning person so I usually start my day at 5 am. Sometimes I'll go for a long walk or take an exercise class, while other days I'll get a head start on emails that require thoughtful responses.
Every entrepreneur will tell you that no two days are the same—and they're right. What is the same is the juggling act it takes to run a business. Some parts of my day require a lot of delegation with my team and giving them feedback. Other days I'm locked in the office on calls with potential partners. And then, of course, there are all the things that just "pop up" and need to be done within 24 hours!
What are your responsibilities as CEO and founder of Career Contessa?
As the team has grown, my role as CEO has become a bit more defined. In addition to being responsible for making sure the team has what they need to do their job well, I'm also handling business development and public relations opportunities. And I'm responsible for driving decisions behind new features, services or products we want to develop. I joke sometimes that running the site isn't brain surgery—we try not to take ourselves too seriously around here—so I guess I'd say that my job is actually pretty simple. I make sure we have the resources we need, which can definitely require thinking creatively at times, and that we're continuing to move Career Contessa forward.
What are the most important characteristics someone needs to have to be successful in your role?
Patience and drive. There are times where I feel like I'm in a constant state of "hurry up and wait," but that's part of the game when you sign up to run a startup. You need to act quickly, work hard and not get stagnant, but you also need to have enough patience to not hover over your work. Give it time to grow and develop. There isn't a single business out there that will tell you they were an overnight success.
How is Career Contessa different than other career advice sites?
For one, we're a career site completely dedicated to women. We noticed that the average career site doesn't take into account the fact that women are more likely to experience a wage gap, take a career break or be the minority in the boardroom. Our goal is simple, yet effective: create a career resource for women that actually works.
Career Contessa is also different than other career sites because we offer a lot more than just a place to apply for jobs—think of us as a place you can go to create your competitive advantage in the workplace. You can watch a webinar on confidence, learn what it's like to work at a company before you apply, hire a career counselor to walk through your resume with you and read daily advice and interviews with real women. If women are looking for a place they can visit throughout their career, Career Contessa is that spot.
What is Hire a Mentor?
Hire a Mentor is an online career counseling service that's an affordable way to get personalized career advice from an expert. Customers can easily book a 50-minute session with one of our pre-vetted career mentors and get guidance on the topics they really care about. Our mentors include recruiters and human resources professionals, career coaches and industry professionals and we've gotten great reviews from Refinery 29 and MyDomain There's really nothing more beneficial than sitting down to talk in-depth about your next career move with someone who's been there and successfully done that.
What are three characteristics you look for when you're hiring a new team member?
Just three? If I had to narrow it down, I'd say these three:
Are they truly passionate about creating the best career resource for women?
Are they natural problem solvers?
Do they work well with other people?
Those questions seem to have worked so far, especially the third one. We have an incredibly tight-knit team based out of our Los Angeles office. It's nice to be able to say: Look, we use our own advice, and it works.
What are the most important skills for doing your job and how did you develop them?
Besides the technical and business skills, I'd say it's important to develop your skills as an educator and saleswoman and master building and maintaining relationships.
Developing your skills as an educator and saleswoman comes with practice. Attend networking events where you know you'll get asked about what you do, and get comfortable describing your company. Any business requires a certain level of sales—such as selling your idea, selling your brand and pitching yourself for an opportunity. Educator is close to saleswoman for me, but it has more to do with being able to work one-on-one or give a presentation where I teach on a certain career topic. Can you organize your thoughts or lessons to create an engaging curriculum that provides real value to your audience? Again, practice is key.
Building and maintaining relationships requires a bit more flexibility because there is no perfect formula. The best networkers stay in touch often, ask what they can do to help you and make time to make it a priority.
What is one thing that you wish you had known when you were starting out your career?
I learned a lot of things in my career through trial and error, hard work and curiosity. While those traits don't always yield the fastest or easiest answer, they have made me who I am. My story works because I've learned tough lessons and been told "no." As much as I'd like my answer to be "Oh, I wish I knew I wanted to be a recruiter right away," or "I wish I had built Career Contessa right after college," I'm happy I didn't. Both my own experience and Career Contessa are better because I didn't know everything right away.
What is your business advice for other young professional women?
Don't overthink it. When you're starting a business, it's easy to get wrapped up in the details before you've even begun. Just get started, be scrappy and find solutions to your challenges as they arise—not before while you're anxiously awaiting a variety of "what ifs."