Naomi Mdudo started The Lifestyle Edit, an online toolkit for creative, working women. The toolkit includes profiles of businesswomen, coaching, a consulting practice, a podcast, and Supper Clubs so women can meet IRL. Naomi left a coveted fashion editor position at a newspaper in London to create her ideal career instead of trying to fit into a box. Naomi has learned about being an entrepreneur from the women she's featured to hiring The Lifestyle Edit's first employees.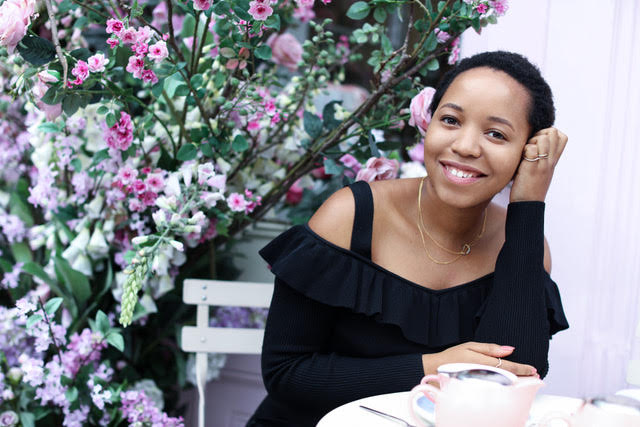 What inspired you to start The Lifestyle Edit?
The Lifestyle Edit was born because I wanted to create a platform that firstly, celebrates the incredibly dynamic female founders and executives that make things happen behind the scenes at many of the businesses we all know and love. But more importantly, I wanted to create a space where these women could talk candidly about their journeys and share actionable advice that our community can take away and immediately action in their lives.
Looking back, entrepreneurship was always on the cards for me but, when I decided to take the leap, there was nowhere for me to turn. At the time, there were fantastic resources for women in the fashion realm – but when it came to unpacking the careers of prominent women and talking in-depth about the factors that have influenced their life choices – I couldn't find anything out there. I wanted to know how these women navigated the professional realm, but I also wanted to know how their approach to wellness and both physical and mental health feeds into that. I wanted to read stories that were honest and  reflect some of my life experiences.
What is The Lifestyle Edit's mission and how do you achieve it?
Starting a business is scary and it can often feel isolating. The Lifestyle Edit was always designed to circumvent that by creating a community of women going through the same journey but from a wide range of different life stages, all rooting and supporting one another.
It's funny because we're often called a modern professional self-help destination but we're not about being preachy or prescriptive at all. Our mission is to use these stories as a vehicle to share different lessons women have learned along the way.
What is a day as Naomi like? Please walk me through a day!
The great thing about what I do is that there's no such thing as a typical day. I love to block work – it makes it easy to get ahead with tasks without having to switch to something else. On Mondays, I work on content and work with my one-on-one coaching clients. Tuesdays are for podcast recordings and editing. Wednesdays are for content and conference calls. Thursdays for shooting new content, and Fridays for coaching sessions, accounts, and big picture business strategy.
I try my best to be as intentional with my days as possible, mixing in work with self-care and exercise too.
I carve time for myself to pray, exercise, meditate, listen to podcasts, and enjoy a cup of tea in the morning before even thinking about touching my phone. I make time for all the things that make me feel good and balanced, which then makes me far better at my job.
What are your responsibilities as CEO of The Lifestyle Edit?
My mode of genius in the business is working on the big picture strategy work with the support of my team who execute.
It took me years to invest in outsourcing and I wish I'd done it sooner rather than struggling to do everything myself. It's the one thing I advise new businesses to invest in. If you're doing everything, chances are, you're dropping the ball on certain things and even if new business were to come along, you wouldn't be able to take it on. When I finally invested in people, I started to enjoy a level of freedom I just hadn't experienced before. In that freedom, I was able to think creatively again.
The more I outsource to people who are experts in the areas that I'm not, the more my business grows. Now, I'm constantly looking for new opportunities to serve our community and the ways I can expand my team to add people who are passionate about the areas that most impact our bottom line. 
What has been the biggest challenge and, on the flip side, the biggest reward of starting The Lifestyle Edit?
Switching off is definitely a challenge as a business owner. To-do lists are never completed – there's always something you could be doing and there is never enough time in the day. I really began to make a shift in my business when I started becoming clear on distinguishing between 'must haves' and 'nice to haves.' I started honing in the jobs that I was uniquely positioned to do, and built a team around everything else.
There are so many things I'm proud of, but hands down the most rewarding thing for me has been servicing this community. It was always my mission to create a platform that not only inspires women to pursue their entrepreneurial ambitions, but also walks them through the 'how' so it's been incredible to see that mission transcend beyond the site to The Lifestyle Edit Podcast and the work we do with female founders through our consulting agency and one-on-one coaching services.
Reading emails from our community members about how a story on the site sparked them to leave an unfulfilling 9-to-5 and go full-time with their side hustle, or how a podcast episode helped them secure funding for their business is something I'll never tire of.
It's a really exciting time to be a female founder right now: Women are taking the helm of some of the most influential companies in the world. We're receiving more private investment than ever before, and there's a general spirit of optimism and community amongst female founders that's really exciting. Hopefully, that will only continue in the coming years. I'm certainly going to try to play my part.
You worked at a corporate job prior to starting The Lifestyle Edit, how did you decide to take the leap?
As an entrepreneur, I'm also able to be the architect of my own destiny. There's something empowering about having the ability to actively design your life rather than living by default. As a business owner, I'm creating a definition of success on my own terms. I'm free to pivot and allow that definition to change just as often I am. 
What is one thing that you wish you had known when you were starting out your career?
When I started out, there were only a handful of jobs and businesses that I think many of us were exposed to. I wish I knew that I could forge my own path and create a business based around my strengths rather than forcing myself to fit into a box.
What is the best advice you've ever received?
It'd be impossible to pin point just one. I feel so fortunate that I get to meet and interview so many incredible women for The Lifestyle Edit. I always joke that every day feels like I'm getting an MBA – but it's true. Those conversations are constantly teaching me new lessons about everything from leadership and strategic thinking to the power of self-care and setting boundaries. I'm forever in student mode and I love that.
What is your career advice for other young professional women?
Practice listening to you intuition – it always knows the way – and don't allow self-doubt or imposter syndrome to hold you back.
And get comfortable with feeling uncomfortable. Growth means pushing yourself outside of your comfort zone. Remember, your dreams are on the other side of your fears. Courage isn't the absence of fear but the willingness to feel fear but do it anyway. If I let fear rule my choices, I'd be in London right now working in a job that wasn't right for me.