When Nur-E Farhana Rahman first visited her great-grandfather's school, Bhandari Girls' School, as a 10-year-old she knew she wanted to make an impact on the students. When she worked at the U.S. Agency for International Development years later, she went to Bangladesh for work and visited the school again. "The school was lacking adequate funds and resources for its more than 1,200 girls, and I felt there had to be a way to help," says Rahman. In 2013, Rahman and her mother founded Knotty Gal, a socially conscious jewelry company dedicated to helping educate and empower girls. Based in New York, Knotty Gal produces knotted, handmade necklaces, bracelets and earrings and donates a portion of all proceeds to the Bhandari Girls' School.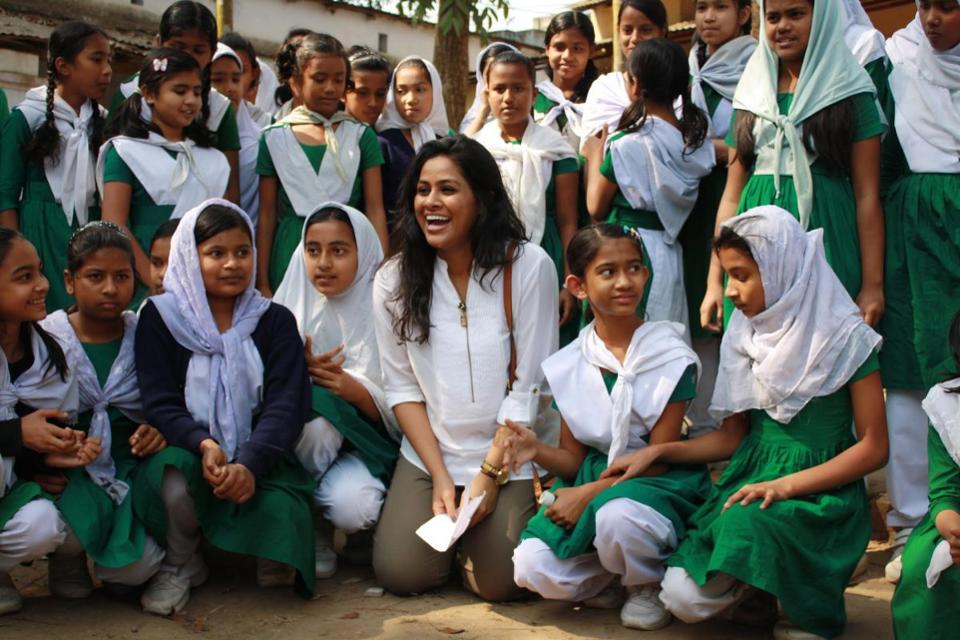 What inspired you to start Knotty Gal? What was your career path?
I always say that Knotty Gal was a lifetime in the making. I remember visiting my great-grandfather's school in Bangladesh for the first time when I was 10-years-old and knowing back then that someday I wanted to get involved.
Fast-forward a little over a decade, and I found myself working as a contractor for the U.S. Agency for International Development. I was sent to Bangladesh on an assignment and decided to visit my great-grandfather's school on a free weekend — as cliché as it sounds, the visit was a deeply moving experience, and I was overcome with this sense of urgency to act. The school was lacking adequate funds and resources for its more than 1,200 girls, and I felt there had to be a way to help.
When I returned stateside, I began brainstorming with my mom, who graduated from that school, about what we could do to raise money for the school. My mother used to have a business back in the 90's teaching women how to make gorgeous, elaborate knots that would ultimately end up on designer clothing and home decor. We went back to what we knew, but this time, we decided to turn the knots into jewelry.
This whole process did not happen overnight, though. Around the time we began to flesh out the concept of Knotty Gal, I had switched jobs and began consulting at Deloitte. After some careful planning and saving, I finally quit in 2013, left DC and committed to pursuing Knotty Gal full-time.
Knotty Gal always has been, and always will be, deeply personal for my mother and me. For us, this wasn't just a "social good" bandwagon to jump on. My mother and I had our cause first then created the product because we were inspired to preserve my great-grandfather's legacy and, most importantly, make a tiny difference in the lives of the girls enrolled at the school.
What has been the biggest challenge and, on the flip side, the biggest reward of starting Knotty Gal?
While there have been many challenges along this journey, the biggest struggle has been a personal one, dealing with impostor syndrome. Most entrepreneurs struggle with this in one form or another, but it's especially profound for women, and even more so for young women.
Social media can exacerbate the feeling of imposter syndrome because we are constantly comparing everyone's highlight reel to our own behind-the-scenes reality. I sometimes feel like maybe Knotty Gal is not doing enough, that we're behind or that we're not where we ought to be. It's been a challenge dealing with the occasional moments of self-doubt. Luckily, I can usually mitigate them with encouragement and support from my amazing friends and family, especially my mom, who remind me of all the amazing things we've been able to accomplish in a relatively short period of time.
The biggest reward is the knowledge that our work is making a small difference in the lives of more than 1,200 girls in Bangladesh. When things get difficult, I try to cut out the noise and bring the focus back to the girls I meet when I get to visit the school. They're inspiring. Knowing that we're helping teach them life skills they'll be able to use to help build a better future for themselves and their families is one of the best and most rewarding things I've ever felt.
What advice do you have for other women who hope to start their own businesses?
Don't buy into all the "entrepreneurship porn" out there that only shows the sexy side of starting your own business. It seems as though every day there's a new article profiling someone who quit her 9-5, became her own boss and made millions seemingly overnight. The reality of entrepreneurship is not quite so straightforward, at least not for most. To be clear, I am 100% in support of people following their dreams. After all, I quit my consulting job to start Knotty Gal. But at the same time, I think it's important to know before diving in that starting a business will be incredibly challenging and setbacks along the journey are inevitable, and that's okay.
Starting a business will test you to your very core, so pursue something you are truly passionate about. Because when you're working long hours and putting everything on the line and the anxiety kicks in — whether about funding running out, or a production mishap or a less-than-ideal hire — the only thing that will sustain you is your passion for your project and your belief in what you do. Those ideals and principles will be your saving grace and, if you stick to your guns, all the hard work and stress will be worth it!
Ten to fifteen perfect of each purchase goes to the Bhandari Girls' School in Bogra, Bangladesh. Can you please tell us more about Knotty Gal's work with the school?
We're very fortunate to be able to partner with BRAC, the world's largest non-governmental organization, which was originally started in Bangladesh. Right now, our partners at BRAC are implementing a computer education program for the girls at the school, which is such an amazing feeling because this plan has been in the works for ages. We raised funds personally from friends and family — even before officially starting Knotty Gal — to create a computer lab for the school. We knew the girls had to receive formal computer education training, so we turned to BRAC, who are leaders in this area. Up next, we're planning to implement more English language courses for both the students and teachers.
What is a workday as Nur-E like? Please walk me through a day!
There is no typical day, but my mornings generally start out the same. As soon as I wake up, I drink my lemon water with apple cider vinegar. If it's a crazy week, I'll also check my emails ASAP to make sure there's nothing urgent for me to take care of, but generally, I try to avoid my devices first thing in the morning. Usually, I'll meditate, listen to my affirmations podcast and then workout. To be honest though, there are at least a couple of mornings every week where it just doesn't start out this way, and I've come to accept that that's okay, too. I'm still learning to accept the chaos that can sometimes shake up your routine.
Some days are spent running around the garment district sampling leathers and cords or visiting our manufacturer and other days I am glued to my laptop and barely venture outside. It depends on what's on the docket during that time. Generally speaking, I devote mornings to emails and calls, afternoons to meetings and evenings to networking and business development, which I do at NeueHouse.
After I leave NeueHouse, I'll open up my laptop and keep working from home. I've always been a night owl, and I find that I'm more productive at night. I'll work for a few more hours before starting my wind down routine for the night, which involves leaving my phone outside my bedroom, setting an actual alarm clock and reading to decompress until I doze off. In all honesty, I do break the "no phone" rule on occasion when I really just want to waste time on social media and check my phone until I pass out. Balance, right?
What are your responsibilities as CEO and cofounder of Knotty Gal?
As cofounder of a new and small startup that is self-funded, I find that my role is more of a do-whatever-is-necessary position. Whereas my mom is more involved with maintaining our relationships on the ground in Bangladesh with the school and with BRAC, my primary responsibilities are to handle the business operations, development and overall growth of Knotty Gal. At the same time, I am also heavily involved in the design and production aspects of the business, so it's nice to be able to have both analytical and creative outlets in the same role.
What are the most important characteristics someone needs to have to be successful in your role?
It's important to be outgoing, but that doesn't necessarily mean you have to be an extrovert. When you're spreading awareness about your new or growing business, you have to be comfortable talking to all sorts of people, even when it's scary or uncomfortable. Developing the ability to be engaging when necessary is critical. You want other people to feel a similar level of excitement and passion about your project.
Being detail-oriented is also vital for what we do. Since we're dealing with jewelry, our work is measured in hundreds of leathers, cords and hardware options. We obsess over the quality of our products, down to the tiniest clasp or stitch.
It's important to be kind, but firm. As a young female entrepreneur with a small business, I've sometimes been dismissed by potential business partners who are used to dealing with bigger and more established brands. I'm always polite and kind, but I have also learned to be firm when I sense I am being taken advantage of or treated unfairly. I generally dislike any sort of tension or confrontation, but I've found that you simply have to stick up for yourself, your company and what you think is fair, especially in a city like New York.
What are three characteristics you look for when you're hiring a new team member?
Talent, effective communication and kindness are what I look for most before considering anyone for any role at Knotty Gal. Any one of these traits is great, but each alone is insufficient for someone to perform well. When combined, those qualities are a recipe for magic!
What are the most important skills for doing your job and how did you develop them?
The most important skill is the ability to wear multiple hats and not to be above doing any particular task. I learned this early on from my mother who always taught me to treat every bit of work I do with the utmost respect, regardless of the nature of the work. Some days I am the face of Knotty Gal doing a video shoot and getting my hair and makeup done and that's great, but then the next day I am lugging trays and trays of heavy samples all across the city in the pouring rain, which is anything but glamorous. No matter what I'm doing, I try my hardest to give 110%.
Another crucial skill is being able to network effectively. Networking sounds like such a calculated and dirty word, but really it's all about relationship building. I learned this vital lesson and developed my level of comfort with networking during my time at Deloitte. From the day I started, my seniors made it clear that networking would be a key component of my success at the company, and I took that lesson to heart. And when you think about it, the lesson applies not just to business, but to life overall, because relationships are at the core of everything we do.
What's the biggest lesson you learned at work and how did you learn it?
Though it may seem counterintuitive, taking care of yourself first is the best thing you can do for your business! I learned this the hard way by working too many hours, sacrificing the gym and my diet and by stressing out too much. I became deeply unhappy and realized that my business was suffering because of it. I decided I would change my morning routine to include meditation, affirmations and a workout. I'm going to be honest, not every day happens this way, but that's also a part of self-care: not being so hard on yourself when things don't go as planned. I've noticed that when I'm taking care of myself by working out, eating right, sleeping, drinking enough water, meditating and being a positive person, then things with my business seem much more manageable. Positivity attracts more positivity.
What is one thing that you wish you had known when you were starting out your career?
I was reading "Girlboss," and there's this one part where Sophia Amoruso says, "You belong anywhere you want to belong." I absolutely love this quote. I wish I had received this advice when I was starting out and often felt like a fish out of water. Even recently, I was back in DC for an event where I was representing Knotty Gal. I looked around the room and out of 30 or 40 people I was the youngest person, one of only a handful of females and the only minority female. I immediately began to doubt myself and wondered whether I belonged in that room. I worried I wouldn't have anything valuable to contribute, especially compared to the experience the old-timers would have. But as soon as the conversations began, I ended up being one of the most vocal contributors, and my "otherness" as a young, female minority was an advantage. I was able to bring a unique perspective to the issues at hand. That was such a perfect illustration of Sophia's quote and truly exemplified that no matter who you are, your story matters, you matter and you belong anywhere you say you belong.
What is the best advice you've ever received?
A few years ago, I heard the founder of TOMS, Blake Mycoskie, speak and he said something profound that has stuck with me ever since: The timing will never be right, so just go for it. This is probably the single best piece of advice I've ever received because even though entrepreneurship is a risky game, I tend to be more cautious. There will always be a million reasons not to strike out on your own. There will always be a million reasons not to pursue your dreams. I definitely felt that way, but I left that talk feeling inspired. I knew I had to start making serious plans to move forward with my dreams.
The timing will never be "just right" and the conditions will never be perfect. I'm definitely not encouraging women to quit their day jobs without proper planning (I consulted for over a year before taking the leap to Knotty Gal full-time) but I do think it's important to realize that at a certain point, you just have to take a leap of faith.
What is your business advice for other young professional women?
Don't give up. When pursuing any sort of passion, the only thing that is guaranteed is that there will be setbacks. I have to give myself this advice all the time, because even though I know rejection and setbacks are par for the course, it can still be discouraging. But hang in there, because the breakthroughs will come, and when they do, they'll be that much sweeter.
I always remind myself that Howard Schultz, the CEO of Starbucks, was rejected by more than 217 investors when he looked for funding for Starbucks. That's unbelievable to me! Most people would have given up well before 200 rejections, but it speaks volumes about the power of persistence.
We love to frame everything in the context of an overnight success, but success rarely ever happens that way. We don't hear about other peoples' struggles enough, so when we struggle we feel like failures because we're led to believe our heroes never dealt with the same difficulties, which is just not true. Everyone stumbles, but the great get back up and keep fighting.