I've interviewed more than 100 female founders and one trend is crystal clear: Founders who start businesses to solve personal problems have the dedication, drive and tenacity to create their ideal solutions. Sakara Life's founders, Whitney Tingle and Danielle Duboise are a perfect example. When Tingle worked long, stressful days on Wall Street, she noticed that her unhealthy diet was making her gain weight, get cystic acne and feel sick. At the same time, Duboise had become a certified holistic nutritionist after eating healthy, nutritious foods helped her recover from a lifelong body image struggle. The two friends realized there had to be a way to make clean eating easy and efficient—even for people working Wall Street hours. They created their solution, Sakara Life, in 2011: Sakara Life is a clean, organic, plant-based meal delivery program made by their team of expert chefs.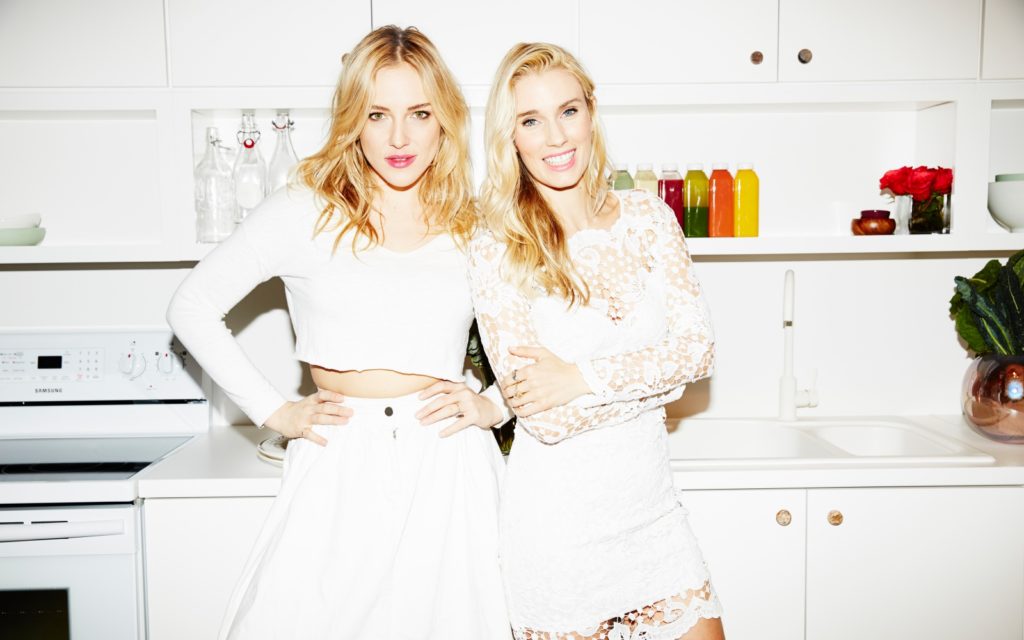 What inspired you to start Sakara Life? What was your career path? 
Whitney Tingle: Sakara didn't start out as a business—it was the solution to our own needs. I started my career on Wall Street. It's a fast-paced, high-stress lifestyle that doesn't promote healthy eating. You have 15 minutes to find something for lunch and 10 minutes to scarf it down. I ended up gaining 15 pounds right off the bat, had cystic acne all over my face and felt like crap. I had tried everything from Accutane to acupuncture to try to cure my acne and, when I was told the only solution the dermatologists had to help me was another round of Accutane or a mega-dose of antibiotics (that kills both good and bad bacteria in my body), I decided to take my health into my own hands and went on a search to find the root cause of my acne instead of just treating the symptoms.
Danielle Duboise: I studied biochemistry in college, went on to study nutrition and became a certified holistic nutritionist. My journey with Sakara began because I had struggled with body image issues from a young age. I had a terrible relationship to food and was constantly counting calories, points, pounds and carbs, all in an effort to find the one diet that would finally give me the results I was looking for. The problem was that one extreme diet would lead to the next extreme one until finally, I had yo-yo dieted so much that I had lost all sense of balance and my compass could only point in the direction of less food and more dieting. I hit rock bottom after a 21-day water fast (just water, no food!) and that was the "aha" moment I needed to finally decide to end my battle with food. It was in nutrition school that I re-learned that food is nourishment and that, if I could get back to whole, healthy and nutrient-dense foods, I'd be on track to heal my relationship with food and finally get the results I wanted. Sakara was born out of that struggle and was the one way of eating that finally taught me how to stop looking at food as the enemy and begin looking at it as nourishment.
What has been the biggest challenge and, on the flip side, the biggest reward of starting Sakara Life? 
Tingle: The biggest challenge for me has been working with fresh, organic ingredients. Because the food is fresh and not processed, it's more unpredictable. But using the highest quality ingredients and delivering it fresh to our clients is the core of our business and a key element to providing results for our clients, which is the biggest reward. We get emails daily about how we've changed our clients' lives —everything from taking the stress out of eating healthy, to helping them get off of medications for different illnesses and autoimmune diseases, to even helping some get pregnant! Our mission is to help people look, feel and live better through the power of food, and seeing our work truly change the lives of others in a meaningful way is the biggest reward we could ask for.
Duboise: I agree! We decided early on that we couldn't just do a cookbook or write a recipe blog, but that we had to deliver the actual food, the real medicine, to people's doors. That decision came with huge hurdles to overcome, but we know the impact it has had on thousands of people's lives, and we know how many more lives it will transform. That is the most rewarding thing in the world.
What advice do you have for other women who hope to start their own businesses? 
Tingle: Starting a business is like having a baby; you'll never feel prepared enough and there's never a good time. You just have to do it. It will be the hardest thing you ever do, but the most rewarding.
Duboise: Know your superpower. Make sure you have a skill that you know you're the best at. It will become invaluable as you grow your business.
What is a workday like? Please walk me through a day! 
Tingle and Duboise: It starts with getting through our inboxes and sending out any important emails before the day really gets going. From there: a weekly sales and marketing meeting, lunch with one of our investors, a Facebook Live shoot, a finance and state of business update, a team update, tasting new menu items, working on strategic projects, a workout class if there is time and a work event or speaking event.
What are your responsibilities as cofounders of Sakara Life? 
Tingle: As founders, we've done literally every job at the company. We were once the cooks, the delivery people, customer service, marketing and more! As we've grown, we've hired a great team to take on those different roles, so our roles have changed quite a bit over the years. Our roles really focus on driving the vision of the business. We now focus on doing the things that only we can do: recipe and product innovation, marketing and S-Life Mag inspiration, public relations and partnerships and events. And making sure everyone on the team fully understands Sakara Life. When your team starts to get as big as ours, it becomes harder to control everything that gets put out in the world, so we have to make sure people understand what our core beliefs and values are as a company and a brand so they can honor them in their work as well.
What are the most important characteristics someone needs to have to be successful in your role?

Tingle: Passion and drive are two important characteristics. You have to care about your business more than anyone else and continue to motivate those around you. Everyone is looking at you to see what to do, so you have to lead by example, which isn't always easy.
Duboise: You have to always feel and act inspired. It's my job to feel passionate and excited about my work so that my enthusiasm inspires the team, the culture and the vision of the company as a whole. You have to be willing to do the work to stay inspired because there is no faking it! I also think it's important that someone in my role is incredibly respectful and kind to both their team and clients, even in the face of huge stresses and hurdles.
What are characteristics you look for when you're hiring a new team member? 
Tingle and Duboise: Intelligence and savviness, a willingness to lean into what's hard and seek personal development and positivity and a good character.
Congratulations on raising $4.8 million to expand nationally! What is your top tip for other founders who hope to raise venture capital funding? 
Tingle: In the beginning, investors invest more in the entrepreneur than the idea. If you can show you're willing to go to the end of the world to make your business a success, they'll be that much more willing to take a risk on you. You have to believe in yourself, otherwise they won't believe in you.
Duboise: Don't assume that just because there are "normal" ways of doing things, that's what you should do. Act in a way that inspires you and you'll inspire others around you.
What are the most important skills for doing your job and how did you develop them?

Duboise: You have to be willing to do just about anything it takes to succeed, and never give up. There were nights where we'd cry in the kitchen, not knowing if this crazy idea would ever work, but we decided to just keep going, even when nothing made sense. Most people have this idea of what building a successful business looks like, but each business and every entrepreneur is different. There is no one size fits all. So keep on keepin' on!
What's the biggest lesson you learned at work and how did you learn it? 
Tingle: People are your biggest asset but also your greatest challenge. Learn how to motivate, inspire and challenge your team, as it will be the one set of skills that will pay off the most over time.
What is one thing that you wish you had known when you were starting out your career? 
Duboise: Kale releases sulfur over time…and sulfur is smelly.
What is the best advice you've ever received? 
Tingle: Just do your best.
Duboise: Know your strengths and your weaknesses. Hire where you're weak, and spend most of your time doing what you're really good at.
What is your business advice for other young professional women?
Tingle: Surround yourself with good people. We made a real effort to find ourselves amazing mentors. Bobby Flay sits on our advisory board, but that's only because we had enough guts to walk up to him and introduce ourselves when we saw him in a restaurant.
Duboise: Be proactive, not reactive. Take action if you don't like something. Don't complain.