I've been experimenting with my makeup and beauty routine more often, and I love to discover affordable skincare products so I was thrilled when my friend, Alexis Mera, wanted to write a guest post. P.S. Email me if you'd like to share yours! Without further ado, I'll hand it off to Alexis.
While I do have a pretty basic skincare regime, I take it pretty seriously. I've been blessed with good skin, but I also want to preserve that as I start to get older. Believe it or not, I get more blemishes now (in my early 30's), than I did in my teens and 20's. The blemishes are particularly around the hairline. I blame it on all my sweaty workouts—totally worth it! Here are seven of my favorite (affordable) skincare products that you can pick up at your local drugstore or online.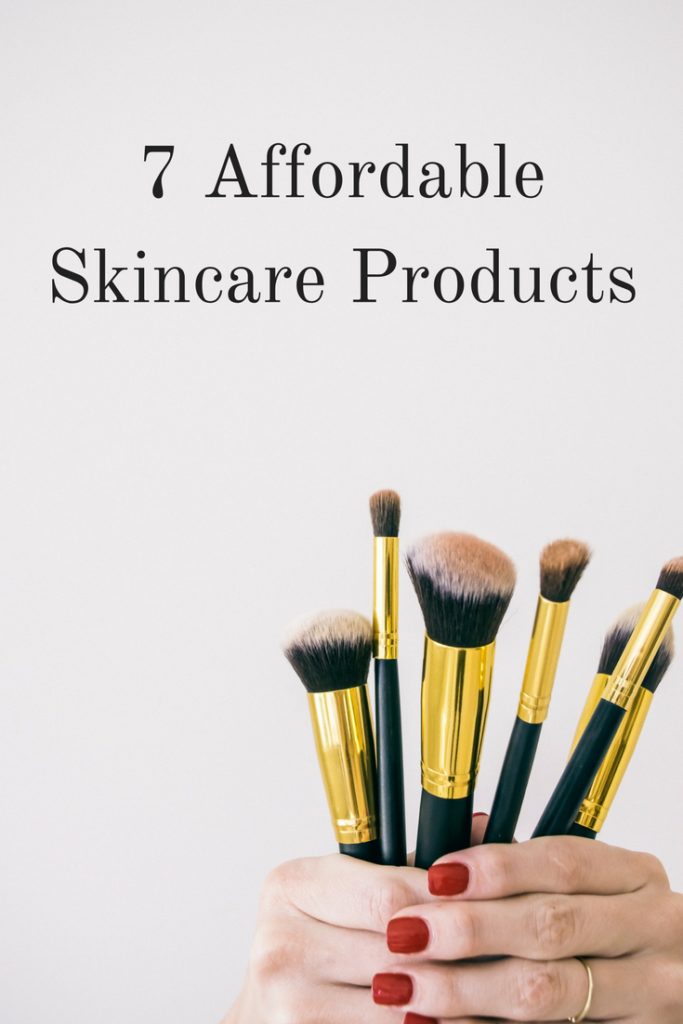 Cetaphil Daily Facial Cleanser:
It's just that, a daily cleanser. I use this every single day. It's gentle and doesn't make my skin feel super tight or over dry after each use. This 16 oz bottle is only $9.50 on Amazon, and lasts about 2-3 months depending on how often you use it. It's a good deal!
CeraVe Moisturizing Lotion:
This is another one I use every day. Make sure you get the lotion and not the cream version. I like this because it provides a lot of moisture with out feeling heavy or oily. The cream version does feel a bit heavier and oily. It's also 100% fragrant free, which I like. Plus, it has Multivesicular Emulsion (MVE) technology, which releases the ingredients over time, so you'll feel hydrated all day long! You can learn more about that here. This 8 oz bottle is under $10 at most drugstores.
Burt's Bees Pore Refining Scrub:
Remember those blemishes I mentioned? That's why I bought this! I'm honestly not 100% sure that it clears them up, my blemished tend to just run their course, but I still really love this scrub! It's all natural, derived from Willow Bark Extract, it's creamy (and moisturizing) and the Jojoba beads are a nice light exfoliant. I'm not a huge fan of face scrubs that feel super scratchy because they usually dry me out. I use this a couple times a week after I cleanse with Cetaphil. Shop this on the Burt's Bees website for $10.
Simple Cleansing Facial Wipes:
These are a staple for the girl on the go! I have two packs of these at all times. I have one at home and one in my bag! They are great for sensitive skin (no harsh chemicals or perfumes), plus they remove makeup too! I sometimes use these in the morning before my workout, on occasion I use them mid-day if I feel like I need a little refresher, but I mostly use them if I need to remove makeup at night and immediately after I finish a sweaty Bikram yoga session. They also work for wiping the pits, just saying! They also come in very handy when you're traveling in a hot climate and need a way to cool off a bit. Less than $5 for one pack at most drugstores. Buy them at Target here.
Neutrogena Hydro Boost:
I just picked this up for the first time. Duane Reade was having a promotion, and I think Neutrogena got me with the packaging! It's super clean and simple looking—it was calling my name. I don't use it every day, but instead I use it on the days when I need to wash my face for a second time, or if I'm feeling particularly dry when I wake up in the morning. So far I like it. My face does feel moisturized and soft after each use. It's less than $10 at most drugstores, or you can pick it up on neutrogena.com
Vichy Liftactiv Nuit:
Ok, so who's using anti-aging cream already? If you are, please comment below with your favorite! This is definitely not something I use every day. It feels too heavy! I use it maybe once a month, in particular after a night of partying (which doesn't happen often anymore), or if I'm in the mood to pamper myself. When I do get around to using it, it's always at night, otherwise I walk around with a shiny face all day. My skin does indeed feel plump and extra moisturized when I wake up in the morning. I have read a few things about anti-agin creams. It's good to start using them before you actually really need them. And it's a hoax! I think I believe a little bit in both theories. I'm sure it has to do with genetics and self-care as well. Sunscreen ladies, sunscreen! Oh, and lots of H2O! This one is a little more expensive, but I found it on Beauty Expert for $25 versus $40—$50 at other stores. You only need a small amount with each use, I've had mine for almost four years—so it's worth it!
Conscious Coconut:
Last but definitely not least, this one goes beyond skincare in so many ways. I met Danielle, Founder of Conscious Coconut at a trade show last year. I was instantly intrigued by the story behind this product. With a running list of uses for beauty, skin, hair, and cooking, this amazing lady also gives back! For every travel ready tube sold, a meal is donated to a child in the United States. Win, win, and win! Coconut Oil is an amazing moisturizer, hair de-frizzer, teeth whitener, makeup remover and basically a little miracle for the modern world, see more uses here. I use it to moisturize my hands and my face, particularly under my eyes. I also have psoriasis on my elbows, and this works well to help hydrate in those areas. I haven't used this particular brand for cooking yet, but I do cook with coconut oil on the regular. Buy it here for $15.
And that concludes my love for affordable skincare products and how I use them! I'd love to hear from you about your faves, or about your thoughts after trying these products out. Comment below!
Be well.
Alexis Mera Damen, is a photographer and owner of Alexis Mera (an active fashion line). Follow Alexis @alexismeranyc and @alexismdamen.