Emotional Intelligence, the ability to recognize and react to other people's emotions and your own, is pivotal to success. Rachel ten Brink, cofounder and chief marketing officer of Scentbird and Deck of Scarlet's best advice for women is to focus on emotional intelligence, self-esteem and personal development." Emotional intelligence is as important, if not more important, than other types of intelligence. Invest in building yourself as a person and learning how to understand other's motivations. Learn to manage your own emotions and interpret others," she says.
After more than fifteen years in global marketing leadership roles at L'Oreal, Estée Lauder, Procter & Gamble and Elizabeth Arden, ten Brink and Mariya Nurislamova cofounded Scentbird in 2014 and recently launched their sister brand, Deck of Scarlet. Scentbird is a monthly subscription service that makes discovering new perfumes easy, fun and affordable, and Deck of Scarlet is a full-face palette subscription that makes it easy to recreate looks from top social media influencers.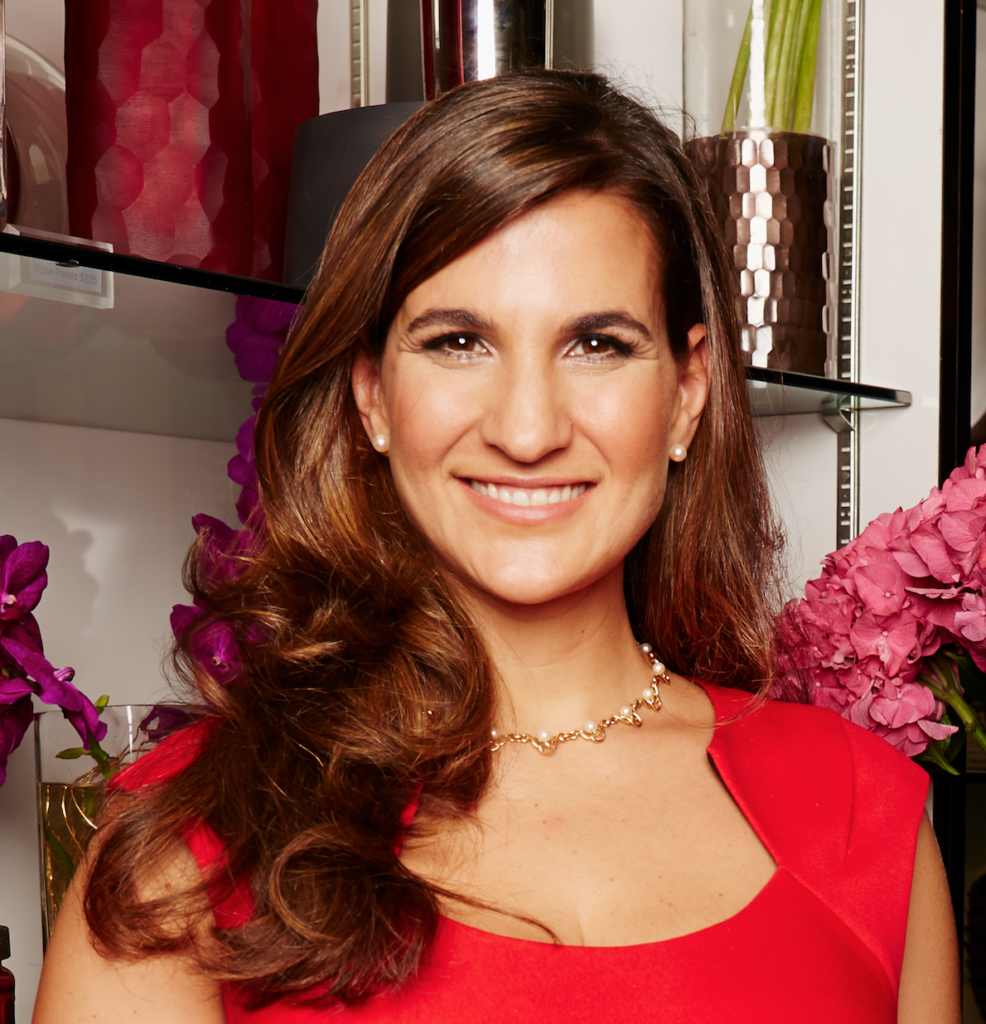 What inspired you to start Scentbird Inc? What was your career path?
I was always passionate about beauty and intrigued about how to use technology to sell beauty better. I followed a pretty traditional path, getting my MBA from Columbia University and working my way up with some of the brands I admire most including Gillette, L'Oreal, Estée Lauder and Elizabeth Arden.
At some point, I grew restless. I was seeing so little internal innovation at these large companies. I came to the conclusion that to truly disrupt the industry, I had to go outside the corporate structure. When I met my co-founders at Scentbird, it was instant chemistry. It was a no-brainer to start a business and begin the journey of building Scentbird. We say that we are three-fourths tech: my three cofounders come from the tech industry, and I am the one-fourth beauty.
What has been the biggest challenge and, on the flip side, the biggest reward of starting Scentbird and Deck of Scarlet?
There is a huge amount of personal satisfaction but also stress that comes with starting a business. Every job has its highs and lows, but when you're an entrepreneur, they are magnified significantly.
The biggest challenge, but also the biggest reward, is creating value-added innovation in a stagnant category like fragrance. There was a lot of blood, sweat and tears — and about four different business models — before things took off with Scentbird.
We're now moving to capitalize on all we've learned and apply it to makeup. It's such a fun category, it's creative and visual, but also very crowded. We are always challenging ourselves to offer something new and covetable to our customers. There will be a lot of naysayers along the road and many, many distractions. You need to stay super focused on what is going to drive the biggest impact for your company.
What advice do you have for other women who hope to start their own businesses?
I love sharing what I have learned!
Pick the right cofounders: For a lot of women, the idea of starting a business with people you don't know well can be intimidating. Earlier in my career, I tried starting a business but looked to start it with close friends, who all had similar backgrounds. But, if we all did marketing, who was going to do everything else? I believe the fact that my three co-founders come from such different backgrounds as mine has been a key driver to the success of Scentbird and Deck of Scarlet. On the flip side, you do have to make sure that even if you do not know each other well when you start, you are very clearly aligned on the mission.
Pick the right partner for life: What do Ruth Bader Ginsburg and Sheryl Sandberg have in common? They both talk about thinking strategically about how your ambitions align with who you marry. When I married my husband, I didn't know that I was going to start Scentbird and Deck of Scarlet; but we both know I was very driven. (We met in business school.) Especially at my stage of life when you have so many conflicting priorities in life — building a startup, raising two young kids, financial responsibilities, caring for parents — to have a partner who will support and encourage you all the way is key. There will be a ton of ups and downs.
There is never a right time: I had my two kids while working super stressful corporate jobs; and now with Scentbird and Deck of Scarlet, every day is a juggling act. But I would never have it any other way. I always say, "My life is full!" and that makes me happy. Motherhood prepared me for entrepreneurship.
There is never a perfect time to start a business. There is never a perfect time to have a baby. Be really honest with yourself, with what you want and, if it's your priority, then go for it. (And if it's not, it's okay to be honest with that too.)
Get over your perfectionism: I meet so many women who are so focused on perfecting their concept that they insist on perfection before testing it on the market. Although delivering a superior product is key, I think women, in particular, are often taught to be overly critical of themselves — to not be confident until it's perfect. The truth is, 99% of the time it will not be perfect in the first round. It's all about improving on an idea and most of all, execution. The value of feedback and product innovation far outweighs the risk of introducing a concept too early.
Know your numbers: Be very clear about your path to profitability, margins and cost of acquisition. Get educated about funding options early. Learn about accelerators, incubators and investors. There is no excuse for not doing your homework.
You were previously in marketing roles at some major companies — L'Oreal, Estée Lauder, Procter & Gamble and Elizabeth Arden. What was your experience going from the corporate world to startup life?
It was incredibly freeing. I was always someone who pushed the envelope and wanted to try new things but, in a corporate environment, the stakes are too high and things move slowly. From the moment I started Scentbird, I loved that I could just "run with it." Our company philosophy is very much focused on a lean startup mentality — try a lot of things, fail fast and iterate and validate.
During the first couple of weeks being full-time at Scentbird, I remember feeling a little out of sorts with my schedule. When you're in a marketing role in a large corporation, your days are divided into meetings filled with large teams. It took me a second to get used to the fact that I could align with my new team in a few minutes and then move on to getting it done.
There are so many subscription services currently out there. What makes Scentbird and Deck of Scarlet different?
Our company gives consumers a completely personalized experience at an amazing value. We've focused each business on specific categories, and we give consumers the freedom to find exactly what they're looking for.
Unlike other subscription services, Scentbird lets members pick a new fragrance to try each month. We offer more than 450 designer and niche fragrances, including top brands such as Gucci, Nest and Guerlain. Our site can provide guidance through a proprietary algorithm and a "smart search" visual engine – but it's up to you to decide. Members receive a travel-sized atomizer with a month's supply of fragrance – about 120 sprays – that fits in a handbag. We like to think of it as dating a fragrance before committing to a full bottle. At $14.95, it's an amazing value.
From a business-to-business perspective, it's an amazing avenue for fragrance brands to connect with millennials — particularly as the category shifts to e-commerce, retail doors close and magazine circulation drops. In a recent survey, more than 99% of consumers said sampling was very important to making purchasing decisions. By sampling to customers that are already interested in their fragrance, our conversion rates are much higher than almost any other platform.
Deck of Scarlet partners with talented YouTubers to create limited edition palettes every two months. These influencers post fresh tutorials, putting their own spin on the product. Our palettes are packed with all the makeup you need to recreate the look. At the end of the day, we always return to personalization: If you don't think a particular palette will suit you, you can skip it. For the first time ever, we just started allowing new subscribers to choose their first palette.
Deck of Scarlet has a unique approach to beauty, partnering with YouTube stars as "Artists in Chief" to create your palettes. How did your team decide on this model?
Deck of Scarlet was born out of our obsession with YouTubers. Nurislamova, Scentbird's CEO and cofounder, and I love watching YouTube tutorials, but we started to think about the huge amount of products you would need to re-create the looks. One video featured more than 35 products to create a perfect cat eye, and that's when we knew there had to be a more efficient way. By partnering with influencers to create palettes that feature everything you need (and nothing you don't), we deliver exactly what consumers want.
Since influencers were always at the heart of the brand, we decided to leverage their makeup expertise and knowledge of their communities. Each influencer brings a new style and personality to the brand, so the makeup is fresh, edgy and fun.
You recently launched an "a la carte" purchase option. Why did you decide to add this option?
Deck of Scarlet palettes are collectible and limited edition, so once they're gone they're gone. We wanted to give customers an opportunity to complete their collection if they missed earlier palettes or want to experience our makeup without feeling pressured to subscribe.
You announced that Deck of Scarlet is changing up the ordering process for first-time subscribers, users will now be able to "Choose Your First Palette" from a collection of past palettes offered by Deck of Scarlet, combining the "a la carte" option with the subscription model. Why did you decide to start offering this to new subscribers?
We listened to our members. Makeup is so specific; many consumers have a sense of what will – and won't – work on them. We received a lot of feedback from new members who wanted to choose their palette, so we adjusted our model.
What's the biggest lesson you learned at work and how did you learn it?
Take ownership of your career. No one is going to care more or know what you want better than you.
At some point, I was interviewing for a huge job – it was a big bump in title and salary. It was very tempting and flattering, but it just did not feel right. There were structural issues with the business, I felt pressured by human resources and the team dynamics made me think the company didn't seem like a good fit. There were a lot of small clues that it was not a good fit for me. I decided to decline the offer and wait for another opportunity. The person who took the job lasted only a few months. I knew I made the right decision.
What is your favorite thing about your role and working at Scentbird Inc?
I love that I am always doing new things and that I directly impact so many pieces of the business. I love that as I walk down the hall toward our office every morning, I am thinking "Okay, what's next?" I love the energy of our team, the creativity and passion is so energizing.
What is one thing that you wish you had known when you were starting out your career?
It is a marathon, not a sprint. Things will change. Priorities will shift. Businesses will evolve. You have to keep on going; keep your eye on the prize. Results will not always come fast – stick to it.
Also, money matters. Never undersell yourself, make sure you research a position well, and ask for a fair salary. Get comfortable negotiating, but always be respectful.
What is the best advice you've ever received?
My dad always said: "It's hard to soar like an eagle when you're flying with turkeys." Building my team, mentoring and motivating them to achieve is incredibly important. None of us can do it alone.
What is your business advice for other young professional women?
Emotional intelligence is as important, if not more important, than other types of intelligence. Invest in building yourself as a person and learning how to understand other's motivations. Learn to manage your own emotions and interpret other's emotions.
Also, learn to manage stress. I was reading a fascinating article in The New York Times about how people successfully manage stress. The point was that you can't ignore it. You can't say "Relax, don't worry about it," and try to distract yourself, because it continues to haunt you. Instead, accept it and use it to your advantage. Think of stress as your body's way to make you stronger. It's all about your perception: Embrace it rather than fighting it.
Image courtesy of Rachel ten Brink.