Laurence Bradford is a self-taught techie who teaches other people how to code through her site Learn to Code With Me. She is also a product educator at Teachable, an easy-to-use online course creation platform. When Laurence isn't working on Learn to Code With Me and Teachable, she writes for Forbes. We met for dinner to meet IRL after reading so many of each other's articles.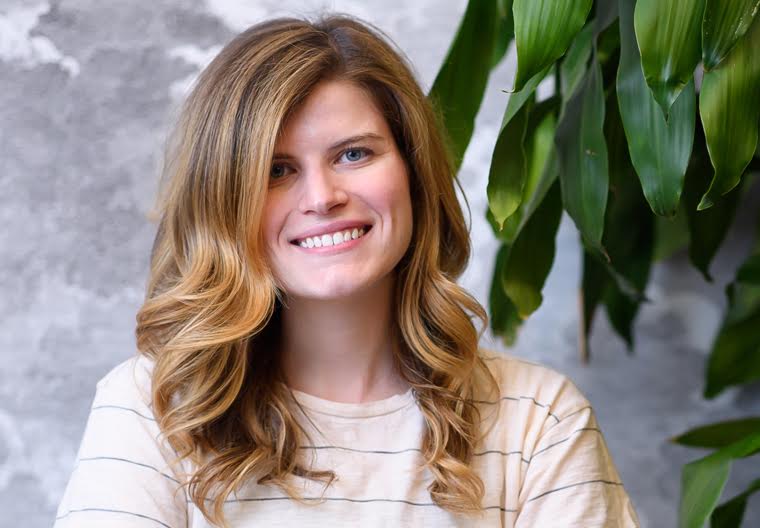 How did you end up at Teachable? What was your career path?
Without getting into the very long version of the story, I studied history and economics in college. I thought I wanted to work in economic development in Southeast Asia. I ended up landed my dream job (in Thailand) and quickly realized it was not what I thought it was going to be.
Feeling stuck, I began to do research online and discovered how lucrative tech skills were. So, I began teaching myself how to code and build websites. I did this for awhile, that is, building websites. I later started my own blog, learntocodewith.me, to help people learn how to code.
Before starting at Teachable in July 2016, I was freelancing, running my blog and then later podcast, guest writing, and many other things for revenue.
I ended up doing a consulting project in the spring of 2016 where I helped create tech-related online course curriculum. I fell in love with the project and was sad when it was over. This experience opened my eyes and made me realize I wanted a change of pace and to work in the EdTech industry.
How did you land your role? What was the hiring process like?
My job applications and hiring process were far from normal. After realizing I wanted a full-time job in EdTech, I applied to three positions that I found extremely exciting where my skills lined up almost perfectly. I heard back from all three in less than 48 hours for interviews! (Teachable being one of them.)
At Teachable specifically, I had two phone calls with the CEO. I then went to NYC (I was living in Boston at the time) to for an in-person interview where I met a bunch of people at the company. Two days later, I told them I was interested in working there full-time. I was given an offer then. So, the entire process (applying to accepting the offer) took about 10 days.
What is a day as Laurence like? Please walk me through a day!
Every day is truly different. But here is a pretty standard Monday-Friday one…
6:30 – 7 AM: Wake up.

7:30 – 10 AM: Either go to the gym or catch up on non-Teachable work. (My podcast, Forbes articles, etc.)

10 AM: Start my day at Teachable

1 PM: Eat lunch

5:30 – 6:30 PM: End my day at Teachable.

6:30 – 9:30 PM: Tackle outside work, get a drink with a friend, or attend another event. (Eat dinner somewhere in between!)

9:30 – 11 PM: Have some veg out time (aka watch Netflix)!

11 PM – midnight: Get ready for the next day and go to bed.
What is your favorite thing about working at Teachable?
The flexibility! While my schedule above is "standard," there are many times I start work later and finish later, or come in earlier and leave earlier. I couldn't imagine working someplace where I had to clock in and out at the same time every day.
Aside from that, I also love the fact that I get to work on a product that is legitimately helping people. Teachable is a CMS (like WordPress) for course creators. There are thousands of people using it and making real money from the courses they sell on it. So it's great to have an impact on people's lives like that.
What are your responsibilities as a product educator at Teachable?
Admittedly, the title doesn't really reflect what I do on a day-to-day basis. My responsibilities and areas of focus are always changing depending on greater company goals.
However, I manage the customer-facing Knowledge Base. I also communicate product changes internally (company updates and other documentation) as well as externally (Changelog articles, monthly update blog posts). I also write user-interface copy and help with other product-related projects.
Really, it's a mixture of responsibilities (like how it is at many startups!). But I am starting to move more into the area of product management.
What is your favorite thing about working in tech?
I love how fast-paced technology is as a whole. Especially at a smaller tech startup, like Teachable. No two days are ever the same, and I'm constantly kept on my toes.
What has been your proudest moment from your career so far?
This is a toughie. I'd probably say starting the Learn to Code With Me blog simply because of all the doors it ended up opening down the road. Seriously, pretty much everything I do today somehow stems from the LTCWM blog.
You are also the founder of the popular coding blog, Learn to Code With Me. What inspired you to found Learn to Code With Me?
When I first created it back in 2014, I just wanted to blog as a way to hold myself accountable as I learned to code. It evolved a lot since. More than I ever thought it would.
I think the lesson is to just do it. The reason why LTCWM is where it is today is because I didn't let myself talk my way out of it. I registered the domain and got the site up right away. I allowed myself to jump in and figure out the smaller details later…which I ultimately did.
How do you think we can encourage more women to learn to code and enter STEM fields?
Lots of women don't think it's for them. There are nerdy stereotypes perpetuated on mainstream media. But it can be for everyone.
You work at Teachable, write for Forbes, and manage Learn to Code With Me. What is your top productivity tip?
You can't accomplish anything great alone. Surround yourself with supportive people. I wouldn't be where I am today without my family and friends, my great coworkers, and the team I surrounded myself with at LTCWM.
What is one thing that you wish you had known when you were starting out your career?
I wish I knew that the tech industry was welcoming and that I could work in tech. It was never even on my radar back in high school and college. If it was, I probably would have done things a lot differently. (For instance, study computer science or something related in college!)
What is on your desk right now?
A sticker right below my monitor that says, "Ladies is pimps too." Monitor, laptop, roses from my boyfriend from Valentine's Day. A gift from a co-worker, and a desk name plate that says "Ask me about my cats." I use a standing desk and there is lots of stuff under my desk.
What is your career advice for other young professional women?
Don't write an entire career or industry off just because you think you won't fit in or don't see others there already that resemble you. In fact, those are the places where your voice is needed most.