This is a sponsored conversation written by me on behalf of 7UP®. The opinions and text are all mine.
#7Waysto7UP
*Must be 21 years of age or older to drink alcohol. Please drink responsibly.
I love having my friends over for girls' night. I like to go out with friends, but sometimes it's fun to have a few friends over for a night in. I partnered with 7UP to share my favorite girls' night in activities and a twist on a classic Madras Cocktail.
Madras Cocktail:
Ingredients:
3 ounces cranberry juice
1 1/2 ounces orange juice
1 1/2 ounces vodka
1 ½ ounces of 7UP
Pour the cranberry juice, orange juice, vodka, and 7UP into a glass with crushed or cubed ice. 7UP is versatile, so this was just one cocktail option. I want to make sangria, a white wine spritzer, and even a margarita soon!
Sprinkled Rim:
Ingredients:
Sugar or sprinkles
A lemon or melted chocolate
Coat the rim of the glass with a lemon wedge or melted chocolate. Pour sprinkles or sugar into a plate and dip the glass into the sprinkles or sugar!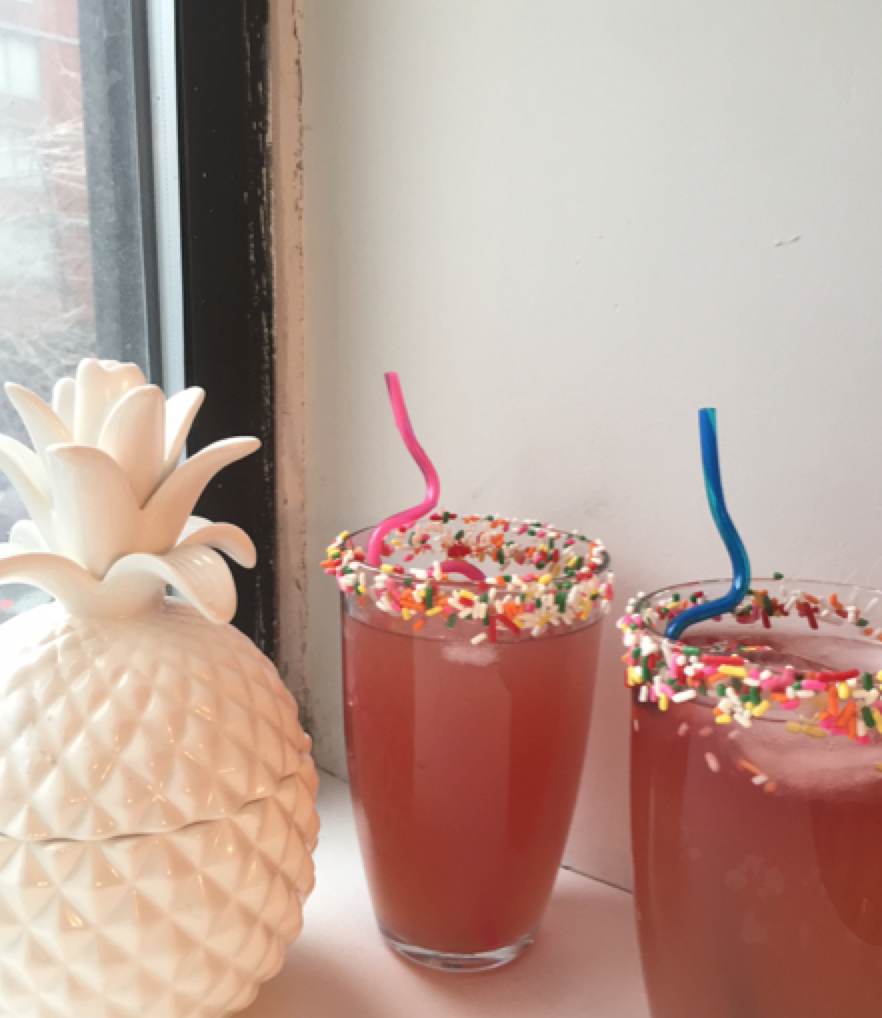 Movie Night:
Get popcorn and your favorite movie theater candy and watch a movie or two. Some of my favorites are: Mean Girls, Devil Wears Prada, 13 Going on 30, Bridesmaids, Pitch Perfect, The Proposal, Easy A, He's Just Not That Into You, Legally Blonde, and Crazy Stupid Love.
Cooking and Baking:
Choose a dinner and dessert recipe you've been meaning to try. I recently made quinoa pizza and gluten-free cupcakes with friends. It's fun (and less expensive!) than going out to eat and no one tries to get you to leave if you've lingered for too long.
Game Night:
The other night my roommate and I had people over to play Trivial Pursuit. It was so much fun! I also like Cards Against Humanity, Clue, Apples to Apples, and Heads Up!
Sleepover Party:
I loved having sleepovers in high school. We'd watch movies, bake cookies or cupcakes (or horse treats since we were all equestrians), and stay up late talking. In the morning we'd have eggs, pancakes, or lots of sugary cereal options.
Spa Night:
Spend the night making homemade face masks, trying the sheet masks that seem to be everywhere right now, and do manicures and pedicures. You can ask everyone to bring their favorite nail polish color so everyone discovers a new favorite.
DIY Night:
Choose a fun DIY project like tote bags, paintings, or decorated mugs.
Flower Arranging Night:
I've been seeing beautiful flower crowns everywhere! It would be fun to have a flower crown or have a flower arrangement party!
I went to Stop and Shop but you can also go to Giant Landover or Giant Carlisle to purchase 7UP and find recipe ideas and inspiration. Make sure to check out Savory Magazine in the "New Flavors" edition until 3/30 to save $1.00 when you buy two 7UP 2-Liter bottles.