Shannon Maguire is senior producer of multiplatform content strategy at Comedy Central where she works on shows including Broad City, Inside Amy Schumer, Drunk History, and Workaholics. Shannon works with an in-show digital team to develop social strategies and plan content launches across Snapchat Discover, Instagram, and Facebook.  She coordinates with other departments from On-Air Promos to editorial, making sure shows are properly serviced from premiere to finale. When she's not doing that, she coordinates brainstorms with her team to make sure they're constantly innovating and creating shareable content for their series.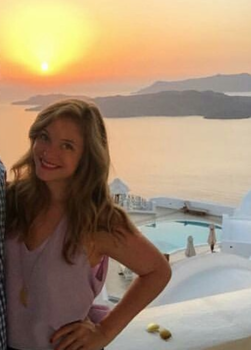 How did you end up at Comedy Central? What was your career path?

I always think it's a funny story how I got to this point because in college I definitely wasn't set on any one career path. When I was a senior, I started my first (and only) internship at Likeable Media, which was my first glimpse into social media and the digital space beyond my everyday use *cough* Facebook stalking *cough*.
When I graduated, I still didn't know 100% what I wanted to do, so I moved home to Philly with my parents and started applying literally everywhere. With a lot of applications and a little luck, I landed a part-time job at Fox News Digital in NYC. For a year I commuted from Philly to NYC and back three days a week and worked weekends at Ann Taylor Loft to save up to move to the city (and also build a sweet professional wardrobe, shout out to Loft for the 50% employee discount). As tough as that year was, I attribute my work ethic now to that daily hustle combined with the constant support of my family.
After about eleven months with Fox, I got promoted to a full-time role and moved to Astoria. When I tell people I worked there, they always have the same "wow really, what was THAT like?" reaction, but to be honest, it was great. I met a lot of awesome people and gained a ton of experience, especially for my first real-world job. Eventually, I wanted to branch out and build some experience outside of news, so I started on the job hunt again.
Oddly enough, I wound up right back at Likeable Media where I got my start. This was a big shift for me because I went from business casual, conservative Fox News, to working at a laid back creative agency where we watched movies on Fridays and represented brands like Hypnotiq. As I was about to hit the two-year mark there, I had an old coworker from Fox reach out to me because she was at Comedy Central now and wanted to pass along an opening she thought I'd be right for — I applied and about a week later I had an interview.
The most interesting thing about my start at Comedy Central was that I didn't actually get the job I applied for. I came in at first to interview for a production assistant role, but after two rounds of interviews, I was asked to be a producer on the multiplatform team. I couldn't believe it, not only was I about to be a producer at Comedy Central but people would finally know where I worked when my mom bragged about me to her friends. And that brings me to now, where after two-years at Comedy Central, I was promoted to senior producer on the multiplatform content strategy team.
Did you always know that you wanted to work in digital media?

Not at all. There was a point when I wanted to be a speech writer and speech therapist for athletes to help them when appearing in the press. I'm pretty sure I made that up, I'm not sure that specific role exists. I pretty much stumbled into digital media after I landed an internship with Likeable Media.
How did you land your role? What was the hiring process like?

The hiring process was interesting for me because I didn't actually land the job I originally came to interview for. I applied for an associate producer role, but after I came in to meet with the team, they decided I should be considered for a producer role. The cool thing about this was that I wasn't told this was happening. I thought it was a second round for the associate producer role. When the human resources representative called to tell me I got the job, he played a trick on me and played the whole "good news/bad news" angle: The bad news being I didn't get the job I applied for, and the good that the team saw the qualities in me that they had been looking for in a producer.
What is a day as Shannon like? Please walk me through a day!

Wow, this is a tough one. Every day is super different for me depending on what shows are in season or what projects I'm working on. Right now I'm working on a new series, Not Safe with Nikki Glaser, which allows me to work with an in-show digital team to develop social strategies and plan content launches across Snapchat Discover, Instagram, Facebook, and more. I spend a lot of my day coordinating with other departments from On-Air Promos to editorial, making sure my shows are properly serviced from premiere to finale. When I'm not doing that, I coordinate brainstorms with my team to make sure we're constantly innovating and creating shareable content for our series.
Congratulations on your recent promotion! What are your responsibilities as senior producer of multiplatform content strategy?
Thank you! The biggest change that came out of my promotion is that I now manage two direct reports. I consider myself insanely lucky because my team is actually amazing. They are my sanity. I have also been able to take on a few more high profile series like Not Safe with Nikki Glaser and Broad City.
What is your favorite thing about working at Comedy Central?
The people and the content. I definitely wouldn't be here if I didn't love what the channel was doing. I so strongly believe in the shows we're putting out and the talent we're getting behind. It's a great time to be a part of this network, especially on the digital team because we are seen as a valuable part of the show experience. The channel is really embracing social and the web, and it makes my job even more fun.
What shows do you work on?

Right now I have the pleasure of working on Broad City, Inside Amy Schumer, Time Traveling Bong, Drunk History, Workaholics, and Legends of Chamberlain Heights. Because digital content is constantly in motion, I really get to dive into these shows and become an expert on the series. I can honestly say I've seen every episode ever of the shows I work on. (Not to mention basically every other Comedy Central show — did I mention I'm a fan?) The biggest show I've ever worked on was the Roast of Justin Bieber which was absolute insanity and gave me the opportunity to go to the roast and meet Chrissy Teigen, literally the only person I've ever been star-stuck by.
What are the most important characteristics someone needs to have to be successful in your role?
Creativity and the ability to adapt. In my role, I'm constantly bouncing back and forth between my shows, which are all extremely different in content and voice, so I have to be able to quickly shift my thinking throughout the day. Also, in the digital space, things are ever-changing and improving so as digital producers, we have to be on top of the latest trends and platform updates to make sure our shows stay on the forefront. As for creativity, that's what really drives my team. We have to see beyond the linear TV show and decide what will take the content to the next level online.
What has been your proudest moment from your career so far?

That would have to be the first time I ever pitched my ideas to a show team. I was only a few months on the job and I got to go out to LA to meet with the creators of Brickleberry to pitch them digital ideas that I wanted to execute in-season. I was in a room with my boss and about 10 other people I had just met that day and I was crazy nervous to make my official Comedy Central debut. When it got to my slides it was like an out-of-body experience and I totally killed it. The best part was that the creators of the show responded really well to my ideas, had a lot of questions, and were pumped to have someone focusing on making their show stand out. It also didn't hurt that it made me look really good in front of my boss.
What is your advice for someone who hopes to work at Comedy Central?

First and foremost, know the brand and the content. It's one thing to enjoy comedy, but it stands out when a person is obviously passionate about and inspired by our shows and talent. Second, never stop trying. If it's what you want, you can't get discouraged.
What is one thing that you wish you had known when you were starting out your career?
I wish I knew that it's ok to not know exactly what you what to do right out of the gate. Sometimes you know exactly where you want to be, but it's also completely alright to fall into it. Keep your eyes open and find your passion.
What is on your desk right now?

Luckily I just cleaned it, so for once it's not a huge mess! The most important items on my desk right now are: My notebook, about 10 Workaholics DVDs, two Broad City dolls, and a ton of papers that probably could stand to be tossed. Senior producer or not, I still have a tendency to hold on to things I don't need for far too long.
What is your morning routine?

A typical day for me starts at the gym around 6 am. I get to work by 9-ish, then I eat breakfast and start answering emails that came in overnight from the west coast. I also usually watch my shows to stay as familiar as possible with the content. Not a bad gig when watching TV is part of your daily routine.
What is the best advice you've ever received?

I'm sure I've gotten my fair share of good advice, but right now oddly the one thing coming to mind is something I learned when I worked at Fox. Never have more than two drinks at a work function. I know that is such a weird piece of advice to remember, but it really is smart. A lot of work functions, or even networking events, tend to center around happy hour and it's important to keep your wits about you.
What is your career advice for other young professional women?

Put yourself first. I know plenty of women who stuck with a job or put up with being passed over for promotions because they felt like they couldn't or shouldn't jump from job to job. Not every company or agency is going to be for you, keep exploring and put your happiness first. It's your journey and no one else can tell you what it should look like.