Johanna Lanus is CEO and founder of Work With Balance. Lanus and her team "create employee experience programs that balance busy work lives with healthy lifestyle choices." Prior to launching Work With Balance, Lanus worked in financial services at UBS Wealth Management Americas for almost a decade. As executive director of business management and planning, Lanus was responsible for operations, risk, finance and resource management for a team of over 300 employees across three locations. After experiencing the challenges of keeping high performing teams engaged, Lanus founded Work With Balance to bring more compelling employee experience programs to corporations.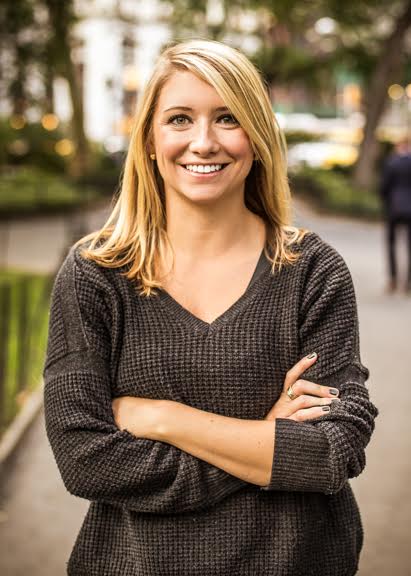 What inspired you to start Work With Balance?
For a decade, I struggled to balance healthy choices in a corporate job. I was constantly hitting snooze and skipping 5 a.m. workouts — the only time I could consistently go — and doing crash juice cleanses after a week of work events. After leaving finance, I made it my mission to make corporate environments healthier places.
What is Work With Balance's mission, and how do you achieve it?
Very simply, we help companies and their employees be healthier by bringing fitness, nutrition and wellness programs into the office. After understanding a company's culture, we craft employee experiences that are relevant to their culture – everything from team classes at boutique fitness studios to nutrition office hours to sleep classes!
What were the first logistical steps you took to start a business?
First, I did my homework on the opportunity and environment. Our country is facing rising health care costs and increases in chronic conditions. Many of these challenges can begin to be addressed by making healthier choices: Move more, eat real food, get sleep and learn how to manage stress.
Second, I talked to everyone. People in human resources and decision-making positions within companies, people in health care, people in wellness businesses, my friends, family and even strangers at bars. I wanted to make sure I created something relevant for today's environment.
What is a day as Johanna like? Please walk me through a day!
No day is the same. We are very client-centric, so the first thing I do every day is tackle any client issues that need attention. I usually make a list before I go to bed at night. Then, depending on the day, I could be meeting with companies, talking to studio owners, running events or trying out new wellness experiences.
What has been the biggest challenge and, on the flip side, the biggest reward of starting Work With Balance?
Working for myself. I've had my share of challenging jobs, but I am definitely my own toughest boss and critic. On the flip side, I get to shape a vision for a business I am truly passionate about 24 hours a day, seven days a week.
What is the most important characteristic for entrepreneurs to have?
An ability to balance flexibility with setting a clear vision. I don't know any entrepreneur who hasn't had to adjust their business plan or pivot at some point, but you also don't want to lose sight of your overall vision and goals.
What are your responsibilities as CEO of Work With Balance?
Since we are still a very new business, my primary responsibility is to ensure we are delivering the highest quality of experience for our clients, as well as bringing in new business opportunities. Our business is grown entirely by referrals, so our clients are extremely important. In addition, my role is to set business strategy, which includes staying on top of marketplace trends, research and financials.
What are the most important characteristics someone needs to have to be successful in your role?
Resilience: Building a business is hard enough, but growing a business through corporate relationships, rather than going out directly to the individual, can take time, creativity and flexibility to switch gears quickly in order to be relevant. Passion: If you are smart and work hard, you can probably do just about any job with enough time and training. But if you aren't passionate about what you are doing, you won't love it enough to be really, really good at that job.
What are the most important skills for doing your job and how did you develop them?
An ability to balance the strategic with the tactical. Our strategic vision is what clients want from us. It's usually why clients hire us. But I also need to be tactical to solve problems and deliver on commitments. The tactical work is a lot less alluring, but frankly, it's what clients need when they hire us. It's why we keep our clients. Being able to move between strategic thinking and tactical execution is something I still work on. But I do try to spend time weekly with people who challenge me creatively, as well as set aside "think" time to work on more strategic projects. You can easily get bogged down in the tactical if you don't make time in your day. And an ability to balance flexibility with setting a clear vision. I don't know any entrepreneur who hasn't had to adjust their business plan or pivot at some point, but you also don't want to lose sight of your overall vision and goals.
What characteristics do you look for when you hire someone?
I value folks who are smart and resourceful over experience. Don't get me wrong, experience is valuable, but I believe that if you are smart and resourceful you can figure out almost any job. In fact, some of the most interesting opportunities come from putting employees outside their comfort zone.
What's the biggest lesson you learned at work and how did you learn it?
Asking for help is a strength, not a weakness. I used to feel that in order to be respected and noticed at work, I had to be the one to have all the answers. But when I had the opportunity to lead a team, I truly learned the value of asking for help. Everyone brings something different to the table, whether it is a new idea, a different perspective or an unconsidered challenge. The best solutions I've found for challenging situations have come from asking others for help and advice.
 What is your business advice for other young professional women?
Your reputation is your biggest asset in the workplace. You never know where the next opportunity will come from. Work hard, don't cut corners and be nice to those around you. Folks around you will notice, so not only will you build a Rolodex of contacts, but you might also find advocates and mentors.
This post was originally published on my Forbes column. Image via Johanna Lanus.