Jasmeet Sidhu is senior creative producer at MasterClass, Inc., a San Francisco-based online education platform that hosts classes with some of the world's most talented masterminds. Jasmeet Sidhu's experience and accomplishments have spanned the range of digital media, investigative journalism, entertainment, and social entrepreneurship. She has reported from HIV clinics in sub-Saharan Africa and UN climate change negotiations in Europe, created music videos for artists including Jay Z and Taylor Swift, contributed to projects for Facebook, Google and Apple, and started a successful nonprofit in environmental sustainability. Jasmeet Sidhu was lauded one of Canada's 100 Most Powerful Women (a previous Top 20 Under 20 recipient) and profiled in Glamour, the Toronto Star, Huffington Post Live, The CBC, The Globe, and more. Jasmeet's career path and advice is sure to inspire!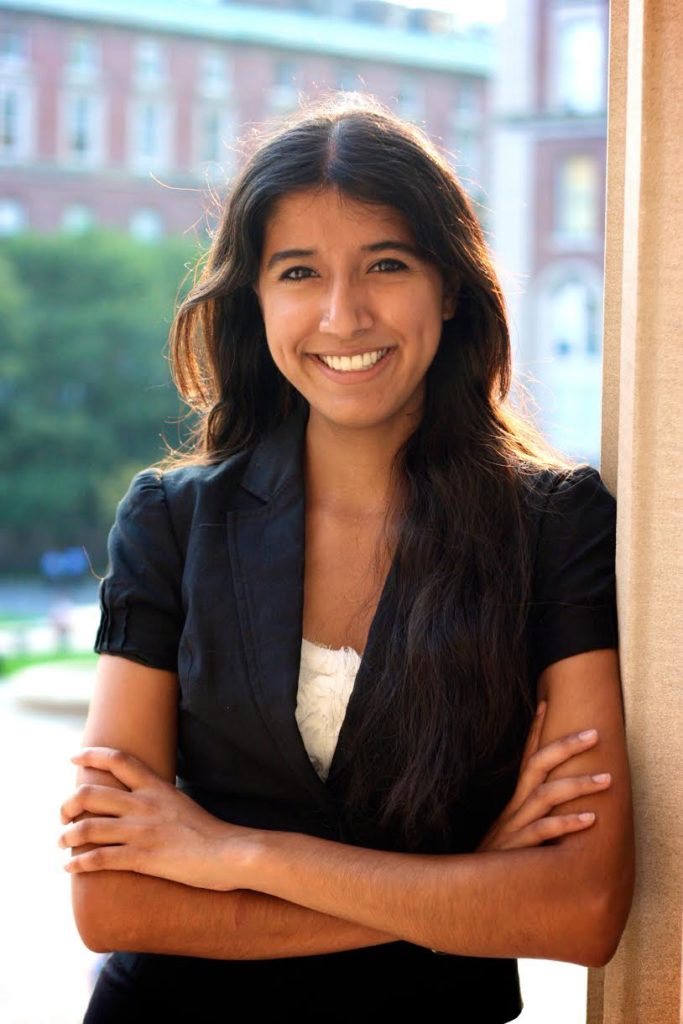 How did you end up at MasterClass, Inc. What was your career path?
My career path has been unlike anyone else's that I've come across, spanning several industries including tech, media, entertainment, and nonprofit. When I was in high school, I helped co-found a youth environmental organization called Peel Environmental Youth Alliance that is still running today by a great organization called EcoSource. I graduated with a degree in peace and conflict studies from the University of Toronto and a masters degree in digital media and investigative journalism from Columbia University. I have worked as a reporter at a daily newspaper, in reality TV development, music video and commercial production, concert photography, and at a large tech company, Facebook, and at a startup at MasterClass.com.
I've always been very willing to ignore traditional ideas and assumptions about what a "career path" should be. Instead, I've tried to focus on specific interest areas or aspects of an industry that I knew I wanted to explore and, more importantly, allowed myself to explore them.
I think traditional ideas about a "career path" often lead people to spend years doing something they might not enjoy or deters them from taking risk: The "I should be doing" instead of the "I want to be doing."
10 years ago, social media barely existed as a phrase, let alone the pervasiveness of companies like Snapchat, Instagram, Twitter, and more. 10 years from now we have no idea what's going to exist. So all we can really do, or all I can really try to do, is instead focus on building skills I want to get better at, create or find experiences I want to have, and get involved in creating the kind of work that I want to create. This thinking has allowed me to go from working in journalism in Toronto, to working on sets of music videos in Los Angeles, to now working as a creative producer at MasterClass in San Francisco.
How did you land your role? What was the hiring process like?
I hit my year mark of working at the Facebook offices in New York City and decided I really needed a change, but I had not found quite the right opportunity. So I ended up negotiating to work remotely for Facebook from Paris and London for a couple months and decided I would start fresh on the job hunt once I returned. But while there, I was recruited through a mutual friend to apply for a senior creative producer role at MasterClass.
If you're unfamiliar with MasterClass, it's an online education company that creates classes with the best in the world. For example, current classes we have up on the website include Serena Williams teaching tennis, Kevin Spacey teaching acting, Aaron Sorkin teaching screenwriting, and Christina Aguilera teaching singing. Ultimately, the aim is to capture the knowledge of some of the best minds in the world for generations to access.
The company and the role was the perfect fit of everything that I wanted and needed at the time: A move back to the west coast to San Francisco (I had previously lived in Los Angeles), and a return to creative production, but one that was rooted with an educational intent that I really believe in.
The interview process was kind of crazy: I flew from London to San Francisco direct and interviewed with the company and the team just a few hours after landing from the 12 hour flight. By the time I flew back, I had already been offered and accepted the job. To this day, I remember vividly waking up groggy in the Frankfurt airport on those airport chairs and checking my email to see the finalized job offer and contract in my inbox.
What is a day as Jasmeet like? Please walk me through a day!
I usually wake up around 7:30 or 8:00 am and get ready and make and eat my breakfast at home. I believe very much in the idea of sitting down and eating breakfast and drinking coffee at home before leaving my house for work. I find myself often just more centered and grounded throughout the day if I do that versus running out and grabbing something quick while on the way to work.
I'm in the office usually around 9:00 or 9:30 am. Often the very first thing I do is grab two water bottles and keep them on my desk — it reminds me to finish them before the end of the work day to make sure I'm drinking enough water every day. I'm a bit old-fashioned and keep a yellow legal pad and a paper calendar of all the items I need to do for the day and the week beside me at my desk and constantly with me throughout the day.
Depending on where we are in the production of a class, I could be having meetings with the other MasterClass team members about what the class content could look like or how we are going to film it, I could be on-set in another city in the middle of filming a class with one of our instructors, or I could be working with the team on editing and getting ready to launch a class online on our website.
What is your favorite thing about working at MasterClass, Inc.?
Everything is truly collaborative at the company, and my co-workers are some of the funniest people I know in life. From the time we have an idea for a class to the time it shows up on the website, nearly everyone in the company has had a chance to provide their inputt, whether on the actual content, the visual look, providing feedback on early cuts of the class, or designing how it will look up on the website. There's such a satisfaction knowing that each class has been such a group effort by the time we launch it fully onto MasterClass.com.
What are your responsibilities as senior creative producer?
In my role, I work to see an entire class from development to the finished product that you see on the website. This involves working with the instructor, their team, and our team to develop what topics are covered in the class, how they want to teach it, a curriculum, and a course book to go along with the class. We also help with production and post-production.
What is your favorite thing about working in journalism?

When I worked in journalism, particularly while I was a reporter at the Toronto Star —Canada's largest daily newspaper — I remembered the distinct thrill of feeling like I was right on the pulse of the city and at the heart of the big news events that were happening.
Journalism can be emotionally draining, and there's not a ton of job security depending on the place or the type of journalism that you do. But nothing beats the feeling of being right in there when something huge is happening and you get to be a front-row witness.
What's your number #1 tip for other journalists?
There's always going to be new pieces of technology and storytelling methods that you should certainly keep abreast on, whether its new social media platforms or video. But honestly, nothing beats a well-reported story, and having the chops to find a good story and execute on it. If you're someone who can both effectively use Snapchat for journalism and write a story like The Price of Nice Nails, you'll be unstoppable.
What is your favorite piece you've written so far?

I wrote a lengthy investigative piece for Slate.com called How to Buy a Daughter. It was a piece that looked at the multi-million dollar prenatal sex selection industry in the United States, and how there were many indications that parents who used it in the U.S. favored having daughters versus sons, unlike other countries in the world where it was the opposite. It took me nearly six months of reporting while I was with Columbia University's Stabile Center for Investigative Journalism and speaking to more than two dozen mothers, doctors, scientists, ethicists, and other sources. The original piece clocked in at nearly 5,000 words. The piece you'll see on Slate is perhaps less than half of that because of space constraints, but I am still proud of the story and its impact. I ended up discussing the story on Boston's NPR affiliate, and several times on Huff Post Live.
What are the most important characteristic someone needs to have to be successful in your role?
For my specific role at MasterClass it's being able to think through and articulate a creative vision, being able to think through and understand how a particular topic (like acting, singing or writing) can be taught through online video, and being able to manage and organize a project from beginning to end.
What has been your proudest moment from your career so far?
A few years ago I received an award by the Sikh Centennial Foundation. As part of the award, I had to give a 10-minute speech in front of about 300 people at the Royal Ontario Museum. In my speech, I talked about how far my family had come, and in particular, the risks that my father and mother took to move from Malaysia to Canada to provide opportunities for my brother, sister, and myself.
My entire family was in the audience, and it was just an incredible moment to be able to share that with them in front of some of Toronto's most elite crowd. My father unfortunately passed away a few years later, and I am just so glad that he got to be there to witness a moment like that, and to be publicly thanked for his sacrifices.
What is one thing that you wish you had known when you were starting out your career?
This is such a good question and, depending on the week, I feel like my answer could change! But I can think of two things right now: The first, how health habits are such a critically important part of creating a successful career. When we talk about how to make successful careers I don't think we really talk about and see health as a pivotal part of that in the same way as we say networking, or getting a college education is to career development. We sideline health as something that exists more in the "personal bucket" than the "career bucket." But I can attest that the most successful people that I've spent time with view their health as just as an important part of their career development as they do any other part, like public speaking. I wish I truly understood that early on, because I'm doing a lot of catch up right now. Having a great career often times means spending long hours at work, traveling a lot, and being able to switch gears mentally between investor meetings to client meetings to public presentations. Are you preparing your body to be able to handle that kind of emotional and physical stress for several decades for your career? If you're keeping yourself dehydrated, relying on coffee and sugar for energy, and sleeping four hours a night, then you're not.
The second thing that I wish I really understood when I was first starting out, particularly in my early twenties, is that how you perceive yourself is how other people will treat you. If you feel nervous or unsure about something, people have a canny way of picking that up, and therefore will begin to treat you as someone who is unsure about what he or she is doing. If your own internal perception is that you are valuable and that your work is valuable, that will show in even the subtlest ways in your behavior and how you talk to people and talk about your work. People in turn will respond to that, and will also value you and value your work similarly.
You were one of Glamour's Top 10 College Women! What was that process like?
I remember the application process being so much fun. I ended up making a scrapbook showcasing all the things that I had done and was proud of, which went way beyond the original application requirements. But I remember later someone from Glamour mentioning to me that putting that much effort and care into the application was what put me over the top. The entire experience was incredible: flying out to New York City, staying in a fancy hotel, getting a makeover by L'Oreal, and spending the week with nine other incredible women as we met the editor of Glamour, Cindi Leive, toured the city and watched a Broadway show, and got to meet incredible women like June Ambrose, Ivanka Trump, Nicole Williams, Veronica Chambers, and Carmen Rita Wong. I remember coming back from the trip really truly feeling like I could do anything in the world.
What is on your desk right now?

My laptop, my journal, a hard drive of unedited footage from a project I shot years ago, yellow legal pad and pens!
What are you reading right now?
The Girls: A Novel
by Emma Cline, the  The Happiness of Pursuit: Finding the Quest That Will Bring Purpose to Your Life
by Chris Guillebeau.
What is your morning routine?
Shower, make and eat breakfast while listening to NPR's Morning Edition, and occasionally a 11-minute meditation that I listen to off YouTube.
What is the best advice you've ever received?
When you die, all you're going to have are the memories that you made. So make them as vivid as possible.
What is your career advice for other young professional women?
Stop getting in your own way. Really, truly. Some of the biggest blockers to great career success that I've seen in young professional women aren't financial or physical. It's mental. It's second-guessing yourself. It's acting with hesitation and nervousness. Studies have shown men apply for a job when they meet only 60% of the qualifications, whereas women apply only if they meet 100%. Sheryl Sandberg wrote in her book Lean In: Women, Work, and the Will to Lead
that she once attended a meeting where all the women stood standing around the board table, instead of just sitting at the board table where they had the right to be. You have a right to be here. Now make yourself fully believe that and get out there.
Images via Jasmeet Sidhu.