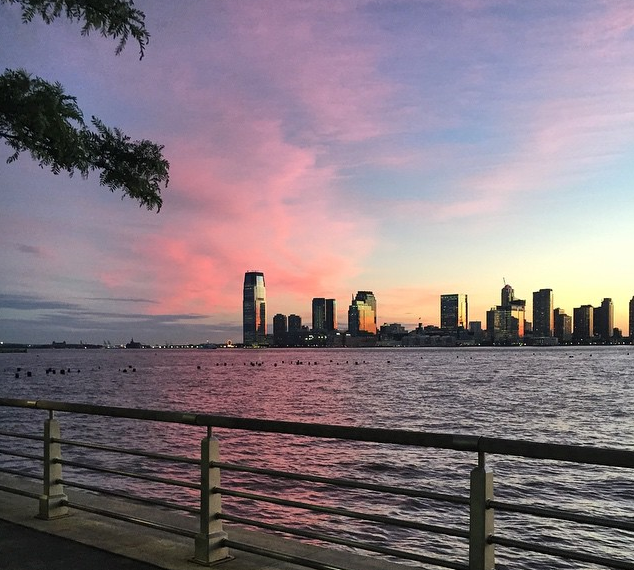 I took this photo walking on the pier after mini golf!
Governors Ball: I went to Governors Ball with a bunch of sorority sisters and we had a great time. I really enjoyed listening to the musicians, stopping at the various vendors, and trying the different unique restaurant options. My friends and I joked that if I wrote a tutorial post about the event it would be titled, How to Transition J.Crew to Festival Attire. One day I wore leggings, a chambray shirt tied to be like a crop top, and Hunters. It was a really fun weekend.
Mini Golf at Pier 25: I played mini golf at Pier 25. We had the course to ourselves and played a few games of golf as the sun set on the Hudson. It's a great inexpensive option for a summer date (walk along the pier after) or a fun activity with a few friends.
Cafe Clover: I went to Cafe Clover in the West Village. It's a fantastic restaurant created by a team that includes a nutritionist and a trainer. The chef creates the menu and the nutritionist works to incorporate more nutrients, decrease the calorie and carb count, and make additional healthy tweaks. They also change the menu seasonally to incorporate foods that are in season. The restaurant is also beautiful – it has a 1950's Parisian vibe and I love anything light blue! I recommend it!
The NY Philharmonic in Central Park: I've gone to The NY Philharmonic in Central Park with one of my best friends from college and her boyfriend now husband for the past four years. We pack a picnic (okay, to be fair they do a better job at packing the picnic) and go to the park. This year a few other couples came and we had a beautiful spread. It was the 50th anniversary of the New York Philharmonic in the Park and there was a gorgeous fireworks show! There are a few other events this season. If you go, get there around two hours early to find a spot. We recommend bringing a picnic and enjoying a fun evening of music, friends, and good food.
New York African Restaurant Week:  My sister has been to Africa many times and recently spent six months in Malawi starting Student Driven Solutions. She invited me to a restaurant tasting with chefs representing the cuisine from various African countries. It was really fun to learn a bit more about African cuisine and to try different types of food!