Dorie Golkin Smith and Emelyn Northway are the founders of the professional workwear company, Of Mercer. Of Mercer clothes and accessories are perfect for professional women. The clothes are all stylish, chic, high-quality, and affordable. When you wear Of Mercer you can effortlessly go from your desk to drinks and dinner.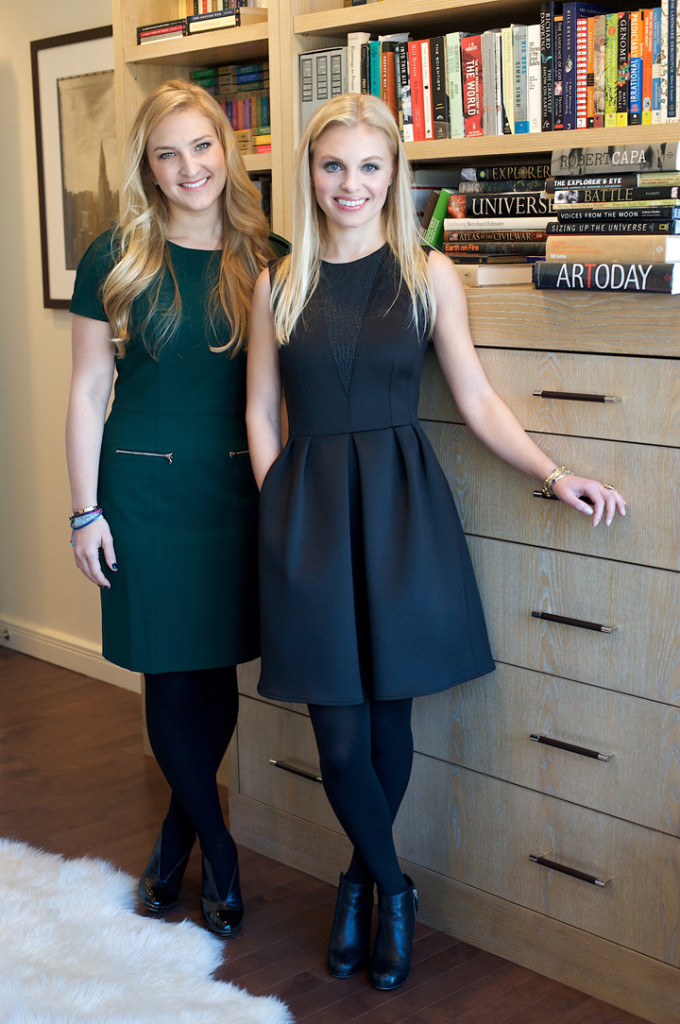 What inspired you to start Of Mercer?
Dorie: We met our first week of Wharton Business School at a networking event – wearing the exact same dress. We both came from conservative business backgrounds: I was a strategy consultant and Emelyn was in finance. We struggled to find stylish, high-quality workwear in our budget. We knew we (and all other working women) shouldn't have to sacrifice style for an office dress code or quality for price.
How would you explain Of Mercer in a few sentences?
Emelyn: Of Mercer is a women's workwear brand of fashionable, office-appropriate apparel and accessories for the modern professional woman. We sell directly through Of Mercer and in-person trunk shows so we can skip retailer markups and keep our prices affordable. Our dresses and blazers (soon to be skirts, tops, and pants) are all designed in-house and manufactured in NYC's Garment District using premium Italian wools and specialty Japanese fabrics. Dresses and blazers range in price from $145 to $195 and $225-$245, respectively.
What have you learned about yourself as a result of starting your company?
Dorie: I've always thought I was an independent person who could tackle anything on my own, but through this process I've realized how important a partner is. I would have thrown in the towel so many times without the support of Emelyn. It's also fun to have someone to drink champagne with when something good happens!
What do you think is the biggest issue for women in the workplace?
Emelyn: Confidence. Far too often we are hesitant to firmly answer a question if we are only 90% sure of an answer or caveat our opinions with phrases such as "I think," even when we are 100% sure. We know a lot and need to be better at touting our knowledge and opinions with confidence, but it's not an easy thing to change overnight. Paying attention every time you start a sentence with "I think" or "I feel" is a great place to start. Dorie and I make a concerted effort to correct each other each time that happens.
What is a typical day like for you?
Dorie: There really isn't a typical day! We're a very lean team so we have our hands in different parts of the business everyday. For instance, some of our activities today included interviewing an intern candidate, reviewing photographers for our next photo shoot, fielding customer emails, and analyzing past sales to place a reorder for one of products.
You previously worked in consulting and finance, respectively. Did you learn any skills that have helped you with Of Mercer?
Dorie: With every new consulting project there was a steep learning curve to understand the industry and the client. This skillset has served me well in fashion – an industry brand new to me!
Emelyn: Investment banking and private equity are all about making decisions analytically – and that's what we do every day!
Is there anything about owning your own business that you wish you knew before you started?
Emelyn: We always say that if we knew all the challenges that we were going to face at the beginning, there is a chance that we wouldn't have started this amazing endeavor – it would have seemed too overwhelming. Starting a company is about making one decision at a time, and knowing that you're not always right.
How would you describe your personal style?
Dorie: Colorful!
Emelyn: Feminine with a bit of edge.
What is the best piece of advice you've ever received?
Emelyn: From Pauline Brown, a Wharton alumna who is now the North American chairwoman of LVHM. Make your career decisions in the moment as much as possible. Don't try to plan out your career path so far down the road that you miss an opportunity to take a different, better path that you might not know even existed.
Thank you Dorie and Emelyn! Shop Of Mercer and read their excellent blog!