Liz Wessel is the co-founder and CEO of Campus Job, a company that helps college students find internships, part-time jobs, and freelance work at companies around the country. I worked and interned all throughout college and would have loved if Campus Job had been around at the time. It's a fantastic resource and I'm so glad that you get to read more about Liz and learn more about Campus Job.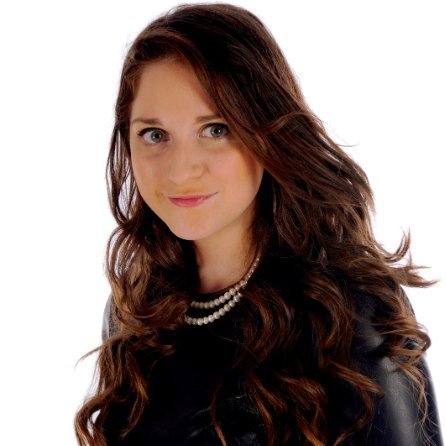 What inspired you to start Campus Job?
I had multiple jobs throughout college, and I really feel that working in college was an important complement to my education, not only because it helped me develop some workplace skills, but also because it's really hard to know if you're going to like a job before you actually do something that resembles it. My part-time jobs (especially a marketing role I had as a Campus Rep for Anheuser-Busch) helped me find a passion for marketing and get my foot in the door at Google. By creating Campus Job, we wanted to build a one-stop shop where students could come to get some work experience before graduating. Our hope is that the experience will help them prepare for great careers that they're passionate about.
What advice do you have for someone who wants to start her own business?
1. First and foremost, I'd tell them to do something that they're passionate about. I don't mean that it's something related to a hobby. I mean something that you are ready and happy to spend 24/7 on for the next ten years of your life.
2. Once you've found your passion, it's important to find people who know the business and pick their brains as much as possible. Whether it was a marketplace-expert, someone who worked in education, or someone who worked at a job-related website, JJ (my co-founder) and I spoke with everyone we could find who would listen.
3. This may be controversial, but — if you're able to — commit as close to 100% of your time, effort, and passion to the business at the start. It may mean putting your social life on hold for a little while; but at the beginning, most of the best companies are the ones that act as if they're twice as big as they are by putting in twice as much as any other company their size.
What are your responsibilities as co-founder and CEO?
The responsibilities of a founder are ever-changing, but I spend most of my time pursuing sales for big clients, maintaining good relationships with our investors, strategizing about our product roadmap, using analytics to set goals, helping my team members whenever needed, managing all operational logistics (office space, payroll, benefits, etc), and talking to press.
How did your career path help you found Campus Job?
During our senior year of college, JJ and I started a side-project with some friends that was part of what inspired Campus Job's formation. After college, I went on to work at Google, where I learned about project management, UI/UX, marketing, and how to think big.
 What has been the most surreal moment so far?
Any time I see an email from a student telling us that they got a job on Campus Job it is definitely a little bit surreal. Many of them talk about how much it has changed their perspective on what they want to do with their life, which is exactly what we hope for all our users
What qualities do you look for when you hire someone?
Are they hungry? Are they passionate? Will they go to whatever lengths they need to in order to make something happen? Skills will come with training and experience but hunger is something that cannot be faked.
You've raised funding from impressive venture capital firms. What advice do you have for pitching VCs and raising money for a new company?
Thanks! I'd say that being prepared is the most important thing to strive for when meeting VCs, you have to do your homework. I tried to know absolutely every number and statistic possible about the business and industry I wanted to break into.
It can be difficult to handle rejection but, unfortunately, it's going to happen. What advice do you have for bouncing back?
Don't consider it rejection! Consider it helpful feedback, and treat it as such.
You worked at Google prior to founding Campus Job. What was your role at Google?
I was an Associate Product Marketing Manager (APMM) in Mountain View, then a Product Marketing Manager (PMM) in India. To give you an idea of my job: during my time at Google, I worked on 10 websites and 26 commercials.
Where do you turn for inspiration?
My dad is by far the most inspiring person in my life. He always pushes me to work harder, do better, and reach for the stars.
Beyond phone calls with my dad, I also love reading about (and meeting!) other founders. There are so many founders out there who are incredibly inspiring, both because of their success, and because of the hardships they overcame to get to where they are today.
What is the best advice you've ever received?
Take risks while you're young.
You asked this question at the Campus Job Office Hours: Women in Business and I loved it so much. If you could have lunch with one woman, living or deceased, who would it be and why?
Zero doubt in my mind: Hillary Clinton. Once upon a time, I was an intern for her presidential campaign! did have some face time with her, but not a one-on-one lunch.
What is your favorite quote?
"If you don't like something, change it. If you can't change it, change your attitude." – Maya Angelou
Thank you, Liz!