I am so thrilled to introduce today's career profile, Samantha McLean. Samantha is one of my sorority sisters, best friends, and one of the kindest and most hardworking people I know. I've always admired Samantha for her maturity, passion, drive, and kindness. I'm so lucky to call her a sister and a friend and I feel really fortunate that she is sharing her advice with you!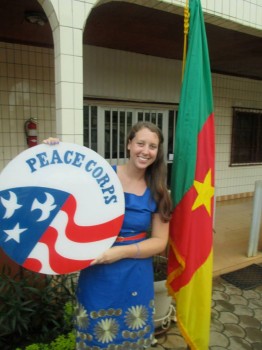 You were a community development agent with the Peace Corp for two years and are currently a program associate at IREX. What were your roles and responsibilities in the Peace Corp?
I was a Community Development Agent within the Community Health Program in Peace Corps Cameroon. The Community Health Program was focused on three main goals: improving maternal and child health, preventing HIV/AIDS and preventing/providing education on malaria. These goals were aligned with the Cameroonian Ministry of Education's goals. Designing projects to address those priority areas with a Cameroonian counterpart was one third of my job responsibilities as a volunteer. I designed a Care Groups for mothers in The other two thirds dealt with Peace Corps' 2nd and 3rd goals: educating Americans about foreign cultures and educating foreigners about American culture. I completed goal 2 through keeping in contact with friends and families back home and blogging. As for goal 3, I shared American culture almost everyday through my interactions with Cameroonians. In addition to the work I did in my village, I also had the opportunity to help with additional projects such as training the new Peace Corps Trainees in the health program, presenting best practices at a Girls Empowerment Forum and being a part of the Community Health Steering Committee which provides strategic planning for the program.
What are your roles and responsibilities at IREX?
IREX is an international non-profit providing thought leadership and innovative programs to promote positive lasting change globally. I work in the Education Programs Division on the Mandela Washington Fellowship for Young African Leaders. The Mandela Washington Fellowship is part of President Obama's Young African Leaders Initiative. The fellowship brings 500 young African leaders (ages 25-35) to the United States for professional and leadership training at one of 20 different universities across the country. 100 of the fellows stay for 2 month internship placements. As a Program Associate, I support 6 universities involved in the program and the fellows from 12 of the sub-Saharan African countries. I am also involved with our social media (Twitter and Facebook).
What has been your favorite moment and IREX so far?
My favorite moment working with IREX has been the site visits to Morgan State University, University of Minnesota and University of Wisconsin-Stout. I got to visit the fellows and sit in on their classes. The Mandela Washington Fellows are such an impressive group (the top 1% of applicants) who are doing productive and innovative work in their home countries, despite the odds. It was inspiring and fun to have the chance to spend time with them. I also enjoyed the Presidential Summit, which happened at the end of the program. Having all 500 fellows plus renowned leaders, such as President Obama, First Lady Michelle Obama, Secretary Kerry, Ambassador Rice and Ambassador Powers, in one place was exhilarating.
I know that the Peace Corp. is a very prestigious program. What advice do you have for people who want to join the Peace Corp?
Do it! Peace Corps was one of the best experiences of my life and I would not be the person I am today without it. One of the aspects of Peace Corps that deters applicants is the 2 year commitment. Two years does seem like a lot of time, but it goes by so quickly. You will miss out on some events happening back home, but you will be invited to the events of your new family and friends in your village or town. If you make the effort, then your friends and family will keep in touch with you via emails, letters, calls, etc. Skype makes the world go round! Lastly, talk to Returned Peace Corps Volunteers (RPCVs). They will give you the best insight on the continual ups and downs of life in Peace Corps.
What advice do you have for people who are currently or are soon to be a member of the Peace Corp?
The most important quality to have in Peace Corps is flexibility. It might be against your nature, but go with the flow. Things will not always work out according to plan, but sometimes the greatest experiences emerge from those failed plans.
What was the most rewarding, and on the flip side, the most challenging part of being in Cameroon with the Peace Corp. for two years?
The most challenging part was implementing successful projects. In Cameroon, it took a long time for projects to get started because things would fall through, or rainy season would keep people in their houses.
The most rewarding aspect of Peace Corps Cameroon was being a part of my community. When I arrived, I was a complete and utter foreigner. I did not know anyone or anything about the village. However, over the course of two years, I not only learned about the community, but became an entrenched member of the community. I was involved at the schools, with women's groups, in village celebrations; I visited the elderly who were sick (as is customary) and held newborn babies; I found a best friend. Lokoti, my village, became my home and that in itself was rewarding.
You majored in international affairs from George Washington University. Did you find that majoring in international affairs has helped your career?
I believe that my B.A. in International Affairs has helped me in my career. I do not think that my education has opened doors single handedly, but it has certain been a contributing factor combined with my experience. Majoring in international affairs shows employers that you have a general working knowledge and appreciation of our world and those are important qualities for any employee – not just those looking to enter "international" fields!
I know you interned all throughout college – we used to commute to the capital together – what was the most valuable thing you learned from your internships?
Interning was one of the most valuable parts of my time in college! I was able to intern in the public sector (on Capitol Hill) and in multiple parts of the non-profit sector (alumnae engagement and advocacy at the National Peace Corps Foundation, major gifts at SOS Children's Villages and advocacy and research at the National Coalition for the Homeless). I learned a lot of practical administrative and organizational skills and I learned a lot about what things I was and was not interested in pursuing in the future. However, most importantly, my internships gave me confidence in the workplace. I gained know-how about how an office is run and how to be an active member of a team, which gave me a step up compared to others entering the work force for the first time who had never stepped foot in an office.
What is one thing that you wish you had known when you were starting out your career?
Sometimes I think to myself, "do I even have a career?" The word career seems so concrete, however, I am learning slowly that it can be very fluid. My career is evolving and will continue to do so. My advice would be to not discount any experience you have in the beginning of your career, even if it is far from what you want to do in the future. For example, I worked in public health in the Peace Corps and I am not interesting in pursuing public health in the future, but I still gained valuable experiences from it! Let your career evolve organically.
Where do you see yourself in the next five years?
In five years from now, I will have completed my graduate degree in community and urban planning and I will hopefully be working for a firm that focuses on international planning in sub-Saharan Africa. Urban planning combines all personal and intellectual interests – geography, economics, anthropology. I believe so strongly that engaged communities paired with the right government resources and private investment can build sustainable cities. In Africa, urban growth has been rapid, however, there has not been economic growth to show for it. By 2030, 50% of the population in Africa will be urban (Source: African Development Bank Group). I want to work to harness that potential and create spaces where the population is inspired to innovate and thrive.
What advice would you give to someone who is about to graduate from college and enter "the real world?"
Don't sweat it! Everything will work out. I know it seems daunting to leave college and it is not easy, but you will get through it. It's okay if it takes you a few years to figure it out. Chances are, you won't have your dream job straight out of college (and if you do – more power to you!), but make the most of any opportunity. If you are staring at your future and you see a bunch of unknowns, turn them into opportunities to do something you might not have the chance to do once you have a full time job. And lastly, but not least, travel – for everyone's sake. This quote from Henry Rollins sums my feelings up on travel:
"I beg young people to travel. If you don't have a passport, get one. Take a summer, get a backpack and go to Delhi, go to Saigon, go to Bangkok, go to Kenya. Have your mind blown. Eat interesting food. Dig some interesting people. Have an adventure. Be careful. Come back and you're going to see your country differently, you're going to see your president differently, no matter who it is. Music, culture, food, water. Your showers will become shorter. You're going to get a sense of what globalization looks like. It's not what Tom Friedman writes about; I'm sorry. You're going to see that global climate change is very real. And that for some people, their day consists of walking 12 miles for four buckets of water. And so there are lessons that you can't get out of a book that are waiting for you at the other end of that flight. A lot of people—Americans and Europeans—come back and go, ohhhhh. And the light bulb goes on."
How would you define your professional style? What are a few staples?
Opaque black tights, great flats with a dress or skirt/blouse combo. Always, tights though.
What is on your desk right now?
My water bottle! I can't leave home without it. A beautiful Turkish coaster from my colleague's travels. A hippo coaster from a Mandela Washington Fellow from the Gambia.
A painting from Senegal. On the walls of my cubicle: fabric from Cameroon, wood press paintings from my friend, my Travel America calendar by Rifle Paper Co, a map of Washington, DC from the 1950s and a Mongolian postcard from my boyfriend's travels.
And much, much more!
Where do you turn for inspiration?
I definitely pull my energy from others. Fortunately, I have gotten to know and be in contact with so many funny, smart, daring and amazing people, so sometimes I just need to turn to my right where a friend is sitting to set eyes on my inspiration. But truly, I am constantly inspired by my friends and am so fortunate to have them in my life.
Who is your mentor?
I have a mentor who is also a good friend of mine. She is a Phi Sigma Sigma (my sorority) from the late 80's so I met her through alumnae events and then interned with her at a non-profit. She was an incredible supervisor and really supported my professional development. We have kept in touch over the years – even when I was in Cameroon and she was in Australia. Now we are both living in DC and are part of the same book club. She is a mentor of mine because she is so full of life. She is very passionate about her job and is involved with great charitable work. I am also forever grateful for her advice and support of me throughout the years.
What is the best advice you've ever received?
When I was an undergraduate, I worked at the Office for Study Abroad with graduate student advisers. When I was getting close to graduation, I started to get nervous because I had not heard back from the Peace Corps and I was so scared of not having a job right after college. One of the graduate students told me not to worry and to enjoy the transitions in your life. There will be times when you are in between jobs or school. Take those times to be with family and friends, to take up a new hobby or even to just relax and marathon watch a show you have never seen before. Transitions can be just as important as the next step.
What is a fun fact about you?
In seventh grade, my best friends were from England and Brazil! I lived in Paris and Frankfurt during middle school and attended international schools, so I was exposed to people from all over the world. I definitely have a lot of memories from that time in my life – I even broke my nose in Poland during a school softball tournament!
What advice do you have for other young professional women?
This is the time to take a chance. If you are looking for a change of pace or career, go for it! Shadow people, look into online courses in different fields, travel, volunteer, etc! It's going to be harder in the future to take those chances, those risks, so take them now!
Images via Samantha McLean.