Today's career feature is Sierra Barter, the CEO and co-founder of The Lady Project. With Monday's announcement about the NYC Lady Project Launch, I thought today would be the perfect time to share a more detailed look at The Lady Project. I met Sierra a few years ago and even though we only met once, we just clicked. We've stayed in touch ever since and I'm so glad that we did because I'm really excited to be part of the NYC Lady Project team. Sierra has fantastic advice about pursuing your passion, having a "side hustle," and starting your own business.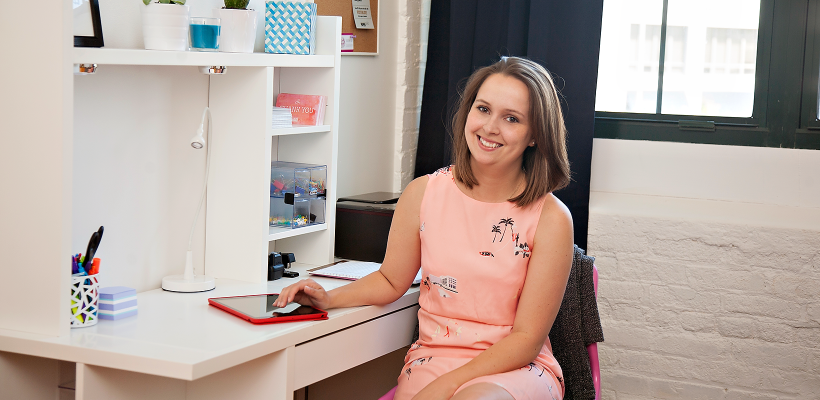 What was your first job out of college?
My first job out of college was at WaterFire Providence, a non-profit arts organization in Providence, as the Development & Marketing Associate—I had actually interned at WaterFire in college and they hired me after I graduated!
What inspired you to take the leap and start your own company, The Lady Project? Was this something you always planned on doing?
After I graduated from college I was like, "this is it?" I was so busy in high school and college with school, internships and different jobs; I knew I needed a "project" to focus on outside of work to stay creative and have something that was "mine."
When Julie and I met in 2011, she said to me, "You're my people!" We both knew so many driven, entrepreneurial and brilliant women from all these different aspects of our lives, and we knew we had to get them in a room together. Those women were our people and we wanted them to not only know each other, but do business with each other.
What were the first steps you took to starting a company? What logistical advice do you have for other people who want to start a business?
So many things! Make sure to find a lawyer and accountant- ask friends, because most businesses (like ours) start without any money. Also, trademark and reserve any domains/social media sites you may want to use.
How would you describe The Lady Project in a few sentences? The Lady Project connects, inspires and showcases awesome women doing amazing things through events, membership and community engagement. We have chapters in Providence, New Haven, Boston, Nashua (kicking off 9/26) and New York City (starting 10/3!).
You are so good at promoting your business on social media! What advice do you have for self-promotion, PR, and social media? 
OMG, thank you! Be true to yourself—be authentic. Be genuine in every tweet, Facebook post or Instagram. As a business owner, you're always representing yourself on social media in a way that you are proud of.
Also, have a consistent username—make sure it's the same across the board on different sites; it'll make it easier for people to find you and it's better for your personal brand.
What is one thing that you wish you had known when you were starting out? 
That it's going to be hard. And with your own business, it's all on you. You're the one using your lunch hour to call a sponsor, you're the one missing a fun night out so you can catch up on work. You have to want it badly and be willing to make it your priority.
What has been the biggest challenge and, on the flip side, the biggest reward of starting your own business?
Challenge: Dealing with criticism. Since our events and membership are for people who identify as a woman, we do receive flack, mostly from men, for "discrimination." Dealing with criticism of my business is really tough, and something that I've had to learn along the way. It's my baby!
Reward: Helping people. The BEST thing I hear from our amazing members is when they tell me they met someone, or are working with someone because of Lady Project. That's what it's all about!
What is a typical day like for you?
Lady Project isn't my full time job, so I wake up, have coffee/breakfast, hang with my dogs and answer some emails before heading to Johnson & Wales University, where I work as a social media coordinator. I am fortunate to have a job where we are encouraged to take lunch, so I take advantage of that hour out of the office to meet with a Lady Project member, sponsor or supporter. After work, I usually have a Lady Project board meeting, meet with a sponsor or head to the gym (I do yoga a few time a week to stay sane). Each night I try to tackle my inbox, work on training materials or other Lady Project-stuff. I am constantly working…but I love it.
Where do you see yourself, and your company, in the next five years?
Hopefully, with a small Lady Project full-time team here in Providence where we can provide resources, training and support for our chapters. We hope to have 25-35 chapters around the US (or world!) by 2019.
What are the challenges and benefits of working with your best friend?
It's almost all benefits- we can be honest with each other, talk about other things that are on our minds (other jobs, boys, parents, etc), know each other's strengths and most importantly- have fun together! Julie and I work really well together, and I think that's a big part of why Lady Project is successful. When people meet us, they know we genuinely like each other and are passionate about what we do.
And, of course we butt heads sometimes, but we talk it out and always hear the other person out. Usually, we come to a general consensus when one of is like, "no, you're right, let's do that." We always keep the business and our members in mind first.
You also work a full-time job. How do you manage it all? What is your #1 time management tip? 
Google! I live on my Gmail, put EVERYTHING on my Gcal and use Google Drive to run Lady Project. It is so helpful to be able to access any file anywhere.
I also try to maximize my time—I am not a morning person, but I try to eat breakfast and drink my coffee at my desk. If I am able to even answer 3 emails, that's a success.
What advice would you give to someone who is about to graduate from college and enter "the real world?"
Don't be afraid to fail— many of my friends, myself included, are NOT where they thought they'd end up after college. It's those moments, that you may think are "failures" that lead you to where you should really be.
And, NO one will ask you what your GPA is post college and no one really cares. Don't sweat it.
What is on your desk right now? Photobooth strips from a Prom themed party with Julie, a photo of me and my grandpa, binders for Lady Project and Girls on the Run RI (I'm the Communications Chair on the Board), this Knock Knock to do pad (I love them so much), Forces for Good: The Six Practices of High-Impact Nonprofits by Leslie Crutchfield, an IKEA lamp (I'm convinced I am going blind) and a Kate Spade quote postcard.
Where do you turn for inspiration?
My friends, Instagram, walking around the city, blogs—everywhere! My phone is full of screenshots of Instagrams or blog posts that inspire me. I love a great quote, a gorgeous styled room or a cute outfit.
Who is your mentor?
I have a few – one of our board members and my first boss, Bronwyn Dannenfelser, my mom and Piya Saragwi, who handles Lady Project Communications. I am very lucky to be surrounded by amazing people who want me and Lady Project to succeed.
Even though Julie is one of my best friends, I look up to her so much and really trust her opinion—she's definitely a mentor of mine.
What is the best advice you've ever received?
You can't fake passion. You can't start a business on something you think is boring or unimportant—starting a business or a non profit is not easy, so make sure it's something you're really, really passionate about.
And, I love the Steve Jobs quote: "Be so good they can't ignore you." Rock it. Kill it. The worst thing that people can say is no—you'll be told no 100 times before you hear yes. You can't give up.
What advice do you have for other young professional women?
Just do it. There'll never be a perfect time to start a business or launch a blog or do what you've always dreamed of doing. You're only going to get busier and have more commitments. And, more importantly, do it before you're ready. I do so many things without being ready—and while it may not be the best way to get stuff started, you're never going to be 100% ready and prepared. Don't say no to good opportunities.
And, put yourself out there. Email that potential mentor. Reach out to your favorite blogger. Tweet to someone you admire. The worst thing that can happen is that you either won't hear back or they'll say no. It's ok—someone will eventually say yes. But you have to put yourself out there first.
 Thanks, Sierra!
Image of Sierra Barter by Suzanne Larocque of Business Betties