Today's career profile features Emily Raleigh, the founder of Smart Girls Group. Smart Girls Group "provides products, resources, and opportunities to empower women and girls to succeed in all facets of life. They are an umbrella for a number of different "Smart Girl" brands, including a digital magazine, daily aggregated news blog, campus chapters, online classes, an online community, an e-commerce shop that sponsors girls' education in Nepal, newsletters, live events, a video channel, a network for bloggers, vloggers, and social media gurus, and more." Emily recently won Marie Claire's contest, Readers Who Are Changing the World. As can be expected, Emily has great advice,  I'm excited for you to read it!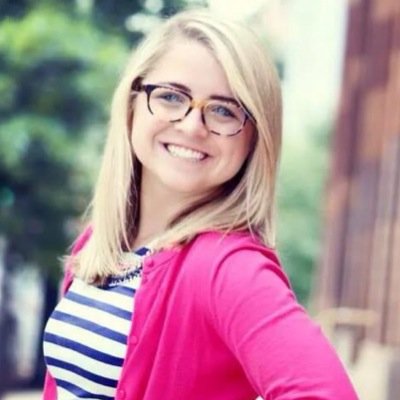 You are in college at Fordham University and are the founder of The Smart Girls Group. What is your major?

I'm majoring in Marketing and Communications and Media Management in the Gabelli School of Business and I'm minoring in Visual Arts with a concentration in New Media Design.
What inspired you to take the leap and start your own company? Was this something you always planned on doing?

The Smart Girls Group idea really started when I was a little girl. I would walk downstairs every morning after putting on my outfit for school, and ask, "Mommy, do I look smart?" I was raised on the concept of the Smart Girl and that image drove me through the mean girls of middle school, the crazy pressure of high school, and the choices that come with college. With that in mind, I wrote a book for my freshman sister, Sophie, during my senior year of high school that was a ho1w to guide for surviving and succeeding in high school. I gave it to her for Christmas and my family really wanted me to get it published. The problem was, I wanted to do something that would be more than just a book, something that was continuous. So on New Year's Day, I made my New Years Resolution to start The Smart Girls Group.
We initially had 9 girls involved, and released a small magazine that we planned to only be 10 pages long. Soon enough, the sisterhood began to grow and so did our products. What keeps us moving is the girls and we truly have a group of girls who will change the world.
This definitely was not planned! I was a senior in high school, dreaming about studying chemistry in college with the hopes of becoming an orthodontist. Entrepreneurship was never in my thought process until I started Smart Girls.
What were the first steps you took to starting a company? What logistical advice do you have for other people who want to start a business?

Smart Girls was actually a hobby for the first year and a half, so our process was different because we had a product long before we had a business plan. We won the 2013 Kenneth Cole AWEARNESS Grant and through that, I incorporated and we started looking towards being a social enterprise. The first step for us was asking a lot of people for help. I didn't have any experience leading a business, but I was lucky to get support from people who did. Always start by asking questions. You may not be the smartest person in your industry, but someone is and there's a good chance they will be willing to help.
What is your 30 second elevator pitch?

My name is Emily Raleigh and I am the Smart Starter & Founder of The Smart Girls Group, a multiplatform brand that provides products, resources, and opportunities for ambitious women and girls. I started Smart Girls when I was in high school after writing a book for my little sister on succeeding in high school, and now, we have a monthly magazine, daily articles, campus chapters throughout the U.S. and Europe, online classes, Smart Girl Sisters from all over the world, and more! I'm fiercely passionate about women empowerment, marketing and branding, media, and social business. I'm currently a rising junior at Fordham University, studying marketing, communications and media management, and visual arts.
You are so good at promoting your business on social media! What advice do you have for self promotion, PR, and social media?

Aw thanks! It's not second nature to me at all, but I think you need to fully define the voice. Smart Girls has over 800 voices and trying to streamline that to be a singular, consistent voice is difficult. I have always looked at our promotion from the eyes of the reader and how they would feel reading it. That is really important to our whole team.
You just hosted Smart Girls conference and it was a huge success! How did you find speakers and organize such a huge event? What is your number one networking tip?

The fearless ask! We just sent emails to speakers and were fortunate that so many resonated with our mission. I also spent the last year going to as many conferences as possible so I could learn from others and figure out what I liked and what I didn't like. As far as networking, my number one tip would definitely be to be authentic and raw. I'm a very energetic person and I don't try to tone that down but instead try to use it to support myself in a networking event. The more authentically yourself you can be, the more people will remember you.
What is one thing that you wish you had known when you were starting out?

Think big. And when people tell you it isn't possible, think even bigger. Keep the end goal in mind at all times.
What has been the biggest challenge and, on the flip side, the biggest reward of starting your own business?

The biggest challenge has for sure been balancing leading Smart Girls with being a full time college student. The biggest reward, though, has been seeing how Smart Girls has affected Smart Girl Sisters all over the world. I never imagined that this would be my life before starting this and it is such an honor and a blessing.
What is a typical day like for you?

I try to wake up between 5 and 6 every day, and then I usually will use that time to run or go to the gym. I really like having time in the morning before my classes start to just get done small things, plus it is a great time to do laundry because most college students aren't awake to take all of the dryers! I have classes most days during the week, but I consider it part of my day for The Smart Girls Group as well because I am a business student, so all of my classes are in some way relevant to SGG. Luckily, with the way my class schedule works, I can work throughout the day because my classes are either very early or very late at night, so in between I will go to the SGG office at the Fordham Foundry, a small business incubator just steps away from campus. I spend the rest of the day and sometimes into the night there, working on SGG. It's a really awesome space because there's so many entrepreneurial minded people there who are always willing to help you make business decisions. Whenever I get done all of my work for The Smart Girls Group, I will meet up with friends and grab dinner at one of the restaurants on campus or at the cafeteria. The rest of my night consists of homework, club meetings, and working at my job as a Resident Assistant. I try to get to bed early, but that's a work in progress!
Where do you see yourself, and your company, in the next five years?

Well, hopefully graduated! I hope that Smart Girls is a thriving company and community, where we have hundreds of thousands of Smart Girl Sisters, and that the brands underneath the Smart Girls Group name are growing to only continue our mission to empower women and girls.
What is on your desk right now?

My inspiration board, planner, laptop, and 4 to do lists. I try to be as neat as possible!
Where do you turn for inspiration?

The water. I have lived by the beach on a barrier island for my whole life, so when I need inspiration, I go sailing or walk on the beach. Any time I have a problem I need to solve, my mom says, "Grab a shell. The bigger the shell, the bigger the problem. Walk on the beach until you have a solution." It always works!
Who is your mentor?

My parents. They know me at my best and at my worst and they know my vision for Smart Girls Group on a level no one else does. If I can have half of their work ethic and their drive, I'll be content.
What is the best advice you've ever received?

Be smart. Yes, I know that's part of Smart Girls Group's slogan but it's something my parents told me since I was a little girl and it always resonated with me. If you can be smart in all aspects of your life, there is no telling what you can achieve.
What advice do you have for other young professional women?

Don't pull a "13 going on 30." I see girls younger than me and my age trying to act like they are much older than they are, thinking that will encourage people to work with them. What I have learned is that if you are ambitious and are doing things far beyond your years, people are inspired by that. They see your work ethic and your drive and it garners a level of trust, because time and time again you have gone beyond the call of duty. Enjoy being young and capitalize on it.