I'm so excited to feature career and blogging advice from one of my favorite bloggers, Kelly from Kelly in the City! Kelly's blog is a perfect mix of fashion, travel, photography, and now puppies! This interview was from before Kelly moved to Chicago. Clearly she followed her own best advice to young professionals!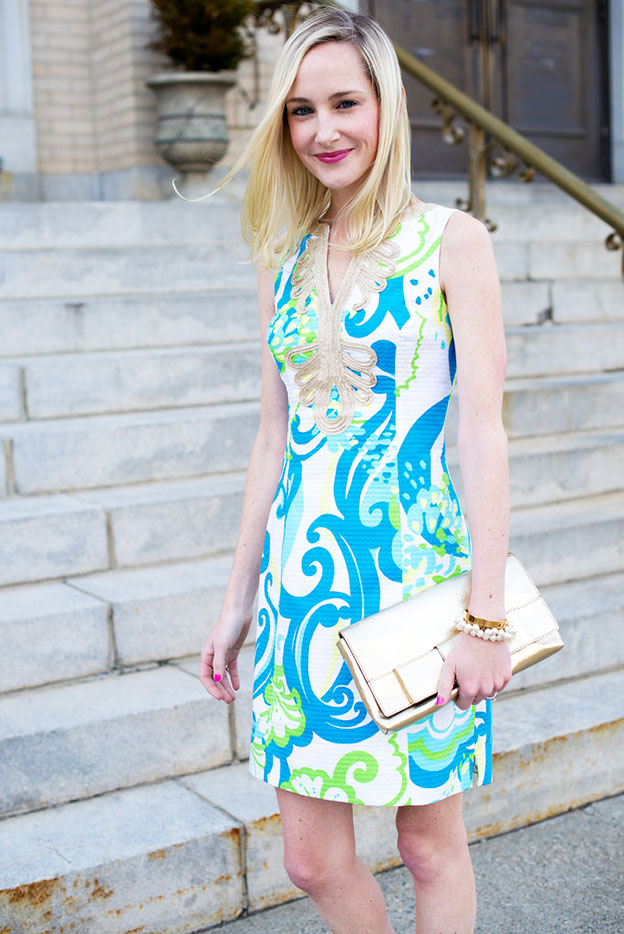 What was your career background? I'd love to hear about how you got where you are now.
After college, I briefly interned as a reporter for the Hartford Courant, and then moved down to New York City to take a position as an editor at Nielsen Business Media. I really enjoyed my job, but felt like I could be doing something more worthwhile with my 20s. I applied to the New York City Teaching Fellows program on a whim when I saw an advertisement on a subway. I've been an English teacher at the same school in the Bronx for the last seven years!
You are a teacher and I know that teacher's have so much work – you work at work then have to grade papers at night. Teachers always end up bringing home mountains of homework. How do you manage your blog, your full time job, and your social life? Do you have any tips for time management?
Truthfully, it's challenging. I don't get a lot of downtime, and I don't get enough sleep. I'm constantly working to find a balance, though. Lately, I've been saying "no" a lot. It sounds terrible, but I used to say "yes" to way too much, and it ended up being my downfall! I was sick, stressed out, and overwhelmed nearly all the time. Now, I limit how many functions I attend during the school week, and it's made a world of difference!
I've also cut out television. If I do tune in, I have my laptop in front of me so I can multitask. I'm a huge fan of to-do lists, too. Finally, I try my best to get all of my planning, grading and paperwork done AT school so I'm not overwhelmed when I get home.
My biggest challenge right now is correspondence. I have a difficult time keeping up with emails, as I'm teaching throughout the day. Haven't found a solution for that one yet! I'm looking for tips!
What motivated you to start Kelly in the City? 
Last year, I fell in love with a J.Crew coat on final sale, but didn't know what size to order. I started surfing the web in the hopes of finding reviews, and stumbled upon the blog Bows and Sequins. I'd never heard of a fashion blog before, but I quickly fell in love with the concept. I followed Jessica's blog for a month or two before my husband, Mitch, suggested that I start my own. (It incorporated everything I loved: writing, photography and fashion!)
What is you favorite thing about blogging? 
My favorite part of blogging is making connections with my readers and other bloggers. I've met so many amazing people through Kelly in the City, and I'm incredibly thankful for that. When I first started my blog, most of my New York City friends were getting married, starting families and leaving the Big Apple. Blogging has helped me form some great new friendships, and it's provided me with a lot of exciting opportunities and experiences!
Your blog has become so popular so quickly! What is your secret? What tips do you have for bloggers? 
Remembering I'm anything but an expert on this topic, my first bit of advice is to tell your family and friends. When I first started blogging, I told no one. I was terrified that people I knew in "real life" would find out I was doing this weird thing online, and think I was ridiculous. (So not the case, by the way. Or, if they did, they didn't tell me… and I was fine with that, haha. But in all seriousness, my family and friends have been nothing but supportive of and excited by Kelly in the City.) Anyway, once I told my family and friends, I was astounded by how quickly word traveled about my little blog. Sure, in the beginning, it was just my mom, grandma, aunt, cousins and best friend reading, but soon it turned into their friends, too, and then their friends' friends. (Thanks, guys.) If you're really gutsy, post your blog to your Facebook wall. Heh.
My second bit of advice is to get involved in social media. This is something I was completely clueless about in the beginning. It was my well-versed cousin who pushed me to explore it, and I'm so thankful he did. He told me not to go overboard, but instead to focus on one or two networks. (Otherwise I'd run the risk of becoming overwhelmed.) So I began with Instagram, Pinterest and  Lucky Community (because how could I only participate in two?!), and mostly just followed more successful bloggers and took note of what they were doing to get the word out and gain readership.    Now I'm more active, and I'm slowly learning other networks like Twitter, Tumblr, Disqus,  Facebook and BlogLovin.
I love that if you're actively involved in a few social media networks, your name seems to naturally get out there. It's also really, really fun… and can be done on the go, on your phone. For me, that's essential! While I'd like to think that I'd spend my free time being productive and promoting my blog, I know that's not going to happen. But spending time on social media while commuting? Totally different story!
Another way to get your name out there is to host giveaways. Host them on your own, with other bloggers, or with small companies that are aligned with your style. I find that giveaways give readers an added incentive to visit my blog more frequently and get involved… plus, they're fun for everyone! (I'm overly giddy on the day a giveaway ends because I get to contact the winner.)
Oh–and attend events! Any event, really. Shopping events hosted by stores that are usually found in malls, like Kate Spade, are the best. (Who doesn't like shopping and getting discounts?!) Bring your mom, your best friend, your little sister, or perhaps someone you've connected with online, and chat it up with other people. And don't forget your business cards!
My best advice, though, is to remember why you started your blog. Remember how excited you were when you posted your first post, even though you kind of cringe when you look back at it now. Blog for yourself first, and you'll be happy!
You collaborate with so many amazing companies (Lilly Pulitzer, Jack Rogers, etc.)! What advice do you have for bloggers that hope to collaborate with brands?
Start with smaller companies, and feature their products on your blog and social media accounts. I'm obviously a J.Crew nut (I blame my mother, hehe), but J.Crew doesn't really need any help from a little blogger like me, for example. Smaller companies, though, are more likely to want to partner. You promote them; they promote you. Woo. After a while, bigger companies often start to take notice… and come a-knockin'!
What is one thing that you wish you had known when you were starting out blogging? 
Blogging can sometimes get competitive. I do think, however, that it's important to surround yourself with people who don't want to be involved in all of that. When I first started, a couple of more established bloggers provided me with helpful advice, and that stuck with me. Through my little support community, I've both grown and given back; promoted other blogs and had my own blog promoted. Whenever a blogger helps me, I try to pay it forward and help her or someone else.
What is a typical day like for you? 
Really hectic and intense, haha. My commute, which entails several buses and subways, is long, and when I get to work, I never know what to expect. My job requires me to always be on my toes, and I'm constantly diffusing arguments and trying my best to maintain a supportive, safe learning environment for my students. It's definitely hard work, but it's also a lot of fun. I'm never bored, and I'm never sitting at a computer in a cubicle. Every day is an adventure! After school, I usually wander around Manhattan with my husband, or sometimes attending blogger events or go out with friends or family. When I get home, I try to get one or two chores done, and get a blog post up. I'm normally in bed by midnight. Phew!
Where do you see yourself and your blog in the next five years? 
 
I'm not sure. Personally, I'd like to have a family and a dog, reside in a more livable location, and feel fulfilled in my career. I dream of blogging full-time, but I don't know if that'll ever happen or whether I'd actually enjoy it. I guess we'll see! For now, I'm very happy with my current life stage. Ben Taylor (James Taylor's son) sings, "Stop trying to guess what's coming up next and look up at the sunset." I try to live by those words!
What advice would you give to someone who is about to graduate from college and enter "the real world?"
Every road has bumps. No road is perfect.
My 20s were a very challenging (albeit fun) time in my life. I was stuck between childhood and adulthood, and I was unsure about who I was and what I wanted. Life after college probably won't be exactly as you envision it, but know that eventually, you'll figure it out. Try to enjoy the stage, don't get down on yourself, and don't compare yourself to others. Commit to personal happiness and fulfillment. (A little secret? I loved college, but I love my current life even more!)
What is on your desk right now?
 
Piles of essays, a coffee cup, a water tumbler, flowers and dozens of pens and pencils. Oh, the life of a teacher!
Where do you turn for inspiration?
New York is my main source of inspiration, but I also draw a lot of inspiration from my very fashionable aunt and cousins! (They grew up summering in Nantucket, and are the cutest.) I also adore Pinterest and Tumblr. I could spend hours just surfing through posts!
Who is your mentor?
Outside of my husband and parents, my mentor is a retired New York City teacher and businessman. Mitch and I worked with him in the Bronx for several years, and he taught me innumerable lessons about my career and life in general. While I don't see him on a daily basis anymore, I still go to him for advice! He's one of the wisest people I know.
What is the best advice you've ever received?
 
This is unrelated to blogging, but the best advice I've ever received was from Dad. I was in a sour longterm relationship at the time, and pretty miserable. I felt stuck. He told me that the most important choice I'll ever make is choosing who to spend my life with, and that I should put great thought into the decision. That really stuck with me. I'm convinced that his words are the reason I finally built up the courage to change my situation, and the reason I ended up with the love of my life. (Sorry–so mushy!)
What advice do you have for other young professional women?
Don't be afraid to switch positions or careers. Change is good–especially if you're unfulfilled or unhappy. You'll spend a huge chunk of your life working, so you best enjoy what you're doing!
Thank you, Kelly!
Love what you read? You'll love reading Kelly in the City!