A Hundred Summers: This book is the epitome of a good beach read. There was a lot of scandal and secrets and it actually kept me guessing at what would come next. If you liked the Luxe series, you'll like this book.
The Heiress: If you're looking for a light and engaging book, you'll like this one. It reminded me of the Luxe series by Anna Godbersen except set in a modern time. I enjoyed seeing the mystery unfold. There were a lot of twists and turns. I didn't love the ending but I think that it is because Sara Shepard intends on it being a series similar to Pretty Little Liars. This is a fast read and I recommend it if you're in the mood for light reading. I was in the mood for a light read after finishing Me Before You.
The Opposite of Loneliness: This book is incredible. Marina was so talented. In the forward, Marina's professor and mentor, Ann Fadiman wrote, "Marina wouldn't want to be remembered because she's dead. She would want to be remembered because she's good." She was extremely talented and was such an incredible writer. The fiction and non-fiction writing is detailed, eloquent, mature, and well-written. Marina wanted to be a writer and she definitely was one. Marina's friends, professors, family, and parents put the book together by recovering her computer from the crash and editing some of her best work. Her essay, "The Opposite of Loneliness" gives me shivers every time I read it. It is a great reminder that it's not too late to make a change, pursue something you love, and make an impact.
The Art of Fielding: This was one of the best novels I've read in a long time. My friend highly recommended it so I bought it for my trip to the shore. The book was incredibly well-written, emotional, and engaging. It is about family, finding oneself, and the immense pressure to be successful. I didn't play sport in college, but I was in a sorority and learned a lot about myself. I gained confidence and a great group of friends so I could relate to the impact of Henry's college experience.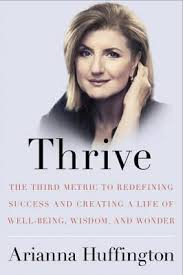 Thrive: We read this book for book club at work. Arianna discussed what she's learned though out her personal and professional life. She discussed that our society defines success as money and power but that there should be another factor. The Third Metric is made up of well-being, wisdom, wonder, and giving. Arianna tells her personal anecdotes and friends' stories about The Third Metric and why it is important. Arianna had the ability to interview and talk with a wide array of people so it was interesting to hear their stories and opinions.