I met Jamie when she ran a workshop at Levo League. I loved her advice about job searching. I met with Jamie for advice a few times and she was so helpful. Finding a job can be a stressful process, but working with Jaime gave me the confidence to navigate the process. Jaime knows the job search field and helped me with everything from perfecting resumes and cover letters to preparing for multiple types of job interviews. Jaime is knowledgeable in her field and empathetic – a winning combination. She becomes personally invested in the people she works with and becomes a mentor figure and a confidant. I am so happy that I worked with The Prepary and couldn't recommend Jamie more!
I am so excited to feature some of her advice in today's career profile!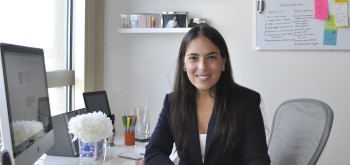 You are the founder of The Prepary! What inspired you to take the leap and start your own company? Was this something you always planned on doing?
After working in Recruiting for about 5 years, friends and family started to approach me with lots of different questions about their job searches. They were looking for help with their resumes, with interview prep, and often times just looking for guidance on random questions that popped up throughout their search.
I started thinking about all of the people out there who didn't have a "Recruiter friend" and how they probably could use a trusted adviser in their job searches as well. That's when I knew I had to start The Prepary.
In terms of taking the leap, that wasn't easy! I actually first started The Prepary as a side business while I was working full time on the Human Resources team at Tory Burch. After about 2 years, I felt that it was the right time to focus on it 100%, which I'm just starting to do this month!
What were the first steps you took to starting a company? What logistical advice do you have for other people who want to start a business?
The first thing I did to get my business up and running was launching the site so I could start putting my advice and my services out there. I didn't have a lot of readers at first nor did the site look exactly the way I wanted it to, but you have to start somewhere!
My advice to people who want to start a business is really simple… START. Don't let the logistics hold you back. There's also nothing wrong with exploring something on the side while you're working (especially because it's a financial risk to start a business) to make sure you are seeing some traction and that it's the right thing for you.
There are so many resources out there to help you take the first steps without a big financial investment or any technical expertise.
How would you describe The Prepary in a few sentences?
The Prepary is an online resource & consulting business to help people land their next job, internship, or take the next big step in their career. It's a way to get advice that's relatable, reliable, and straight-forward from someone who's been on the other side of the table.
What is the most rewarding thing about working with clients?
The most rewarding part about working with clients is helping to take the stress out of their job search process. It's not an easy one! Finding a job is filled with anxiety, uncertainty, and stress in general. Of course it's amazing when my clients actually get their job offers, but it's just as rewarding for me to hear "I feel so much better now and I know what I need to do next" after a rough day or a setback.
What is your #1 piece of advice for job applicants?
Approach your job search strategically. Instead of applying for 100 jobs in a day, go after the jobs that you are genuinely qualified for and interested in and do everything in your power to put in the best application possible, get it seen, and wow your interviewer.
Applying to jobs can be a stressful process – what advice do you have for staying motivated during the job search?
Establishing a routine and setting goals help a lot. For someone who is looking for a job full time I think getting out one application and one cold email or networking email per day is a good goal (and realistic). Using an app like Commit can help you stick to those goals.
I also think it helps to have some type of support. Whether it's a friend, a significant other, or even a coach/advisor, having someone to hold you accountable, check in, give you solid advice, and let you vent about what's been frustrating can help keep you going.
What is your advice for standing out as an entry level applicant?
Figure out a way to differentiate yourself. Whether its through your education, past internships, or unique skillset, show companies why you are uniquely qualified to do the work. If there is a skill you don't have that keeps popping up as a requirement of jobs you are looking at, go out and get it. There are so many cheap and easy ways to learn new skills and programs, and there's always room to be a better candidate. I also believe it's important to show off your work ethic during the job search process – I wrote an article on that here.
What is a typical day like for you?
Right now it's a mix of writing for the site (as well as my first book!), working with clients, and taking steps to get the word out about the business. As we get into the next school year, I'm excited to start visiting different campuses to share advice & tips and also create some online and in-person courses related to the job search.
What advice would you give to someone who is about to graduate from college and enter "the real world?"
Your first job (and "the real world" that comes with it) is not always going to be glamorous. Enjoy the ups and downs and don't panic if what you're working on doesn't seem like a total dream right away. I remember in my first job, making hundreds of name tags for every campus recruiting event was my most dreaded task (and one I had to do all the time!) but it led to very cool and interesting jobs down the road and to where I am today. Everyone starts somewhere!
That being said, if you're miserable day after day and you look at your boss and boss's boss and realize you don't even want their jobs, don't worry about trying something new. I see a lot of people who are afraid to make a career move after 2 or 3 years because of the fear of "starting over". But life is long, and in the scheme of things, 3 years is nothing! Be nimble and listen to your gut so you can get on the right path.
Feeling inspired? Read The Prepary and work with Jaime!
Thank you, Jamie!