It was ten a.m. on a Sunday morning. I was in a crowded spin class with my Blackberry resting precariously on the water bottle holder. Suddenly, over Kelly Clarkson's Stronger, the Blackberry blasted its blaring bell. I was on call for the weekend. I jumped off the bike and walked outside of the room muffling the sound of the blasting music. No, I wasn't being called into surgery because I'm a world-renowned neurologist. I had just graduated from college and was working as a paralegal. I called my manager back and learned that I had to go to the office to prepare binders of key case documents for attorneys leaving for trial later in the week. That was the moment I decided to start a blog.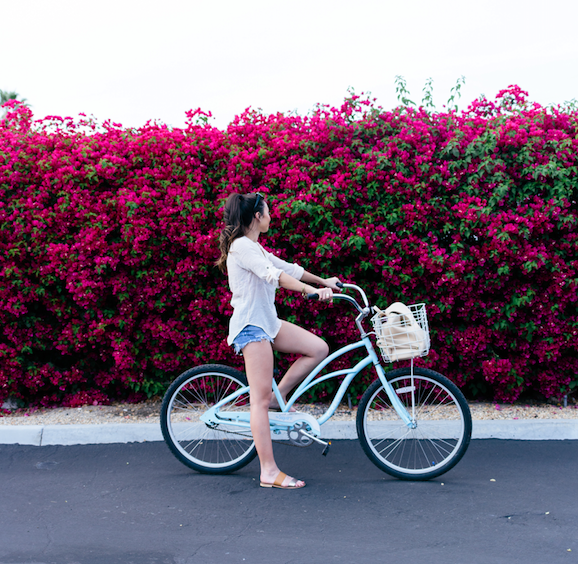 I missed writing and having a creative outlet and a blog seemed like the perfect solution for filling both voids. On the subway to work that Sunday morning, I scribbled down potential names for my blog before settling on the name: The Preppy Post Grad. I started writing blog posts on the weekends and scheduled them to be published during the week. As I was checking brief citations, compiling velo-bound documents, and preparing an abundant supply of binders, posts would go out about topics I was passionate about and interested in. When I started my blog, I never imagined that anyone other than my closest friends and family would read it and I certainly never imagined that it would help me get hired for new jobs, but both happened.
I was sitting in a Town Car at 3 a.m. after a long day at the law firm when I noticed that a company named Levo League had followed me on Twitter. I started reading their articles and found them to be pertinent to my own experience of navigating the transition from college to cubicle. I sent them a Direct Message asking how I could get involved and I soon became an ambassador, a voluntary role for a start-up organization that I hoped would succeed. As an ambassador, it was my job to help promote the company before launch. I went above and beyond by writing about Levo League on my blog. When I wrote a post comparing Levo League to a Birkin bag, the public relations team forwarded it to the founders and they invited me in for a meeting. I was offered a full time position a few months later. I had unwittingly, yet successfully, leveraged my blog to get a great job and this would not be the last time that blogging helped me get a job or opportunities to work with brands and bloggers.
I learned firsthand that blogging, social media, and other elements of cultivating a personal brand can not only help someone get hired for a job but also help them to become positioned as an expert in a particular field or topic. For example, when I started writing blog posts regarding my observations about sorority membership as a catalyst for career success or my love of interior design, I became someone people turned to for advice on both topics.
Even something as subtle as the words we choose to describe ourselves can have a marked effect on how we are perceived by others. In Carla A. Harris' book, Expect to Win: Proven Strategies for Success from a Wall Street Vet, she writes about learning that her colleagues didn't think that she was tough. After this realization, she started describing herself as tough as much as possible for three months. She would say things like, "'You better make sure it's right because you know, I'm really tough.'" At the end of three months she overheard a colleague lamenting that Carla was tough and would critique a project harshly. Think about the words you would want people to use when describing you and start using your blog and social media as an outlet for demonstrating those characteristics. After hearing this story, I took out a piece of notebook paper and wrote down the qualities I would want people to describe me as and I started to incorporate those words into my social media profiles, blog description, and individual posts. After doing this, I began to hear more and more people describing me with those characteristics. Of course, your actions and behaviors must reflect the characteristics you describe, but this is a good method of helping to select and reinforce how you wish to be and, in fact, are perceived by others.
Blogging allows anyone a space to write about anything. Share what you are passionate about, whether it's fashion, sports, nutrition, motherhood or an industry, and don't be afraid to change, add topics, and grow. You are multifaceted. Your blog and social media presence will be more interesting (and relevant to more people) if you share the many things that make you, you.